Roccat Kova 2016 Edition Review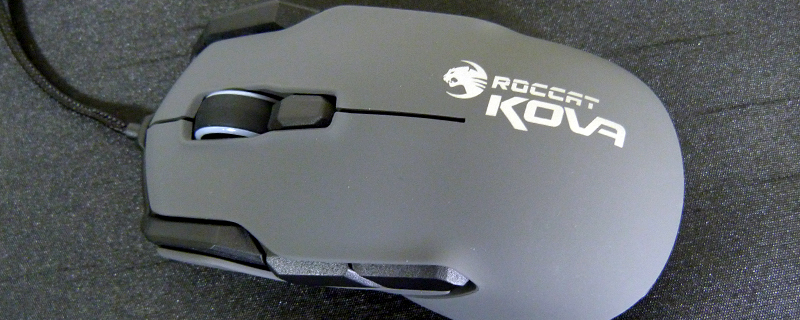 Up Close
The Kova packaging is up to Roccats usual high standards, with their ice-blue main logo, shiny side logo and the slightly squared-off trapezoid box shape being regular hallmarks. Once freed from its cardboard confines the Kova appears in all its light-grey goodness. There isn't a driver disc included, something we never mind given the prevalence of the Internet and the importance of having the most up-to-date drivers at all times. Why waste packaging and the environment producing something which is obsolete before you use it? Exactly.
With so many mice being black or white affairs it's nice to see the Kova treading a different path. It is available in those colours of course, but our review sample makes a nice change from the endless see of monochrome offerings. Besides the LMB/RMB there are two extra buttons, in easy reach at all times. This is a good solution to the need to add buttons to your gaming mouse without placing them in unergonomic positions.

As an ambidextrous mouse the Kova is identical on both sides, with only the logo positioning hinting at the assumption most users will be right handed. Given how few mice cater to the 10% of the human race who are left handed it's nice to see the Kova retain the neutral shape.
Lastly the cable a lengthy 1.8m braided offering, with a handy label on the USB plug itself to make it easier to know which of the dozen black USB plugs in your system belongs to the Roccat.
Lighting is restricted to the scroll wheel and a very subtle bar at the rear of the Kova, which we'll look at in more detail in a couple of pages time.