SteelSeries Ikari Laser Gaming Mouse
Introduction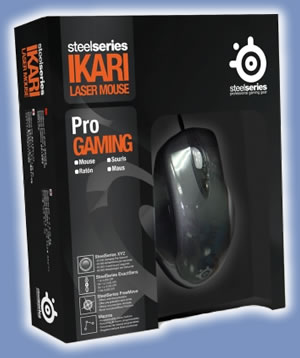 Mice, mice, mice. Our friendly electronic rodent. There's plenty to choose from and even within the high performance niche segment there is a dozen from Logitech and Razer alone. It's a crowded market alright, but does it stop other brands from wanting a slice of the action as well? We think not as just when one thought that there's more than enough mice to choose from, gaming brand SteelSeries appears with some interesting offerings and today, we'll be putting one of them to the test. The SteelSeries Ikari Laser Mouse.
SteelSeries is a well known brand, offering a wide range of products from headsets, to keyboards and mice. With offices around the world and a large fan base, they know a thing or two about the markets they operate in and what the user wants.
"SteelSeries is all about gaming. Our mission is to create performance enhancing gaming gear, created for and by leading professional gamers. We continuously strive to better ourselves, and work with leading professional gamers from 3 different continents to create our products.

The SteelSeries headquarters are located in Europe (Copenhagen, Denmark), and host the primary office facilities for the company. The headquarters handle all planning, production and partner coordination.

For logistical reasons we also have sales offices in Asia (Taipei, Taiwan) and USA (Los Angeles, California). From Taipei we can reach the entire Asian market, as well as New Zealand and Australia. From Los Angeles we can reach North America, Canada and South America. All manufacturing is done by sub-suppliers from Europe and Asia, and then delivered to one of our warehouses for final processing."
Let's have a look at the tech specs.
For a mouse priced in at around £45, it's placed at the same price point as the previously tested Roccat Kone, Logitech G9 and Razer Lachesis mice and it's specifications are also very similar too.
– Programmable macro buttons with driverless plug-and-play feature
– 40.000 samples per second (SPS) for unbeatable tracking
– 1 – 3.200 CPI (changeable in increments of one)
– Built in LCD display to help set CPI values on-the-fly
– 500Hz polling rate
– Chassis material and shape based on input from professional gamers
Now let's move on to the next page to see if it looks anywhere near as good…