PCIE 4.0 NVMe SSD Roundup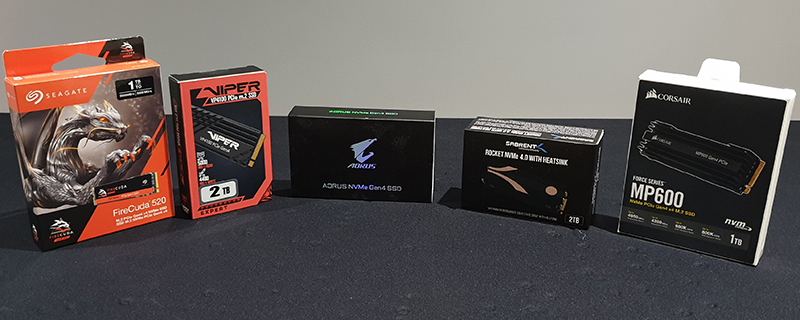 Introduction
In the early days of Solid State Drives there was a clear delineation between the performance available from those drives which came from big brands at a big price tag with big capacity, and the drives we could all actually afford that came from companies from whom we might not necessarily have heard.
As the 2.5″ format matured the gap between the big names and the lesser ones diminished greatly, which forced the big companies to slash their prices as they no longer had any obvious performance advantage. By the time M.2 NVMe drives began to find homes in the enthusiast systems, you could almost purchase any drive at all and be sure you'd be hitting the 550MB/s limit without question.
No sooner did the M.2 format become popular than the latest AMD Zen 2 motherboards brought PCI Express 4.0 to the market, with twice the bandwidth of its PCI Express 3.0 counterpart and some tremendous transfer rates. All of which means it feels like the perfect time to grab a few drives and put them head to head to see whether the brand on the box makes a difference or – given how hot the high speed nature of PCI Express 4.0 can make the drives – whether a heatsink is a key element.

To this end we've brought together some familiar names and some less familiar ones. From Corsair and Seagate we have the MP600 and FireCuda 520, respectively, whilst long-time hardware manufacturer Gigabyte have expanded their Aorus range with the Gen4 SSD. In the 'giant heatsink' corner we have the Sabrent Rocket which keeps popping up in Amazon searches, whilst the Viper VP4100 sits in the mid-heatsink big capacity corner.
With the PCIe 4.0 technology still new, are we back to the days when you must stick with the known options, or can you just buy whatever is cheapest? Let's find out.
Test Setup
AMD Ryzen 9 3900X
Gigabyte X570 Aorus Master
Corsair Vengeance RGB 4000 MHz
Nvidia RTX 2080Ti
Corsair HX1000i
Corsair H150i
Corsair ML Fans
Windows 10 1903
We'll be putting the drives through their paces with AIDA64, the popular Anvil, the 'designed for HDDs but still works well' ATTO, two takes on the Crystal Disk Mark formula as well as the newly added PCMark 10 Storage benchmark. Lastly we'll be looking at the thermals of the drives to discover if you really need a massive heatsink or if all that talk of heat is marketing fluff.
Corsair MP600 1TB is £190 from ScanÂ

Gigabyte Aorus Gen4 2TB is £372 from ScanÂ

Sabrent Rocket 2TB With Heatsink is £370 from AmazonÂ

Seagate FireCuda 520 1TB is £210 from ScanÂ

Patriot Viper VP4100 2TB is £404 from EbuyerÂ
First, let's have a quick look at the drives themselves.