ASUS Zenbook UX305 Review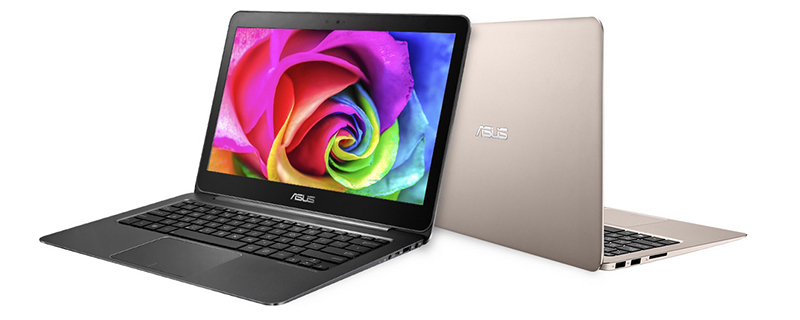 Up Close
Something being light weight is something that's very difficult to get across in text, or indeed any non-tactile medium. When you pick up the box for the Zenbook you're convinced it's empty. Even with all the accessories and packaging it's barely a couple of bags of sugar. In keeping with the Zenbook name minimalism is the order of the day in both the external packaging and within the box itself.
Free from its cardboard coffin its almost impossible to believe how thin the Zenbook is. Don't mistake thin for floppy or poor quality though. The aluminium case feels like a seriously high-end item and, despite its .. thinness, there is a lovely tactile experience just holding it.

High-quality displays are always the difference between sensibly priced hardware and the eye-poppingly expensive. Anyone who has browsed for affordable tablets or notebooks has come away disappointed with how low the resolutions available are. There are no such concerns with the Zenbook as the screen is a sight to behold and contains some excellent pixel density into its 13 inch screen.
In part these pictures help demonstrate the many connectivity options available with the Zenbook UX305, but in reality it's all about how extraordinarily thin it is. There is some difference of opinion in the office about the quest for eternally thinner products and its affect upon available performance, but the Zenbook feels so gorgeous and looks so eye-catching that even the most "performance at the expense of all else" of us think it looks the bomb.
The Zenbook UX305 is completely passively cooled, and you might think this means that the aluminium case gets extremely warm in an attempt to help dissipate the heat, but actually the opposite is true. By utilising thick aluminium on the wrist-rest part of the Zenbook it's kept extremely cool, and nothing we did with the UX305 managed to warm it up at all.