Intel NUC 11 Extreme Review – Ultra-Compact High-End Gaming NUC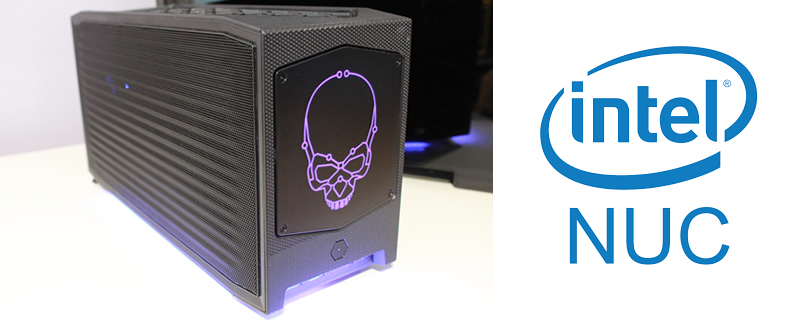 Introduction

Intel's NUC platforms are designed to deliver massive performance levels within small form factors, delivering users compact performance that can often make full-sized tower PCs look bulky and unnecessary.Â
This year, Intel has released their largest and most powerful NUC to date, their NUC 11 Extreme Edition, a barebones kit that supports full-length graphics cards and sports the "Beast Canyon" moniker. With support for Intel's 11th Gen Tiger Lake i7 and i9 processors, this system packs a punch given its form factor, making it suitable for workstation builds and home gaming systems alike.Â
With Intel's NUC 11 Extreme Kit coming with an enclosure that's 357mm x 189mm x 120mm, Intel's NUC 11 Extreme Kit is smaller than practically all gaming-oriented Mini ITX PC enclosures. With Mini ITX boards being 170mm x 170mm, it is hard to see home PC builders creating something smaller without compromising on GPU support or some other factor.Â
The CPU options of this system include Intel's i7-11700B and i9-11900KB, both of which are eight-core processors. Users of this system can choose to install whatever RAM they want (up to 64GB dual-channel), up to four M.2 devices, and full-sized graphics cards that are up to two slots thick.Â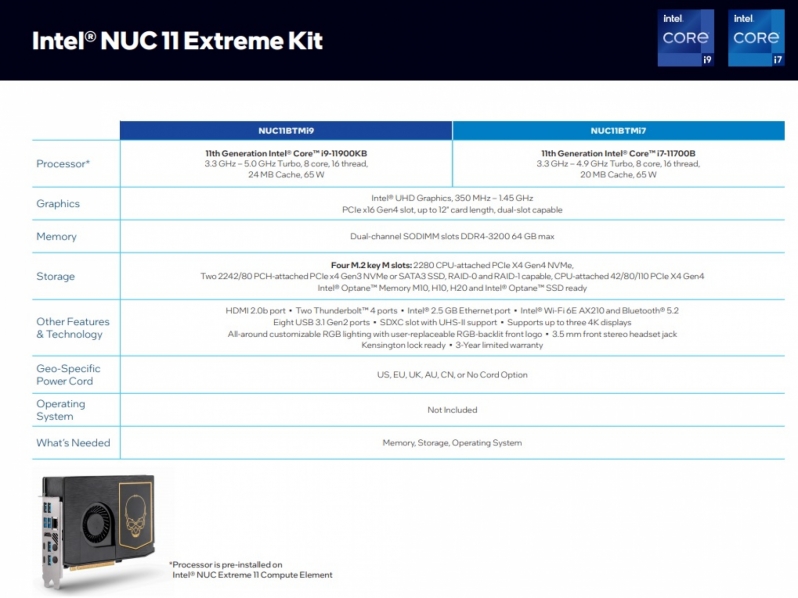 Intel's NUC 11 Extreme Kit

Intel has loaned us a NUC 11 Extreme Kit with an i9-11900KB processor for this review. Intel pre-configured this system with 16GB of 3200MHz memory, a 512GB PCIe 4.0 M.2 SSD, and an ASUS RTX 3060 Dual graphics card.
Depending on your requirements, NUC 11 Extreme users can create much higher-end hardware configurations. Larger graphics cards like Nvidia's RTX 3080 Founders Edition can be fitted, as could higher capacity RAM kits, larger M.2 drives or additional M.2 storage devices.
Intel's NUC 11 Extreme Kit is powered by Intel's Tiger Lake Platform, giving the system two Thunderbolt 4 ports, support for WiFi 6E, 2.5 Gb Ethernet, and Bluetooth 5.2. Additionally, Intel's NUC 11 Extreme Kit also features an SDXD slot with UHS-II support, integrated RGB lighting, and three top-mounted 92mm fans to enhance the system's cooling potential.
 Â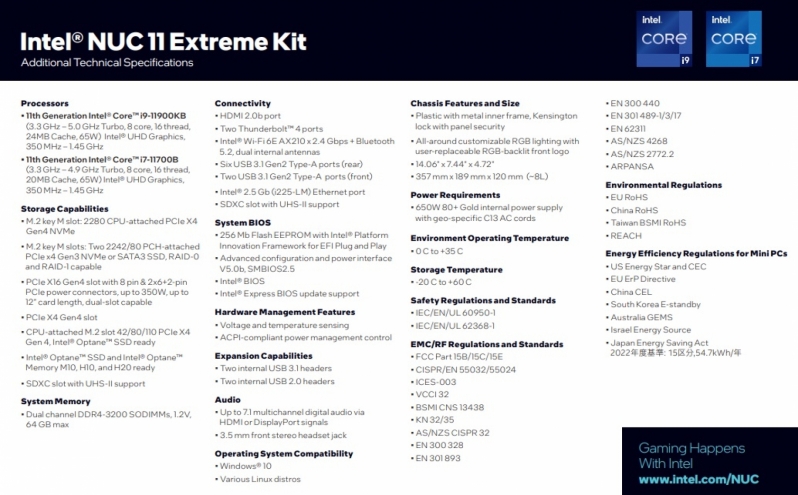 Intel NUC Extreme Compute Element

At the core of Intel's NUC 11 Extreme is Intel's NUC Extreme Compute Element, which is effectively a motherboard that Intel has squeezed into a PCIe-style form factor. On this compute card, Intel has installed a processor, RAM slots, and multiple M.2 slots. This card is the core of a full system, and it can be installed in various NUC enclosures to meet the needs and any given user.Â
With the NUC 11 Extreme Kit, Intel has supplied their latest NUC Extreme Compute Element cards with an enclosure that supports full-length graphics cards and sports a capable 650W 80 Gold Rated power supply. The chassis also features three 92mm fans to supply the system with additional airflow.Â
On these NUC Compute Element cards, the RAM, storage and WiFi components of the card can be removed, upgraded and replaced. The CPUs are soldered to the NUC's motherboard and cannot be replaced. If you need a new processor, you will need a new NUC Compute Element card. That said, with eight Tiger Lake cores and boost clocks of up to 5GHz, most users won't need to replace this processor anytime soon.Â
 Â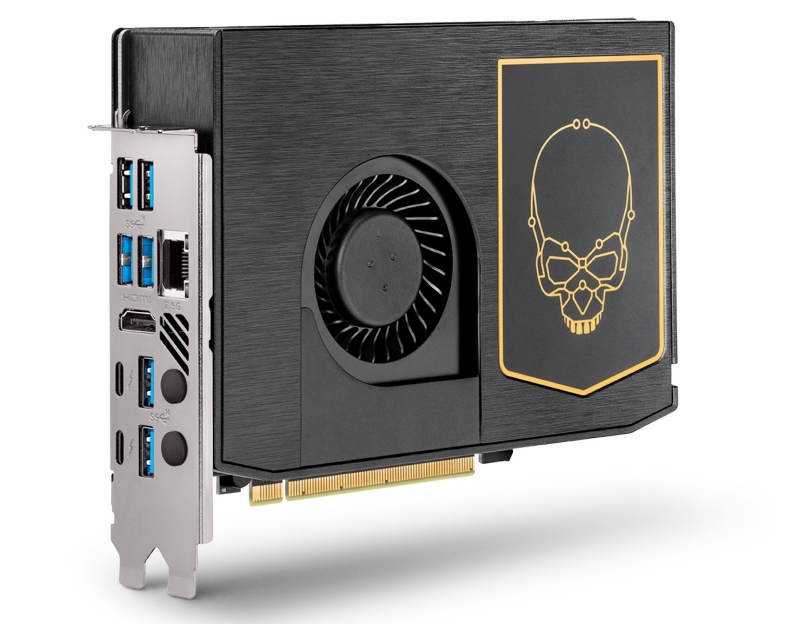 Â
Intel NUC 11 Extreme Enclosure
In the later pages of this review, we will be comparing the size of Intel's NUC 11 Extreme Kit with various other items. This system is small, smaller than practically all most ITX gaming cases and much smaller than the latest games consoles.Â
With the NUC 11 Extreme Kit, Intel created the enclosure of their barebones system to be large enough to accommodate full-sized graphics cards and no larger. We can easily fit GPUs like AMD's reference RX 6800 and Nvidia's RTX 3080 Founders Edition inside this enclosure.Â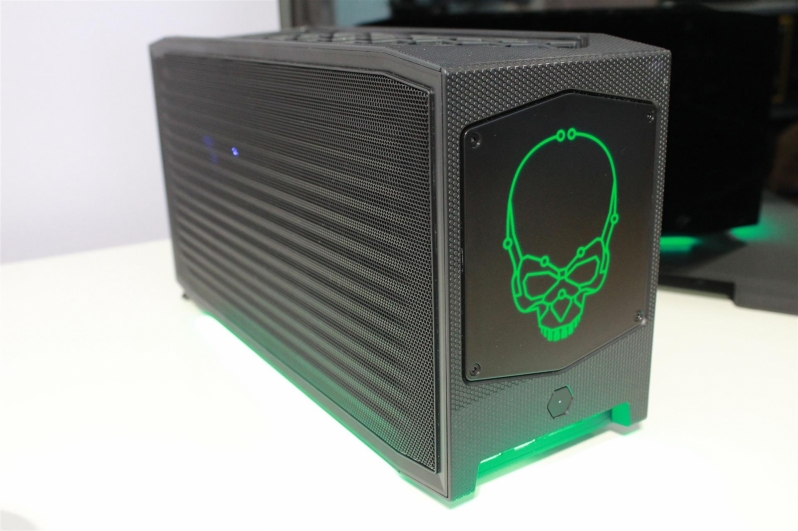 Â
 Â