MESH Elite Mini Gaming OC Review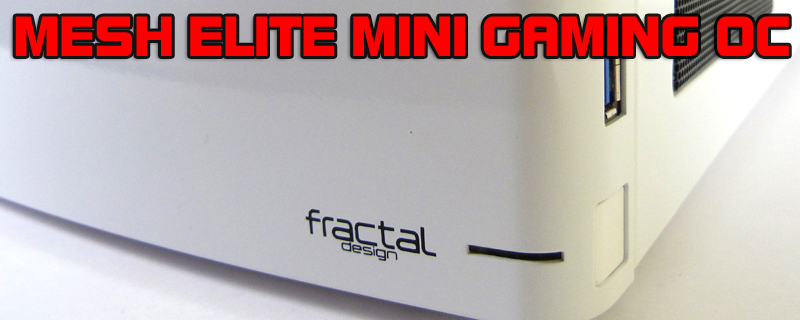 Introduction
It doesn't feel that long ago that the computer market was swamped with manufacturers producing everything from office systems all the way up to gaming systems that cost the same as a decent family car. Indeed the pricing of these systems was a large part of the reason we all learnt how to build our own computers from a variety of components. The recession hit everyone hard and the effects are still being felt today. It destroyed many names that were well known, and even MESH Computers weren't immune from the worldwide financial crisis. But like a phoenix they have risen from the ashes and have a large range of gaming systems combined with some competitive pricing. It seems like the perfect time to review one and see how this refreshed, more tightly focussed, company is doing things.
That isn't the only reason why the timing of this particular review is pertinent. We've just discussed the MSI Nightblade as a partly-built mITX system and the performance that is available from such a compact package. Today we're going to look at the Elite Mini Gaming OC system from Mesh which, as its name implies, is tiny and designed for gaming. It's easy to overthink these things. Sometimes the simplest 'what it says on the tin' way is best.
Specification

Reading through the specifications of the Elite Mini Gaming OC is like reading a what's what of current hardware. Mildly overclocked hyperthreading CPU, check. Great motherboard and GPU combination, check. Fast OS drive and big storage drive, yes sir. There is nothing here we'd change, beyond our usual complaints about Windows 8.
Fractal Design Node 304 Mini-ITX Case
Cooler Master RS750 PSU
MSI R9 290X Gaming
MSI Z87i Gaming AC
Intel Core i7-4770K overclocked to 4.2GHz
Corsair H60 Cooler
16GB 2133MHz DDR3
240GB SATA 6Gb/s SSD
2TB SATA 6Gb/s HDD
6x External Blu-Ray reader and DVD Writer
Microsoft Windows 8.1 x64