PC Specialist Glacier Review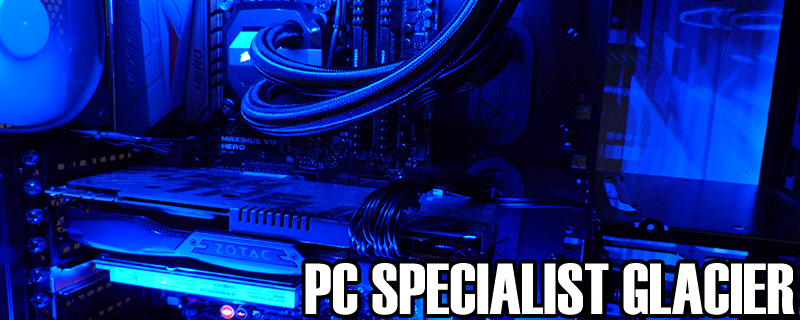 Introduction
If you only listened to Christmas songs you could be forgiven for thinking that Christmas is all about giving and family, and sure that plays a part in it but who doesn't want to give themselves a gift at this time of year. Work hard all through the year and reap the rewards of your Christmas bonus by getting yourself something. You might think that it doesn't mean as much when you buy it for yourself, but it does.
PC Specialist supply an enormous range of PCs, fully customisable to whatever specification you desire. We've reviewed a few of them in recent times and found them all to be built extremely well and have a specification list that makes a mockery of most others, particularly at the relatively low price points PCS charge.
The system on test today, the Glacier, reads like a what's what of current PC hardware thinking. Wherever you look in the specifications you find it reading like a wishlist of a particularly well-heeled enthusiast.

Specifications
The Corsair Graphite cases, and the 780T in particular, are fabulous offerings that look amazing and really show of your components to their best ability. And what components they are. The Glacier is built around the Maximus VIII Hero, probably the best Z170 motherboard around. In that beats an Intel i7-6700K overclocked to a whopping 4.65GHz. This is backed up with 16GB of 3000MHz DDR4 and all powered by the excellent Corsair RM 850W PSU. The headline grabbing hardware has to be the GTX 980 Ti, a Zotac model in our review system, and the belle of the ball, a 400GB Intel 750 PCIe SSD. By utilising the PCI Express bus the Intel has read speeds well over 2GB/s, and write speeds of 1GB/s. Impressive. Let's take a look.