PC Specialist Glacier Review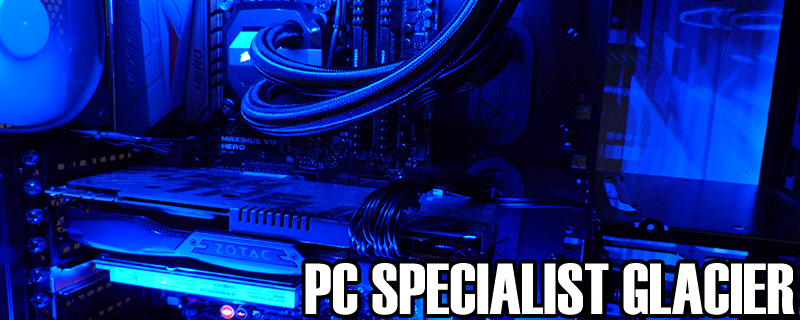 Up Close
The days when you brought a pre-built system and got nothing but the case are long behind us thanks to the PC Specialist welcome pack which contains absolutely everything you would have if you'd have chosen to buy the hardware separately and build it yourself. Although obviously because it's pre-built you don't get the skinned knuckles, stress of finding a stable overclock or worries about DOA hardware.
We want to find the person who invented this packing foam and shake them warmly by the hand. It's amazing stuff and ensures that your graphics card and other sundry hardware doesn't shake about in transit. Once you gently ease it away from the tubing the Glacier is revealed in all its glory. Who doesn't love the sight of a freshly built system. Free from dust and just waiting to be given a good thrashing.

You can always tell a good build by the cable management. It's too easy to just plug the hardware in and ship it out the door, or even cram it all around the back of the motherboard tray without any concern. Look at this though. It's a work of art, and makes my own cable tidying efforts look as woeful as they are.Â
With plenty of airflow in the 780T thanks to lots of intake fans and some quality exhaust offerings, the temperatures inside should be nice and low, even under extreme loadings.
We know that there are many of you who would look at this picture and lust after the Zotac GTX 980 Ti, and rightfully so, but the star is definitely the Intel 750. It would take a lot of expense and fiddling about with RAID Arrays to get anywhere near the speeds the 750 is capable of, and the Intel 750 is a plug and go solution.
Everything else is much as you would expect it. Carefully placed cables (look at the one between the memory and the pump for example) and, when the power button is depressed, some of the bluest lighting this side of a Knightsbridge vodka bar.