PCSpecialist Vortex Master Review
Introduction
If there is one thing that holds true, it's the need to maximise every pound you spend. This has always been the case, but in a post-Pandemic world where the economy has been annihilated, post-Brexit where this country is in an economic dark age, this is perhaps felt even more keenly than ever. Whenever a new product gets launched we spend a lot of time extolling the virtues it has in terms of performance, with only a little attention paid to the cost effectiveness of each new hardware item, unless it's a particularly egregious case.
Regular OC3D readers will be familiar with our love for the 1×600 series of Intel processors as the basis for a gaming platform. The Core i5-11600, then the 12600 and now the Raptor Lake Core i5-13600 are all processors which blend the performance we desire for gaming with enough horsepower to handle daily tasks and at a price which is extremely competitive. The fact Intel have continued to use their LGA 1700 socket also means that the 600 chipset series of motherboards can use them happily and it's this B660 + Core i5-13600 platform that the PCS Vortex Master is based upon.
A good platform is fine, but we want to game with our systems, and the Nvidia RTX 4070 Ti is, whatever you may think of the naming convention, a fantastic gaming card, with plentiful performance at a price which is supremely affordable, relative to the equivalent performance from their Ampere range. Combine the RTX 4070 Ti and Intel Core i5-13600 and you have a system that will gleefully chomp through any task you set it. Wrapping it all up in a full system for under £1700 makes the PCS Vortex Master a very desirable system on paper. Let's take a look at it in the flesh and then put it through some benchmarks.

Technical Specifications
As with all PCSpecialist systems you can configure it to your own preference. Our test rig comes with the specifications below, which will be the one you'll get for the price. We'll discuss at the end if we think there are any improvements worth a little more saving.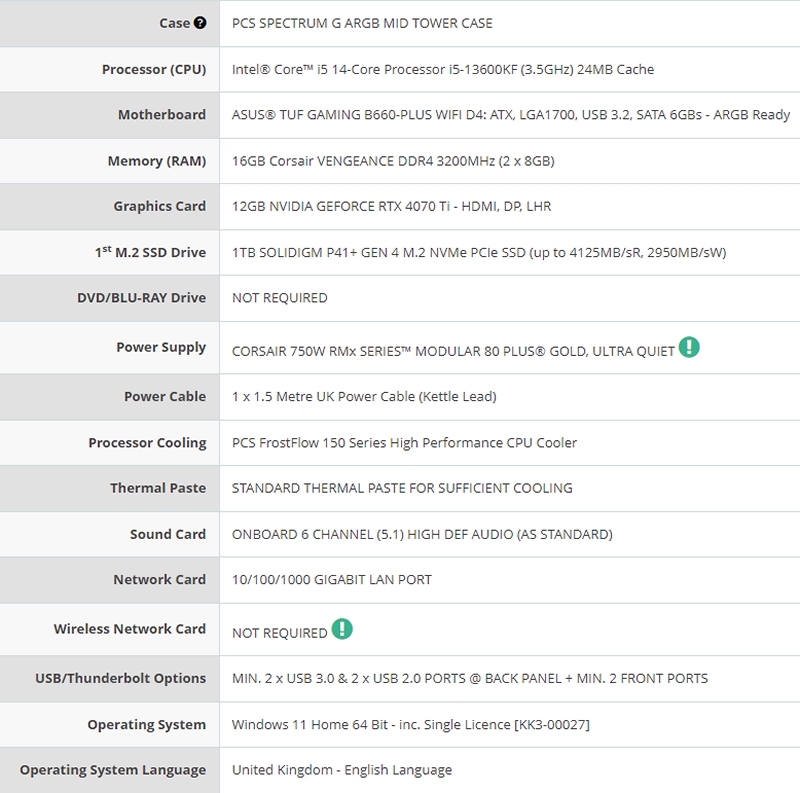 Up Close