PCSpecialist Vortex Master Review
Conclusion
It's all too easy to get bogged down when trying to compare different systems, or even attempt to build a rig which will not only tick your boxes. We've all been guilty of having a strict budget and then building a specification, deciding that if we just spent an extra fifty quid here we could get the next model up. Oh and another fifty would let us double our storage space. Then before you know it you've blown your budget by 500 quid for no noticeable improvement in real-world terms.
With the top end of PC Hardware now expensive enough that only the very wealthy need apply it is easy to ignore the models a little further down the range. In the case of the PCS Vortex Master there are only a couple of areas we'd change for our personal preference, but we'll come to those in a moment. What it is supplied with in our review specification is more than enough system to sate even the hungriest gamer. When you can run Cyberpunk with ray-tracing on at 4K and still pass 60 FPS, you're golden.
Naturally there are many elements to consider with any system build, but let's talk in general terms. The motherboard, an ASUS TUF WiFi B660-Plus is more than enough motherboard to run the 13th Generation of Intel CPUs. Additionally, because it supports DDR4, you're getting affordable memory that is still plenty good enough. We've compared DDR4 vs DDR5 a bunch here at OC3D and it almost never has a noticeable effect upon the benchmarks. It will eventually as DDR5 matures, but right now it doesn't. The processor itself is the sweet spot between speed for gaming and cores for everything else. As you could see from our Cinebench results the Core i5-13600KF nearly matches the Core i9-12900K. Impressive. The four supplied fans are good at pushing airflow through this compact case, and the case itself might not win any innovation awards but it's inoffensive and solid enough to do its primary job of keeping all your kit in one place.

Lastly the Nvidia RTX 4070 Ti might have a little bit of a reputation if you compare it to cards that have come before, naming schemes and price points, but if you look at it in a vacuum where it can get over 60 FPS in any game you throw at it, and the whole system costs less than a RTX 4090 on its own. The reality is that you might want more horsepower, but you don't actually need any more than the Vortex Master provides.
PCSpecialist are famed for their build quality and ability to let you customise each element to your taste, and the Vortex Master is no exception. Naturally this price is for the specification we've listed. If we were buying it we'd definitely upgrade the CPU cooler. The FrostFlow 150 keeps things just about under control but during lengthy abuse of the processor it started to thermally throttle a little and the fans were running flat out, and thus too loud for us to tolerate long term. As always your mileage may vary. We'd always pay a little extra for a little more silence, especially given the lengthy hours we spend with ours. If you can stretch to a 240mm AIO then do so. Again, the FrostFlow 150 is good enough for the task, it's just the 13th Gen run hot and we like quiet and long-term security. We'd also prefer Windows 10 to the dumbed-down 11, but hey.
The PCSpecialist Vortex Master is a true weapon. Enough horsepower to do creative tasks, and more than enough 4K gaming performance to handle anything currently available. It's a bargain at £1699 and wins our OC3D Performance Award.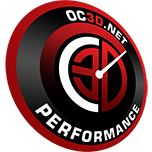 Â
Discuss the PCSpecialist Vortex Master in our OC3D Forums.