Antec Kuhler H2O 1250 Review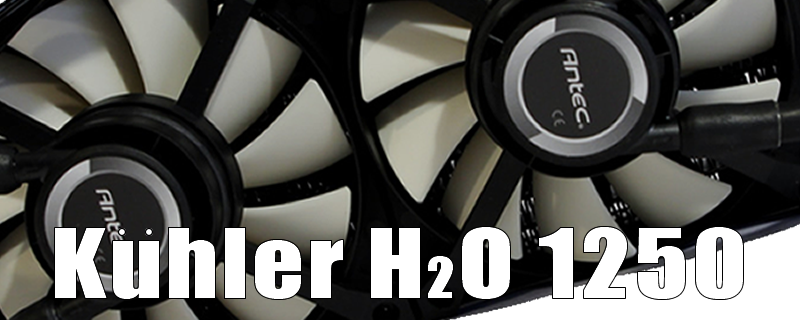 Up Close:Â The Cooler
It's immediately clear from the images below that the Antec Kuhler 1250 is something different. The most obvious difference between this and other AIOs on the market being the tall turrets sitting centrally on the hubs of the fans. These hubs are in fact both motors for the fans and pumps for the coolant.  The pumps are connected to the cold plate by means of two 300mm lengths of tubing. There are also a considerable amount of wires playing between the two. In total, 4 fan headers, a power connection cable and a USB cable.
Â

From directly above the assembly doesn't look that much different, save for the tubing coming and going from the rad and pumps. From the side however things are considerably different, with the rads weighing in at 27mm deep, the 50mm of the fan and pump assembly ups the overall depth of the unit to some 77mm. potentially giving clearance issues for motherboards with tall heatsinks next to the edge of the motherboard.
Â
The tubing follows a path from the cold plate to the proximal pump, from there it goes to the rad and then to the distal pump and finally back out of the distal pump, back into the rad and out back towards the cold plate. The tubing is very pliable forming nice tidy constant radius curves with no evidence of kinking.
Â
The radiator is essentially a 240mm unit, measuring 27mm in thickness including the shrouds. The medium fin density should give reasonable performance across the board. On inspection we could find no evidence of bent or buckled fins, with all solders and welds being clean and tidy.
Â
As the cold plate does no contain an integral pump as it would on other AIOs it is, as a result, considerably thinner. A centrally placed Antec badge is back lit with LEDs when the unit is in operation, the colour of the LEDs being determined either directly by the user using the Grid software or by linking the colour to a heat profile in the software, Blue for cool, Red for hot etc. The tidy lines of the cold plate are though somewhat spoiled by the great conflagration of cables that burst from its side
Â
The tubing meets the cold plate via ninety degree elbows, both of which are capably of rotating forty five degrees or so to aid fitting. The cold plate contact surface is highly polished copper and comes with a central coating of pre applied TIM. We will of course be removing this for our tests and applying our usual test TIM to aid continuity.