Antec Kuhler H2O 1250 Review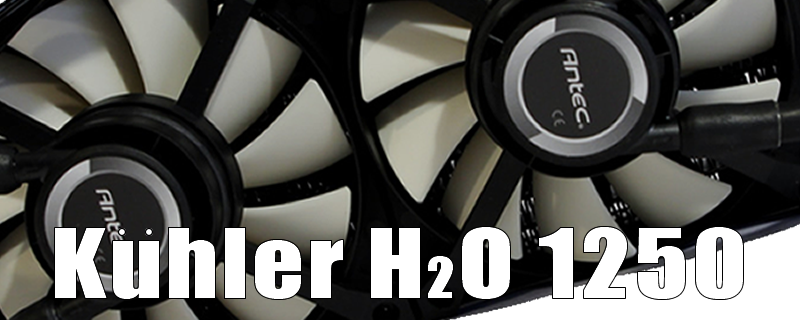 Fitting
Fitting the 1250 is actually quite a straightforward process, similar in many ways to that of other manufacturers, but with a few refinements. Chief amongst these is the use of a multi socket mounting ring. Where other manufacturers provide a different ring or screw on brackets for AMD and Intel, Antec have employed a method whereby moving the location pins around the circumference allows the same ring to be used for both CPU manufacturers. To avoid the location rings slipping curved rubber bungs are placed into the curved gap. Antec also utilise a single multi platform back plate.
Â

Fitting the rad/fan/pump assembly into our Cooler Master "Test Trooper" was simple with plenty of room allowed up top. Antec do actually provide a set of stand off brackets which will enable you to offset the assembly an additional 10mm away from the motherboard which should help to mitigate some clearance issues which could result on smaller cases. unfortunately little thought has been given in the factory to the placement of the Antec logo. Granted we could have gotten it a bit more upright if we'd rotated the coldplate through 180 degrees, but this made the tubing turn corners it didn't really want to. Even then with the logo not being placed perpendicular to the brackets in any plane it would still have appeared on the wonk. We were also alittle concerned when we came to mount the cold plate that the location ring would slip round out of it's grooves as the fit to the cold plate wasn't very tight. In practice this proved not to be a problem and all went together very simply.
Â
Although with our standard sized RAM we never encountered any clearance issues it's worth mentioning that if you're planning to install with tall RAM you have about 50-55mm of clearance in totalÂ
Â
We quite like the way the fan and pump turrets look with the tubing coming and going although it might no be to everyone's taste. All in all we found the fitting process as easy as most on the market. If you're using the back plate it will be a bit more of a fiddle but as it comes with attachable sticky pads to keep in in place during fitting you're not going to need to call in help or worse still have to take the motherboard out.
Â