ASUS ROG Ryujin III 360 ARGB CPU Cooler Review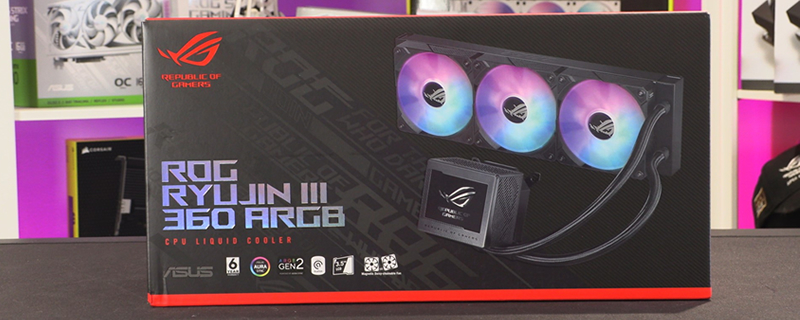 ASUS takes CPU cooling further into the extreme, meet the ROG Ryujin III
Earlier this year we reviewed ASUS' ROG RYOU III series of CPU liquid coolers, and we found them to be amongst the best performing CPU coolers that we have ever tested. Now ASUS is taking things one step further with their new ROG Ryujin III series coolers, boasting significant upgrades over their Ryujin II and a lot of snazzy add-ons.
With their RYOU III series, ASUS had already released a high-end product, but with their new Ryujin III ASUS has moved further into the enthusiast territory by adding a dedicated VRM cooling fan into the mix, new daisy-chained ROG AIO fans, and a high-end LCD screen. In short, this is ASUS' new flagship ROG branded CPU cooler, and that makes this a highly premium product. 
Like the RYOU III, the heat of ASUS' ROG Ryujin III 360 ARGB CPU cooler is ASETEK's 8th generation pump, which is powered by a 3-phase motor and promises stronger performance than ASETEK's older pump designs. As you can see below, this CPU cooler's cold plate and pump section also features an integrated VRM fan, which is designed to provide airflow around your motherboard's VRMs. In our view, this extra fan is an unnecessary add-on, as motherboards are designed to be adequately cooled without this additional airflow, and small fans like this can be an annoying source of noise.

Out of the box, ASUS' Ryujin III supports all of the latest mainstream motherboard platforms, including AMD's AM4 and AM5 sockets, and Intel's LGA 1700, 1200, and 115x sockets.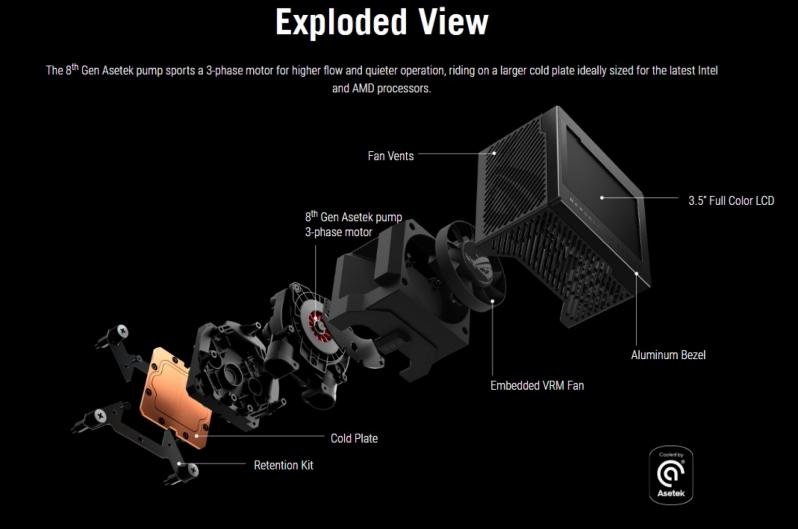 One of the main upgrades that ASUS has made tot heir Ryujin III is to the unit's full-colour LCD display, which now features a larger memory capacity of 32MB and supports GIFs with up to 2,000 frames (up from 500 on the Ryujin II). This allows for longer, clearer, and higher framerate animations to be played on the screen.
The Ryujin's screen can also be used to monitor your system's clock frequencies, play personalised animations, or showcase other system information. It can also be used to display static wallpapers and text.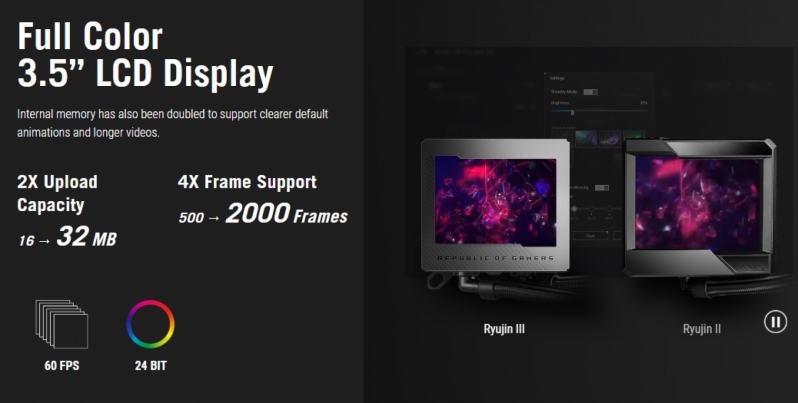 When compared to the Ryujin II, the Ryujin III features a thicker liquid cooling radiator (30mm instead of 27mm), new tubing that has a larger radius of 7mm (instead of 5mm) to reduce flow resistance, and a new cold plate that is now 32% larger to allow the Ryujin III to better cool large processors.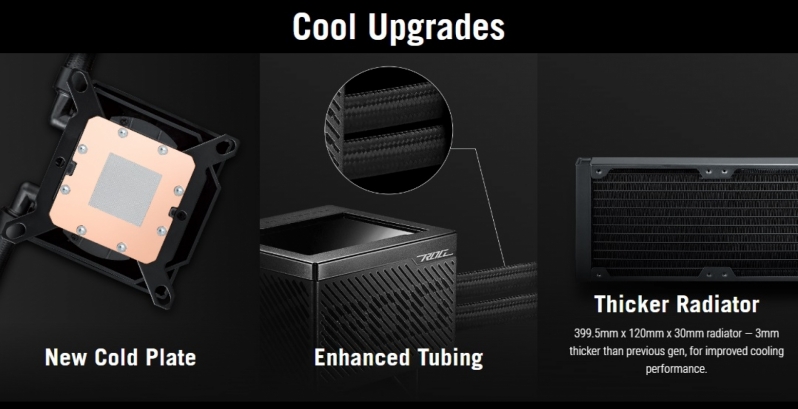 Up Close with ASUS' ROG Ryujin III