be quiet! Dark Rock Elite and Dark Rock Pro 5 Review
Thermal Performance – Solid performance while being quiet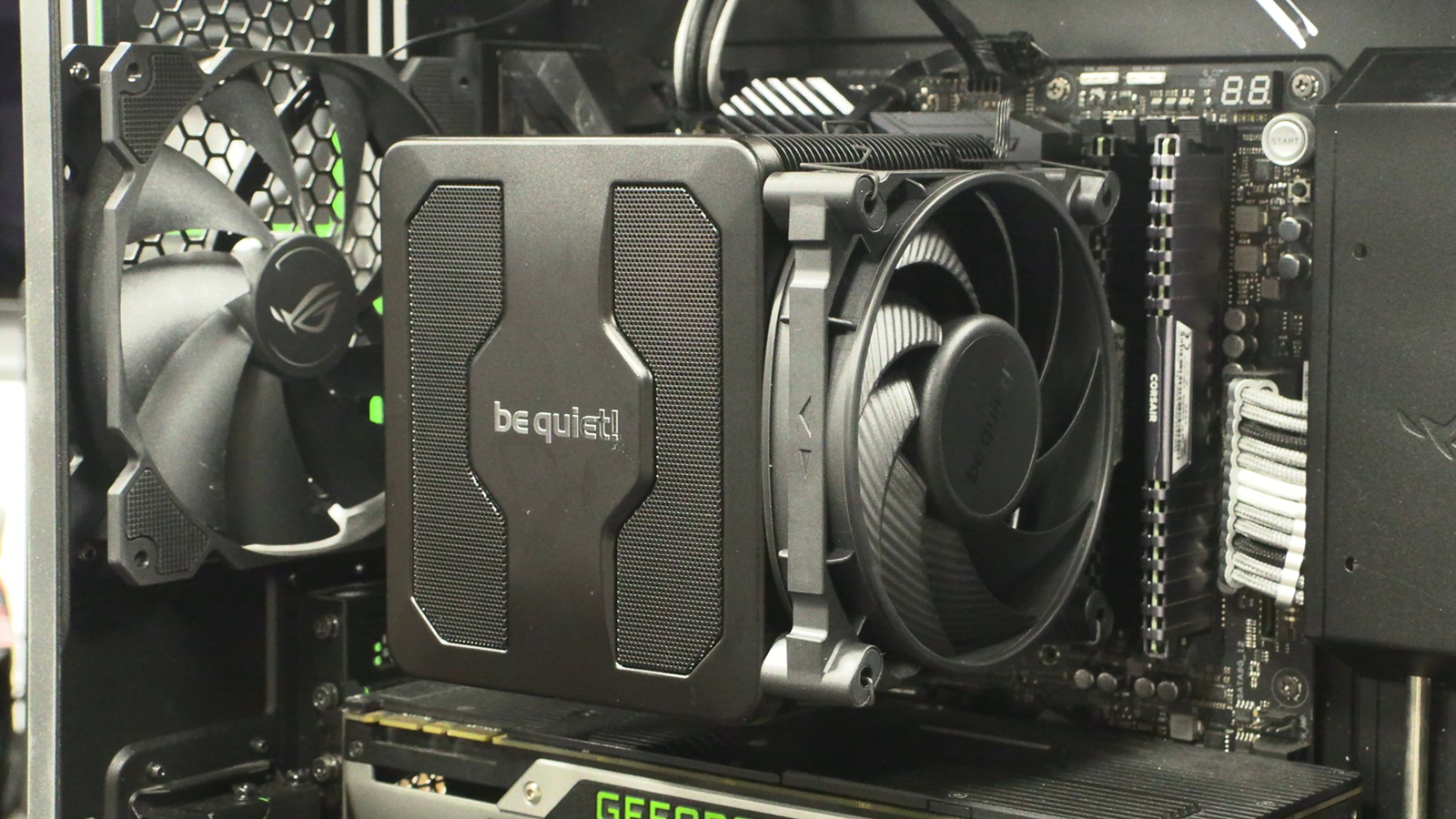 Thermal Performance
As always, our CPU cooler testing has been conducted on an overclocked i9-9900K that is clocked at 4.8GHz at 1.2V. Using this configuration, we test the thermals of our processor using various CPU coolers. These tests were heavy loads, using OCCT for 30 minutes. The charts below shows the data we have gathered.
Overall, the Dark Rock Pro 5 and Dark Rock Elite are both solid heatsinks options. At low fan RPMs they are amongst the best performing air heatsinks available. Both perform better than Noctua's famed NH-D15 heatsink, but at higher RPMs there is stronger competition. Honestly, we are surprised how close both heatsinks are to be quiet's 360mm Pure Loop 2 AIO liquid cooler in our testing.
600 RPM
At 600 RPM, be quiet's Dark Rock Elite and Dark Rock Pro 5 deliver near-identical thermal results. This makes sense given how similar both heatsinks are, with the same number of heat pipes and the same fundamental heatsink design and manufacturing. Both heatsinks deliver much better thermals than Noctua's NH-D15, what used to be the heatsink to beat. Today, the NH-D15 is showing its age, with be quiet's latest heatsinks smashing it.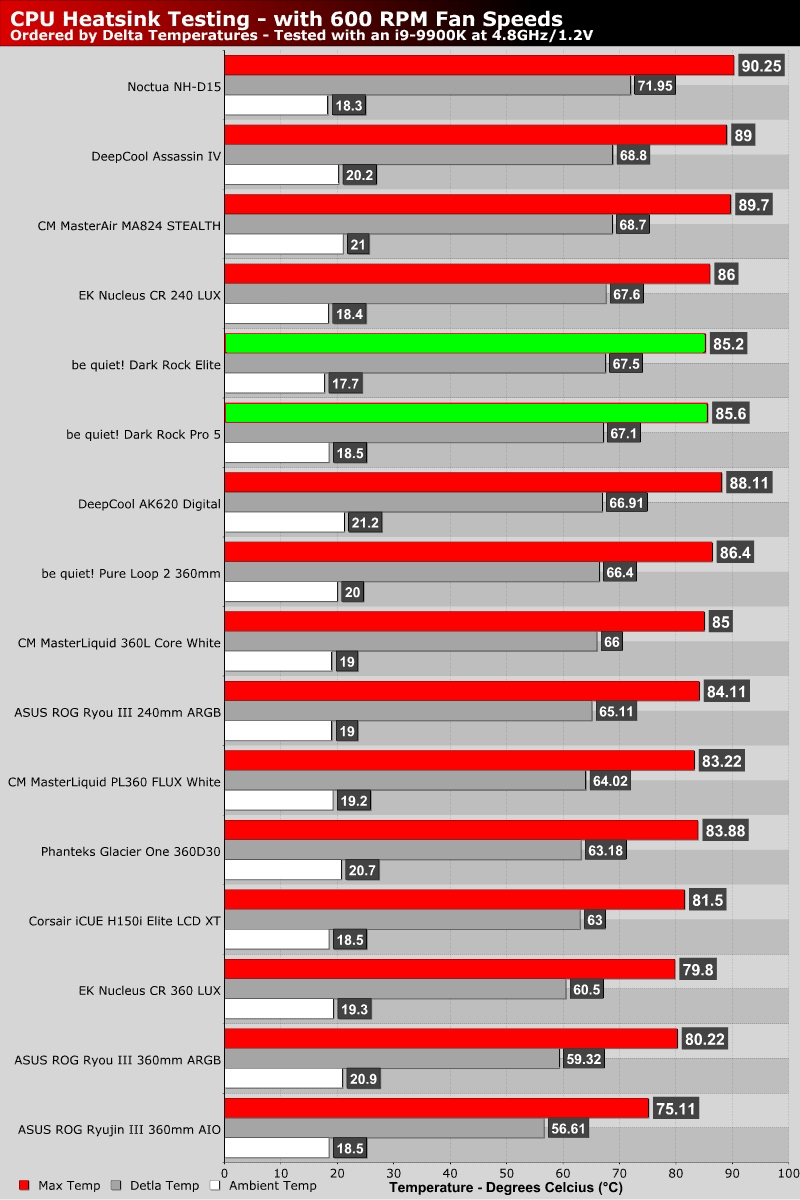 1,000 RPM
At 1,000 RPM a performance gap appears between the Dark Rock Pro 5 and the Elite. The Elite delivers better thermal results and is the best performing air-based heatsink in the chart below. This is great news for be quiet, as most modern fans are practically inaudible when running at 1,000 RPM. Great news for users who value silence.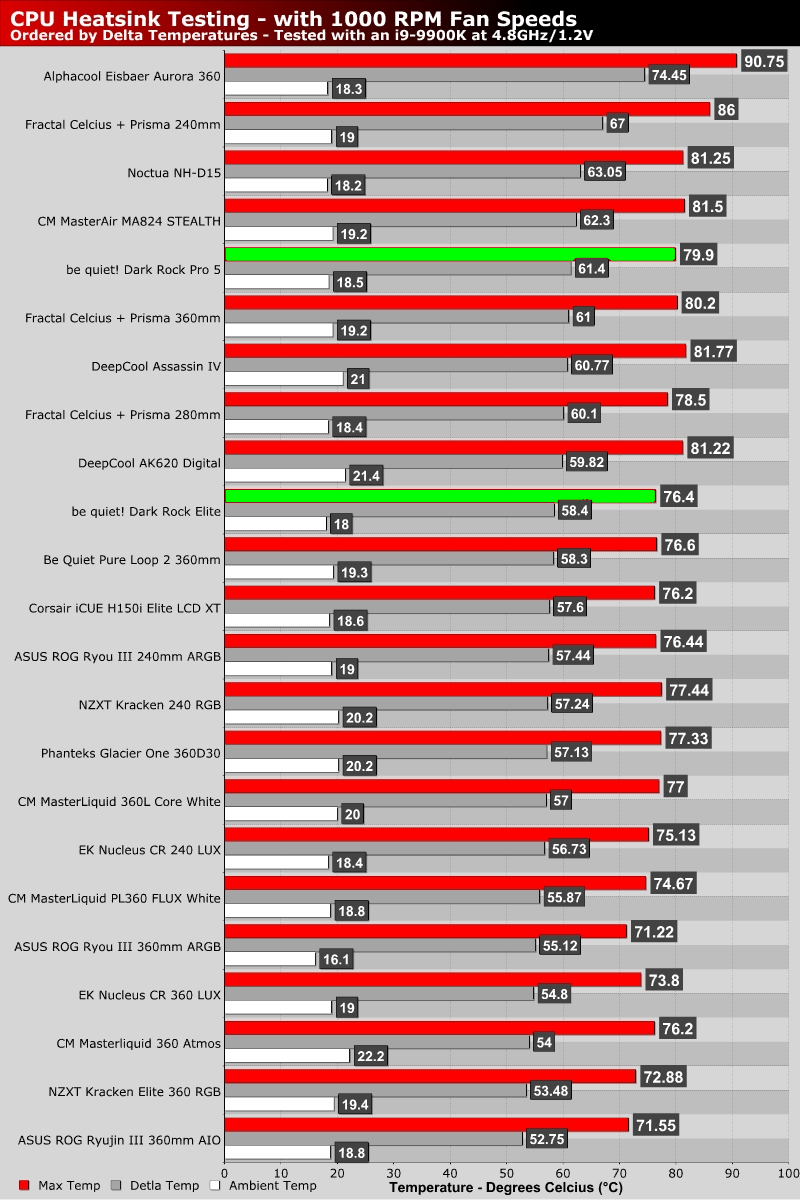 Maximum RPM
Strangely, at maximum fans speeds the performance of the Dark Rock Pro 5 and Dark Rock Elite become similar again. Perhaps the Elite does not benefit much from increased airflow past a certain threshold? In the graph below the Assassin IV reigns supreme.