HYTE Y70 Touch PC Case Review
Up Close with the HYTE Y70 Touch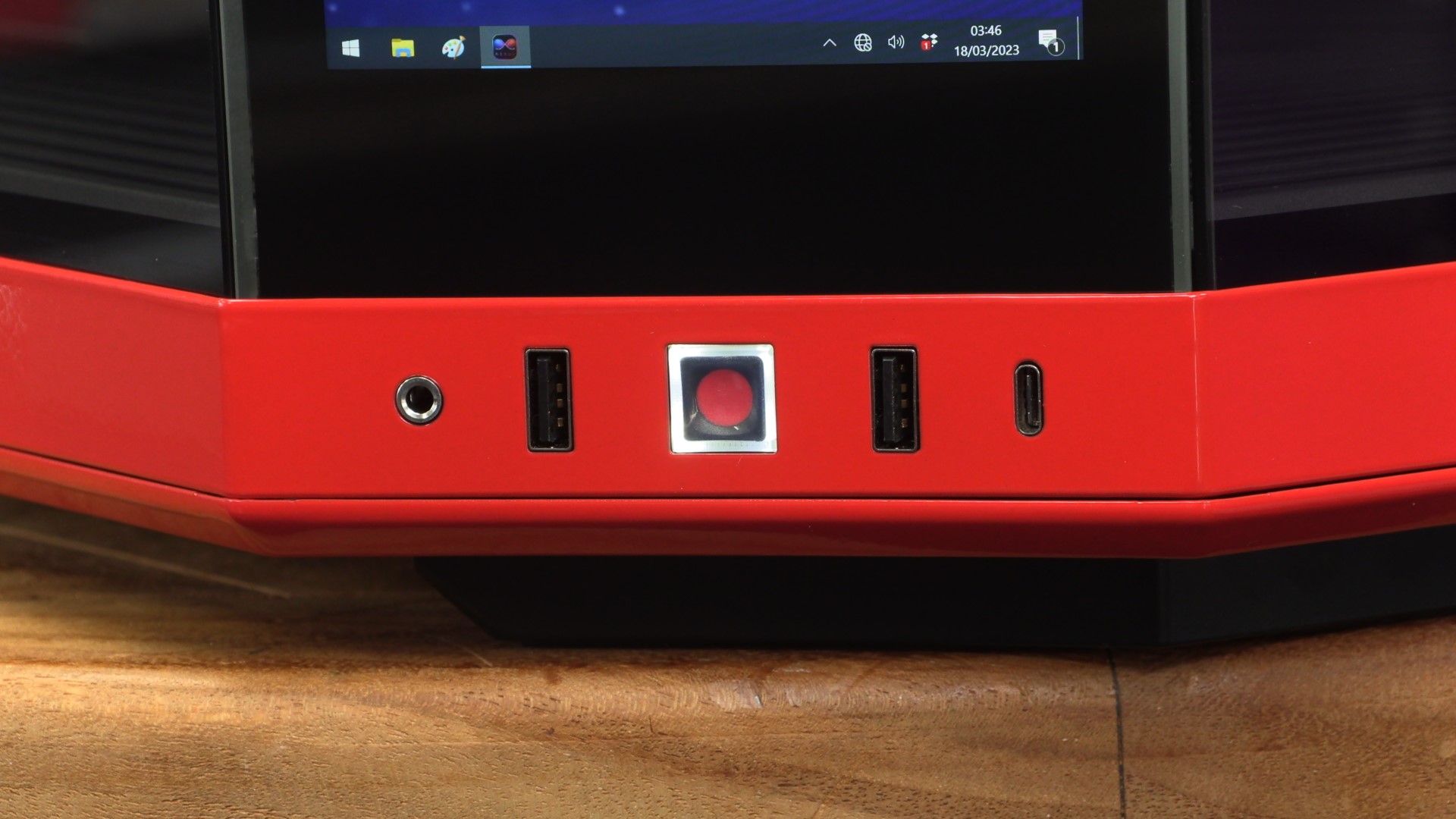 A close look at the Hyte Y70 Touch
In a sense, the Hyte Y70 Touch is just a larger Hyte Y60. It features the same core design, the same fundamental aesthetic, and the same tempered glass panel design. That said, below the surface we can see that a lot has changed.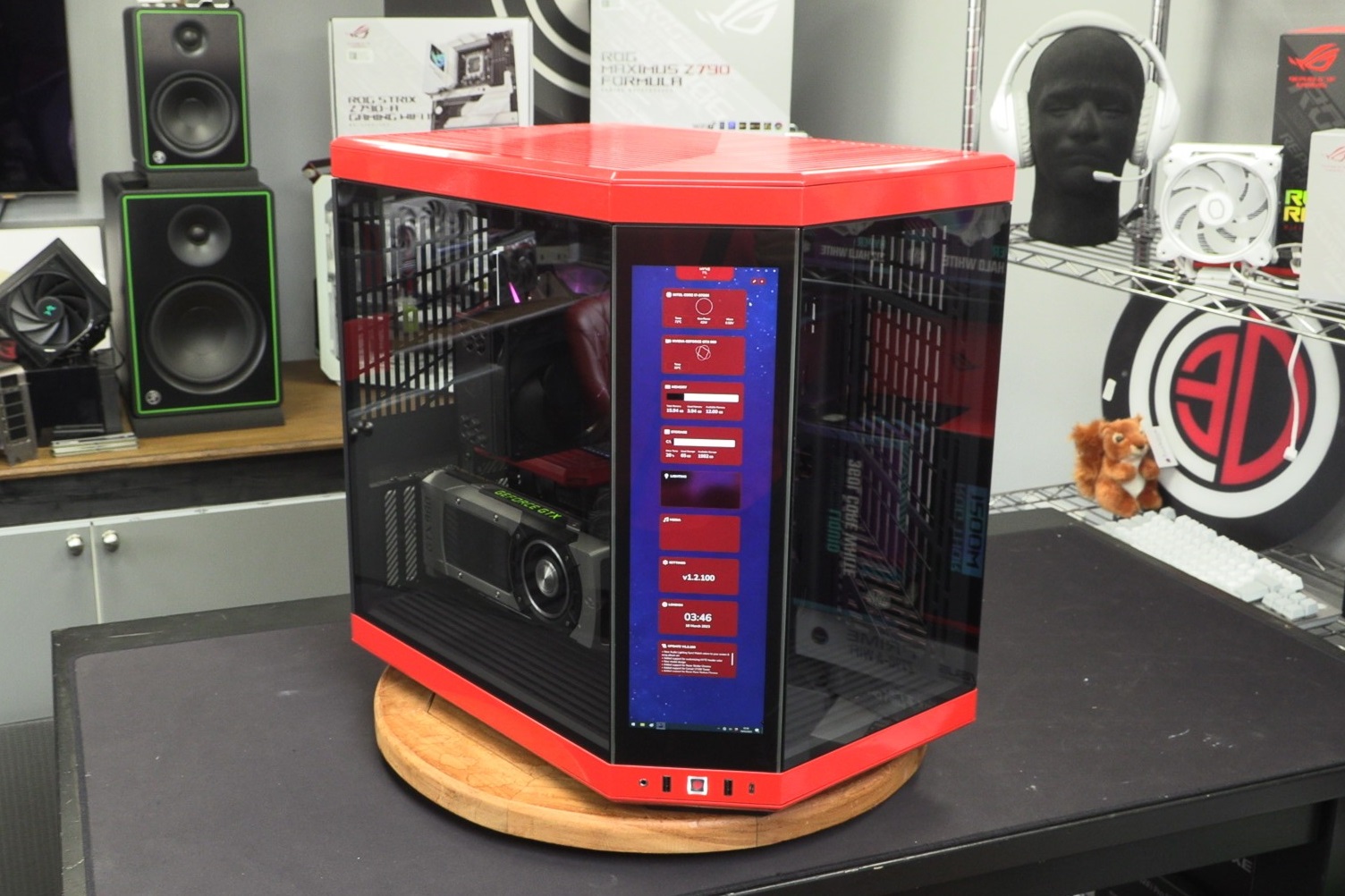 Like the Y60, the Y70 Touch's design has a lot of clean lines. This case's top panel can be easily removed to reveal space for up to three 120mm fans or two 140mm fans.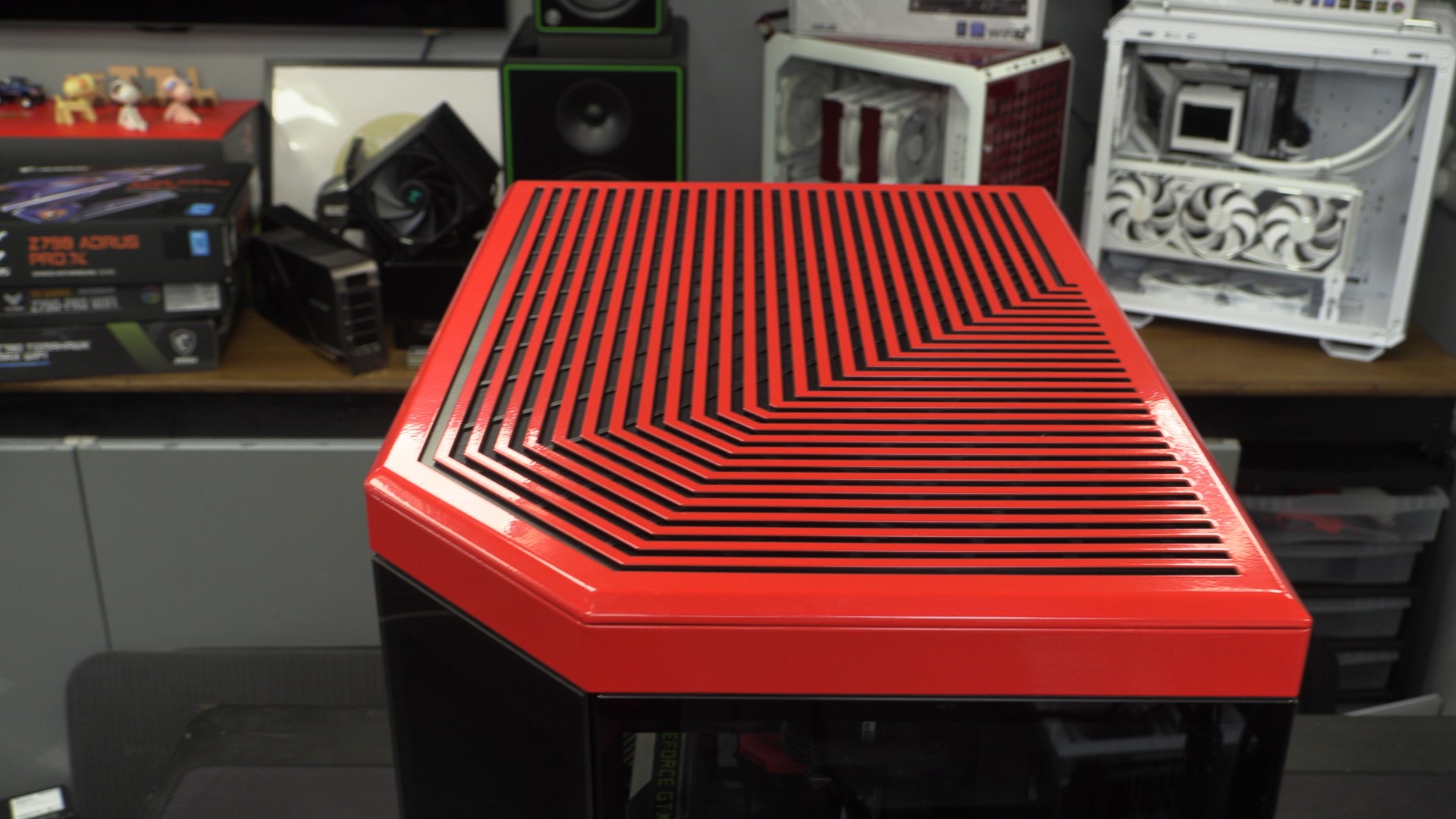 At the top of the Hyte Y70 Touch is enough space for up to a 68mm thick 360mm liquid cooling radiator or a 280mm liquid cooling radiator. This case has a lot of space for a large liquid cooling setup, and support for much thicker radiators than most standard PC cases.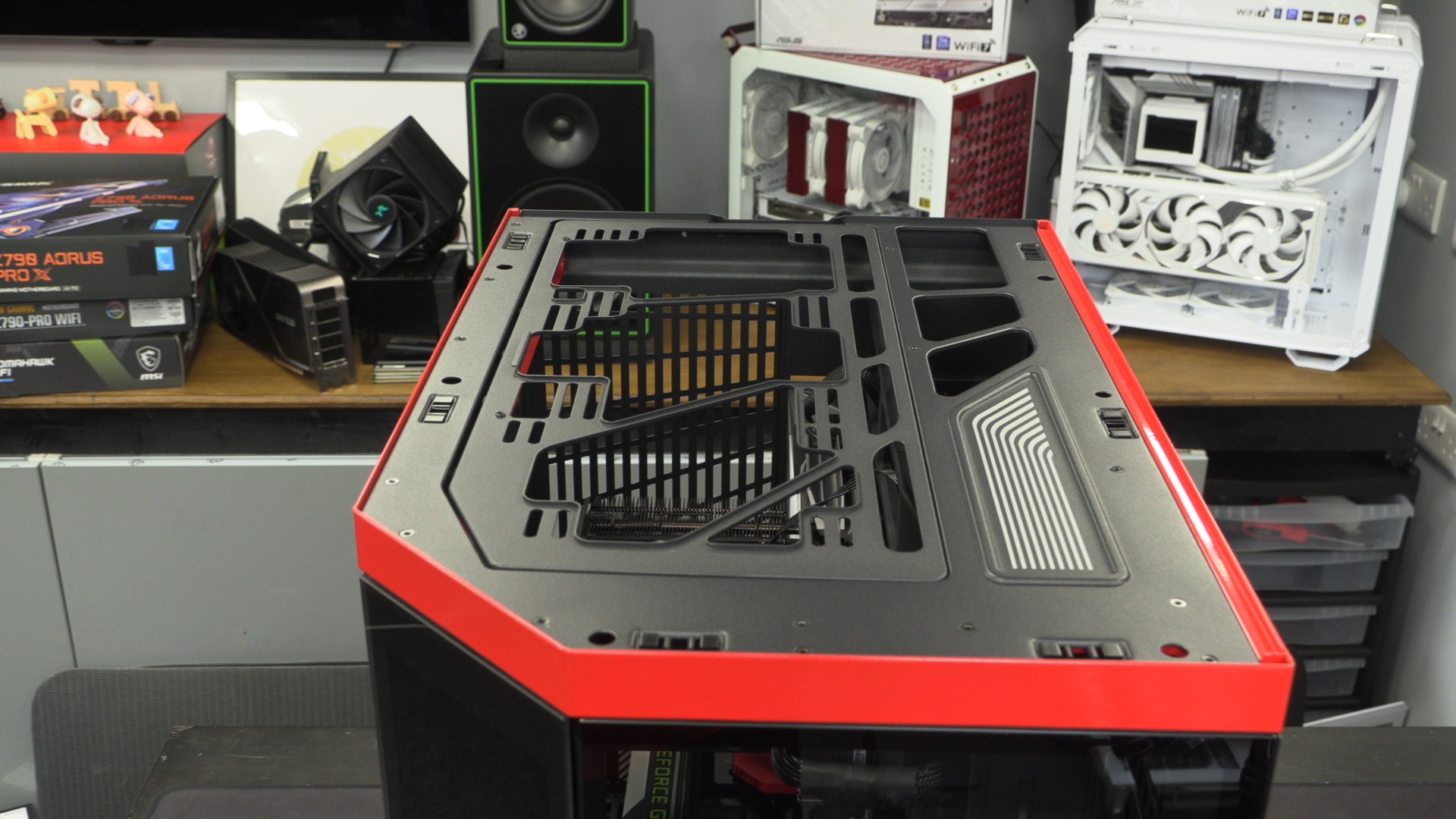 At the rear of the Y70 we can see a 4-slot wide vertical GPU mounting slot and seven half-hight PCIe slots. One of these PCIe slots are occupied by this case's DisplayPort pass-through, which is used to connect this case's integrated screen to your GPU.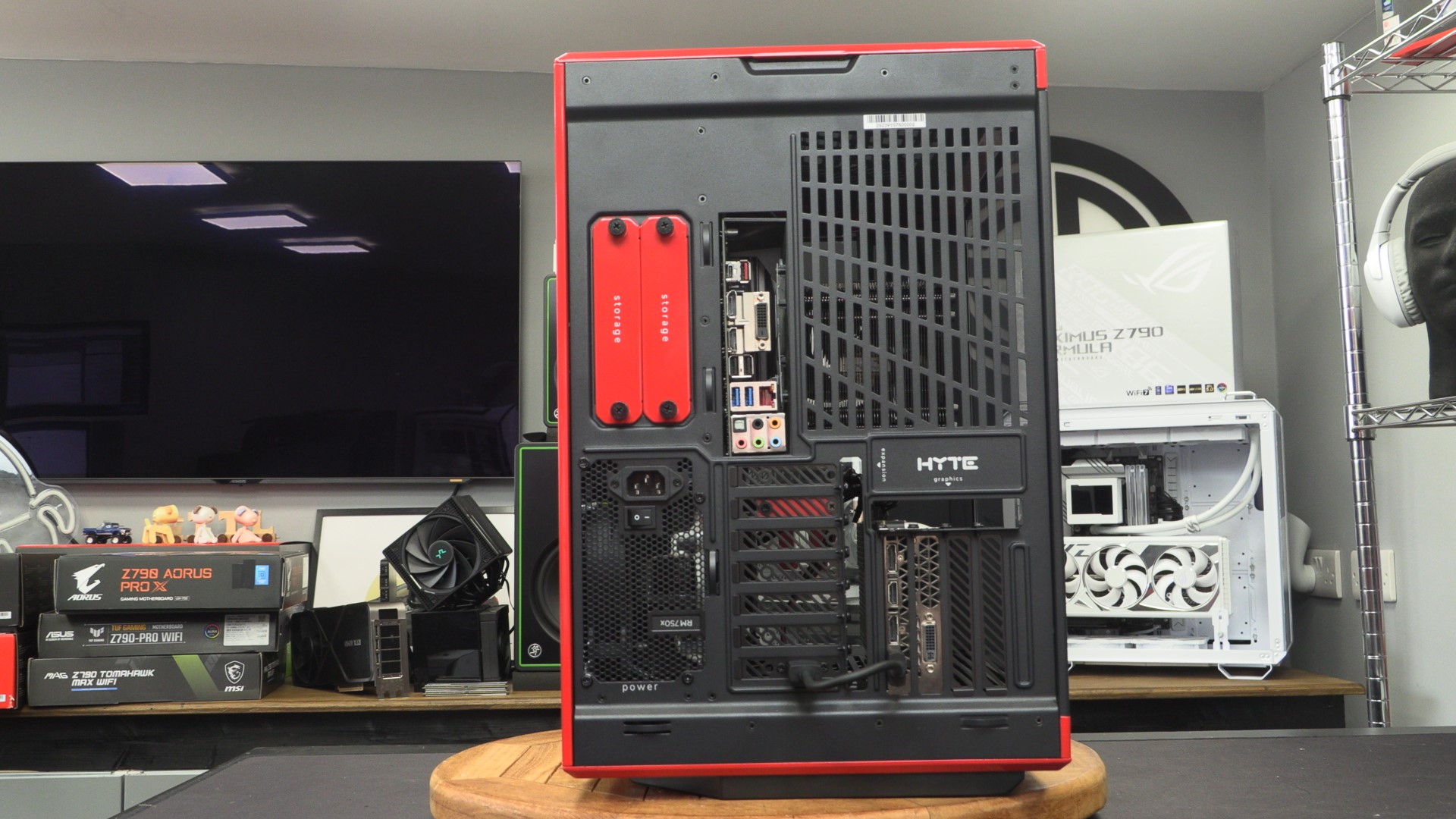 The right side panel of the Y70 carries on the design of the case's top panel with clean lines that follow the case's edges.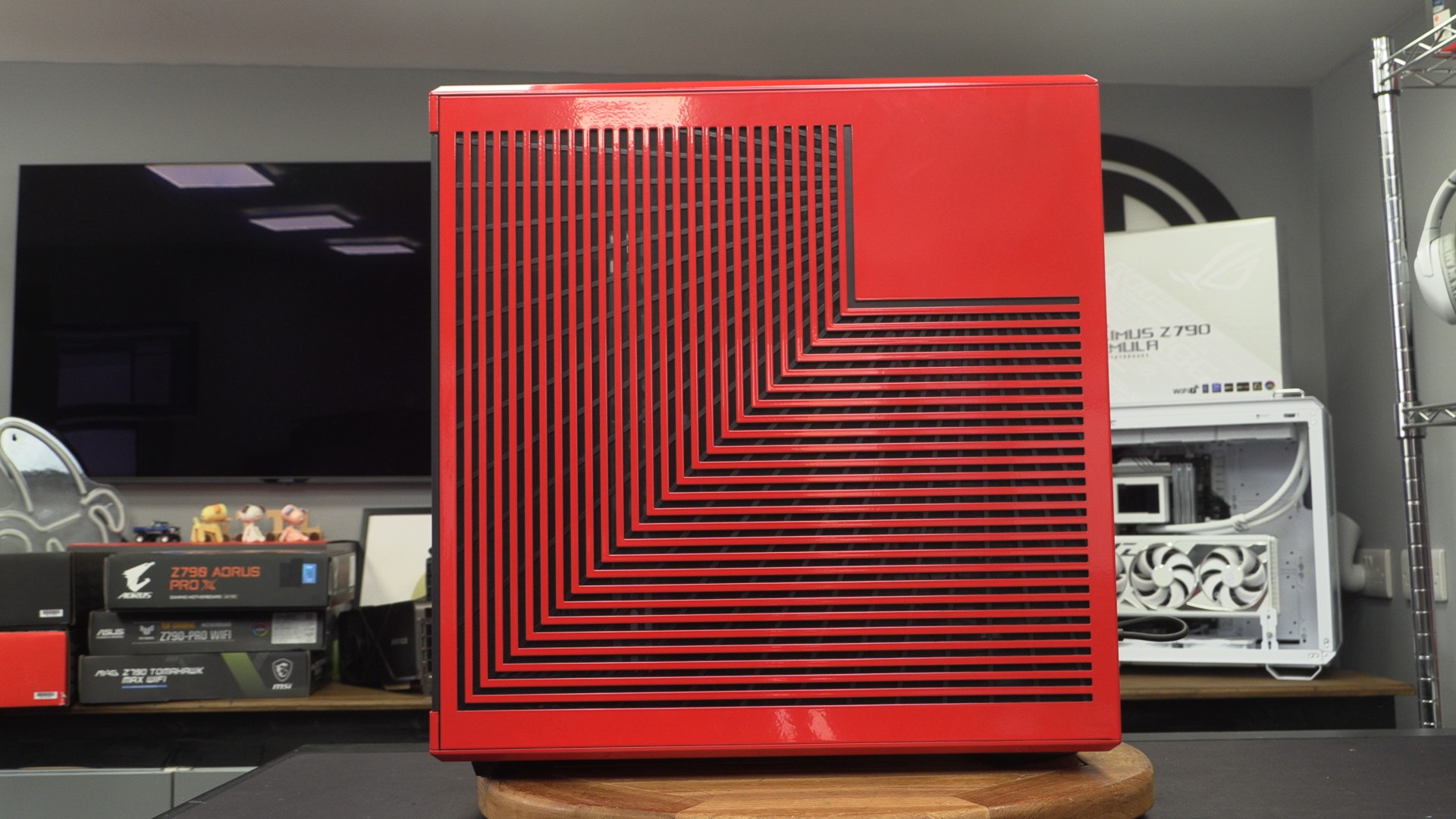 Lots of room for cable management
Behind this panel we can see space for a lot of fans, two removable drive bays, and plenty of room for cable management. The Y70 has enough space to hide all of your cable management sins.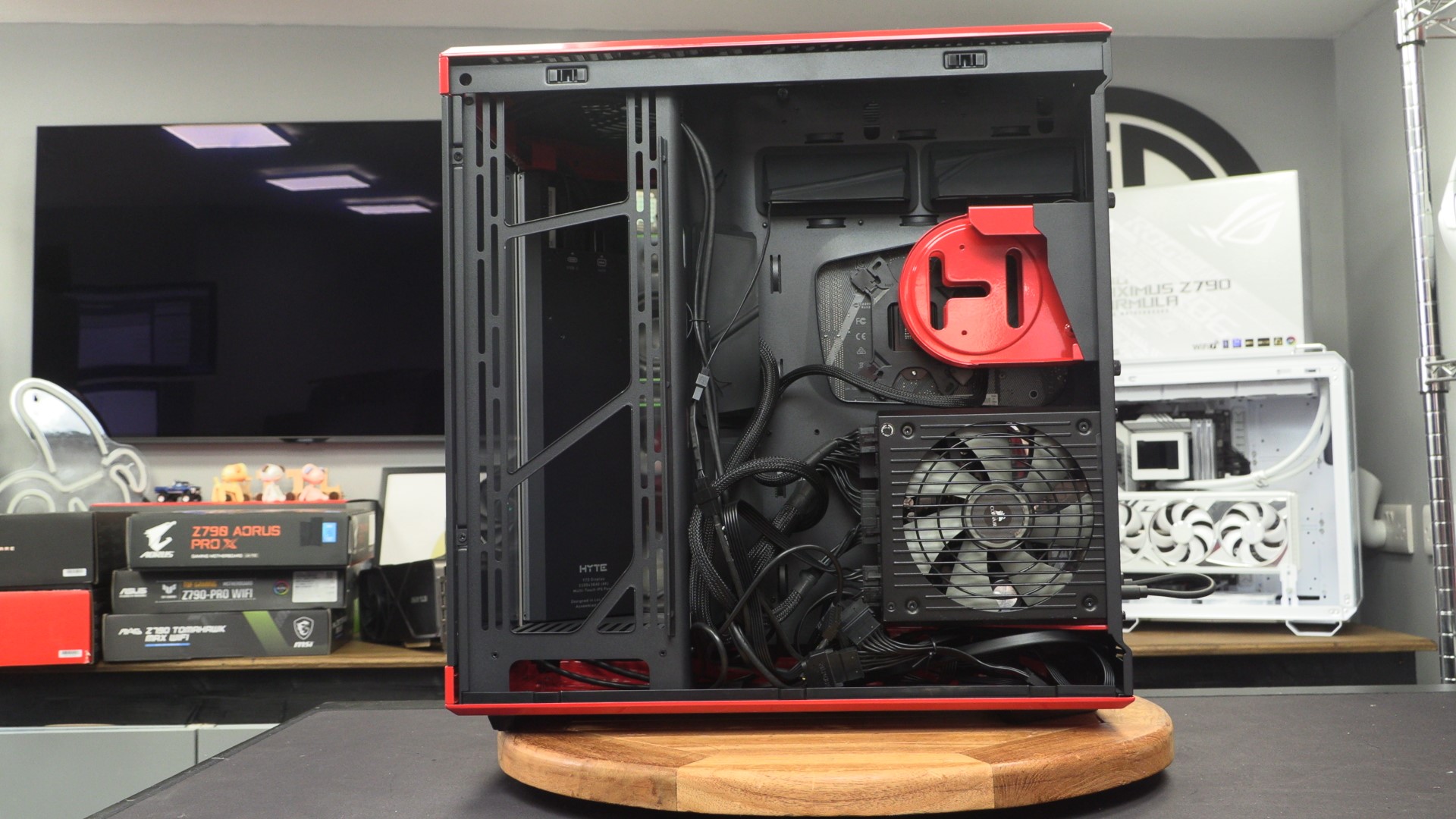 Here we can see where this case's LCD screen's cables move throughout the case. This screen needs SATA power, a USB connection for touch, and a DisplayPort connection for video.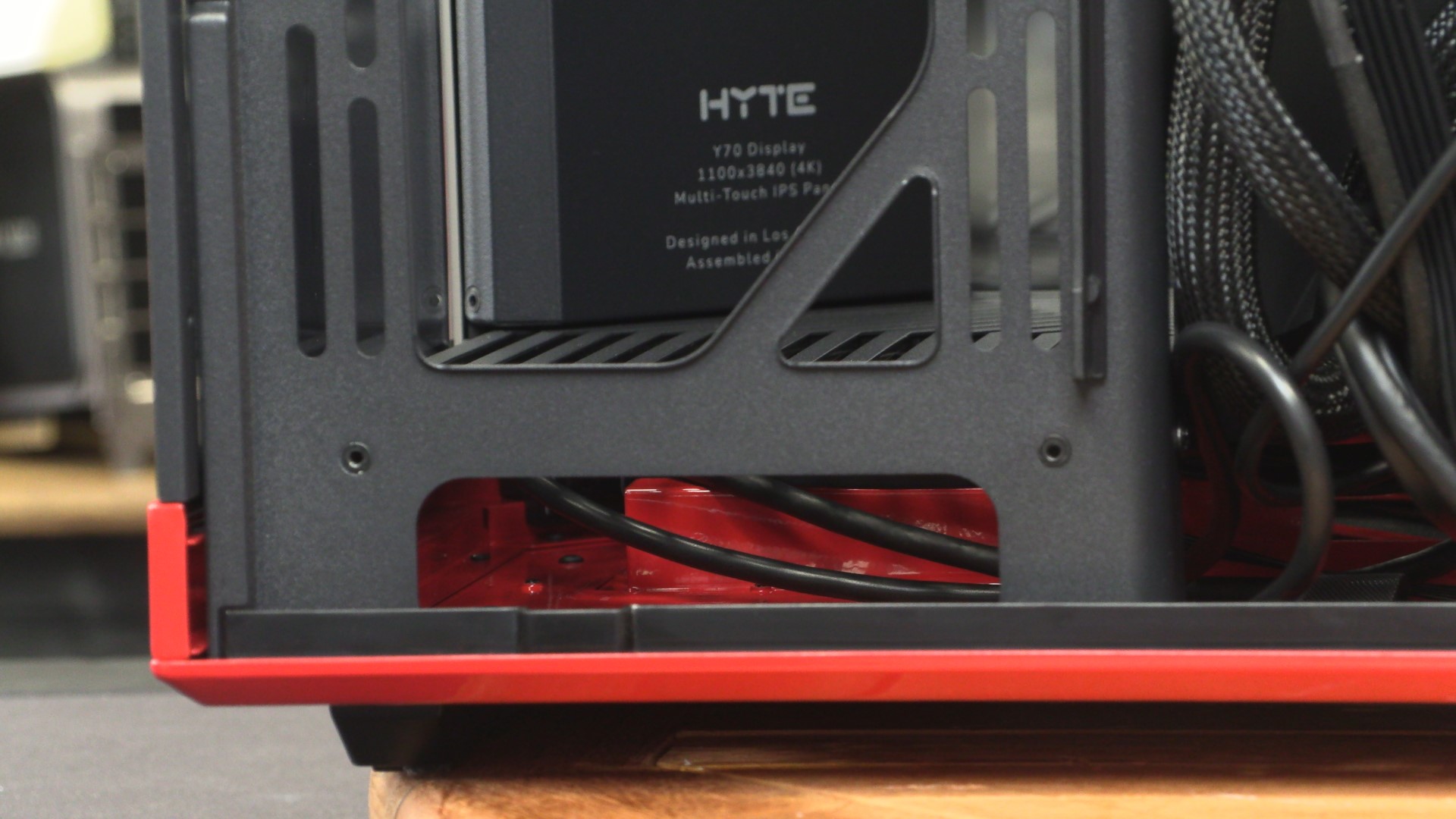 Here we can see that the Y70 has large holes for cable pass through, and plenty detention areas for cable ties. Again, this case has enough space to hide a lot of cables.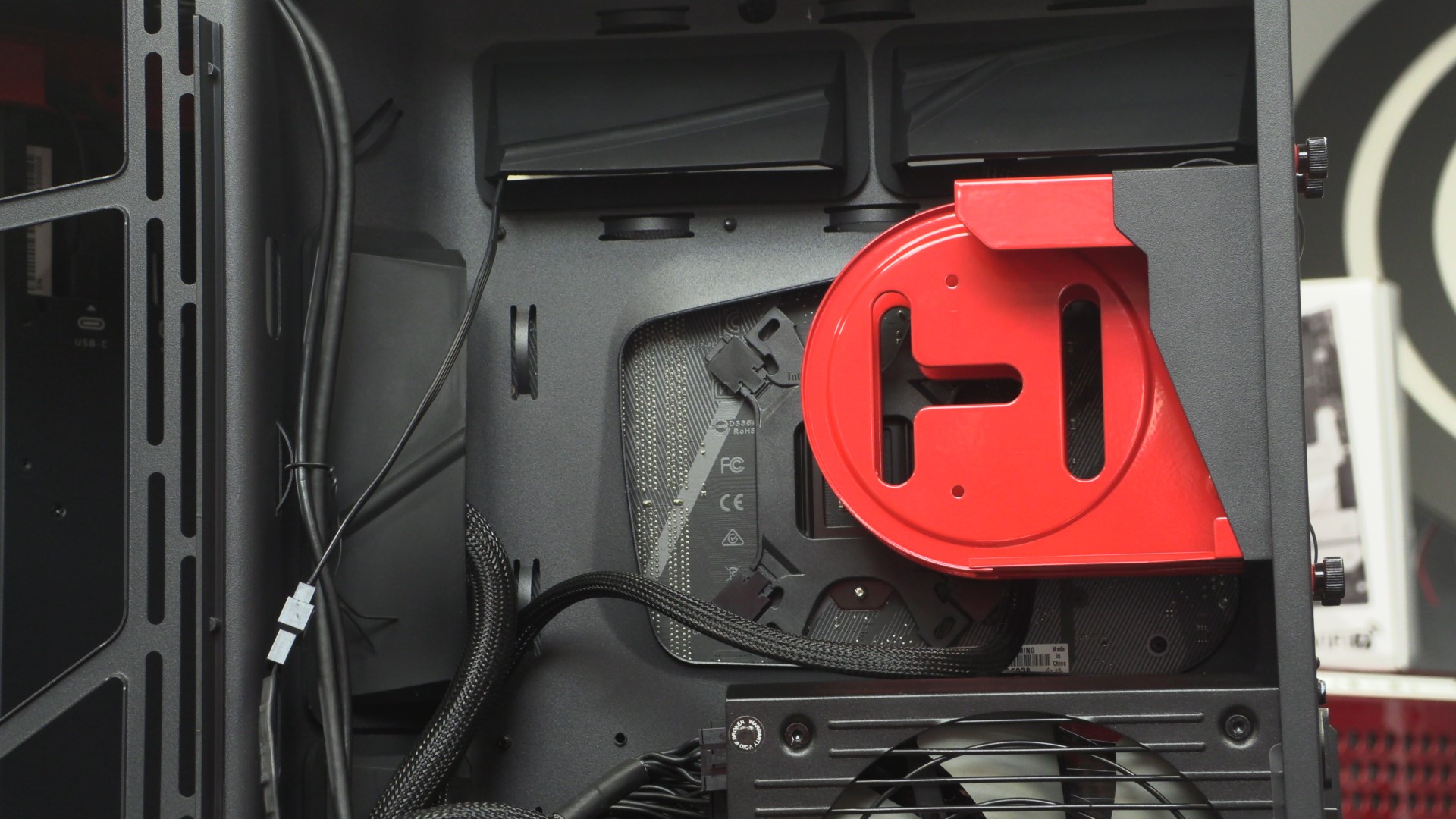 The Hyte Y70 Touch is designed with liquid cooling in mind. The top of the case looks bare without a liquid cooling radiator. For most all-in-one solutions, this case has space for a thicker than normal radiator with push-pull fans. For custom liquid cooling setups, this case can accommodate a top mounted 60mm radiator and fans with ease. This case is a custom liquid cooler's dream.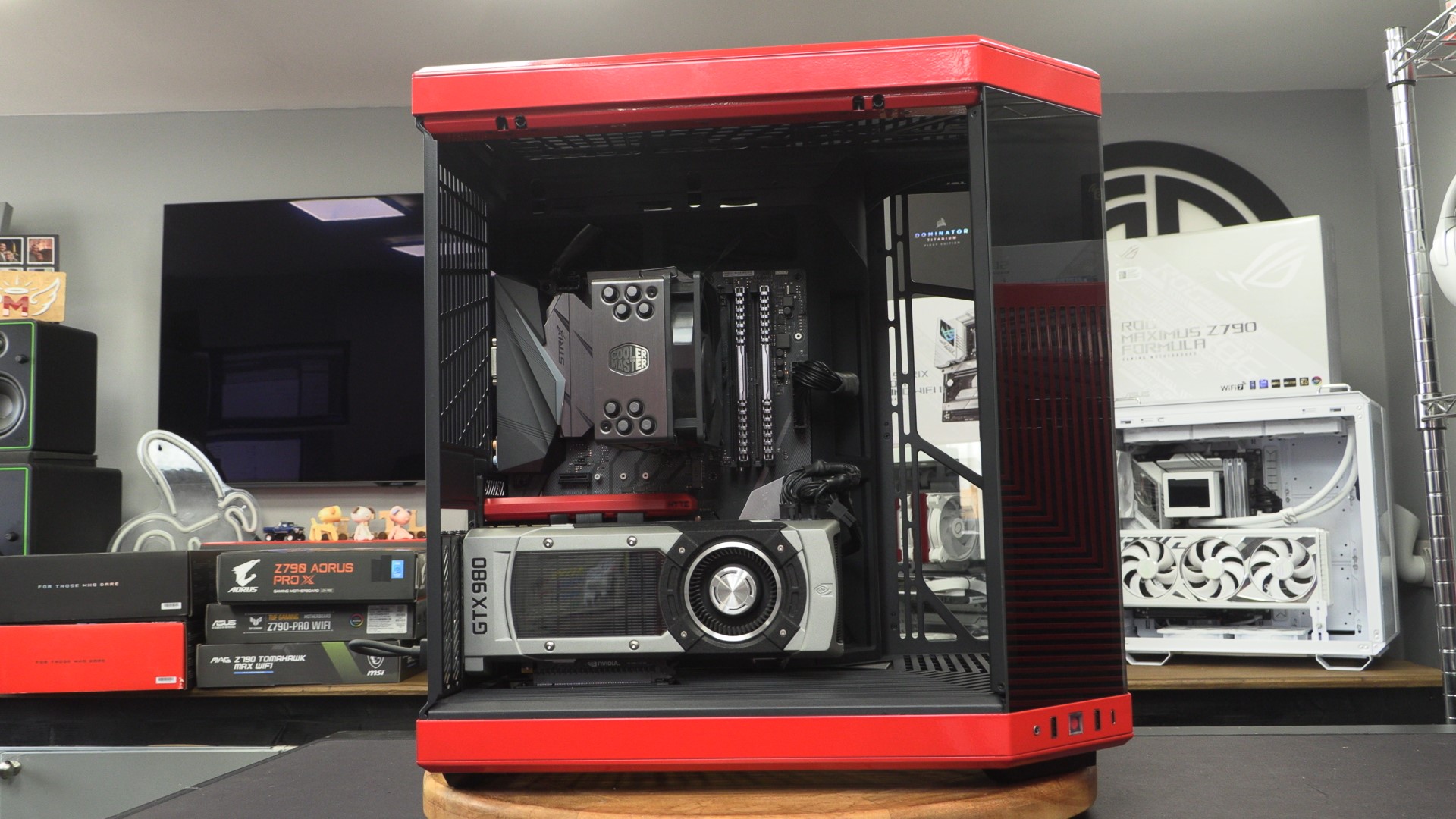 Larger GPUs are supported
One major improvement that he Y70 has over its predecessor is space for larger GPUs. The Y70 has space for a 4-slot GPU with added space to prevent GPUs from getting to close to the case's side panel window. We fitted an RTX 4090 Strix GPU into this case, a 3.25 slot GPU, and had 50mm of room between this case's GPU and our side panel window.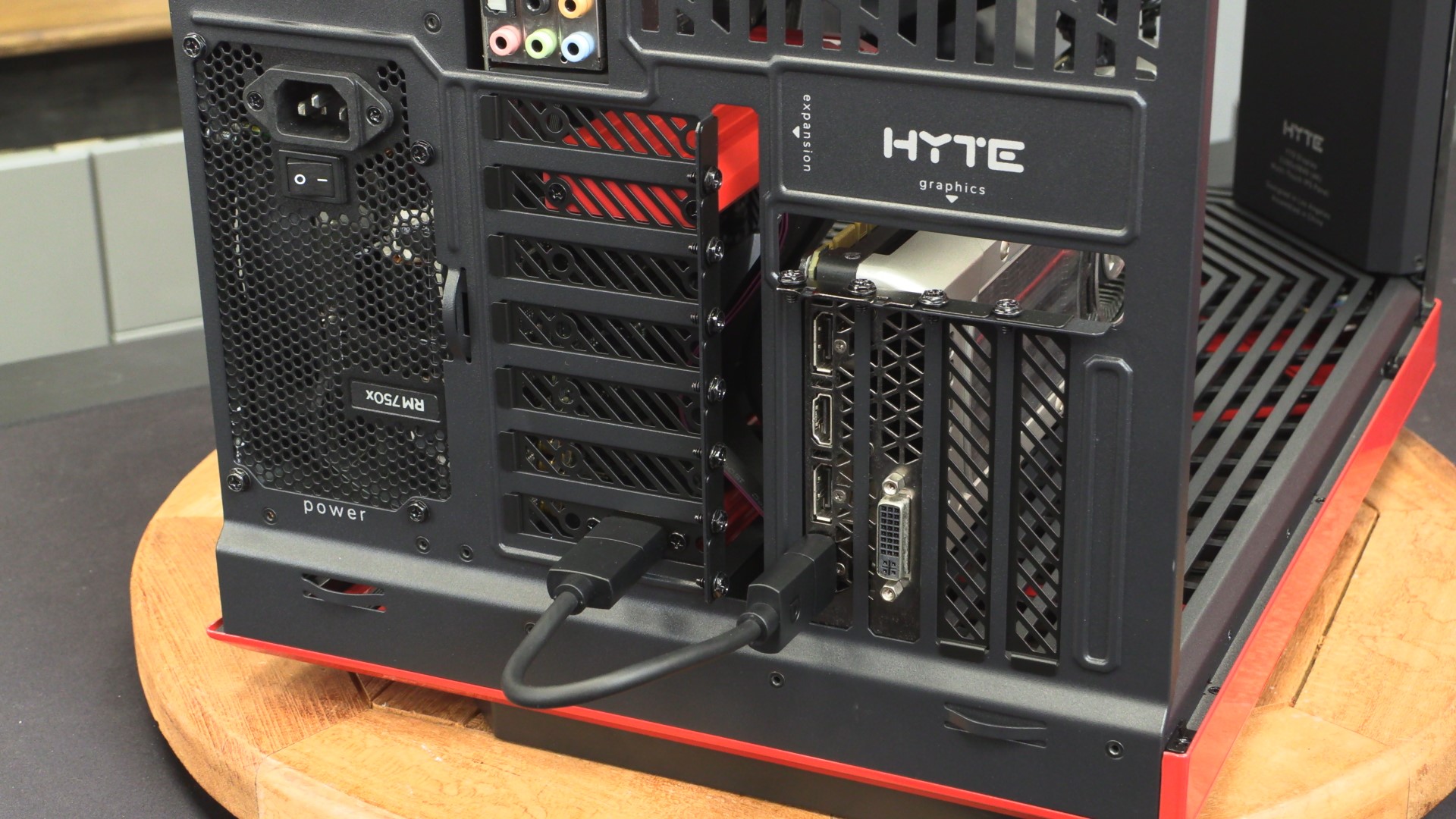 Above you can see the DisplayPort connection for this case's integrated touch screen. This will take up a DisplayPort connection on your graphics card, which make limit your main screen options. Please remember this if you are considering this case.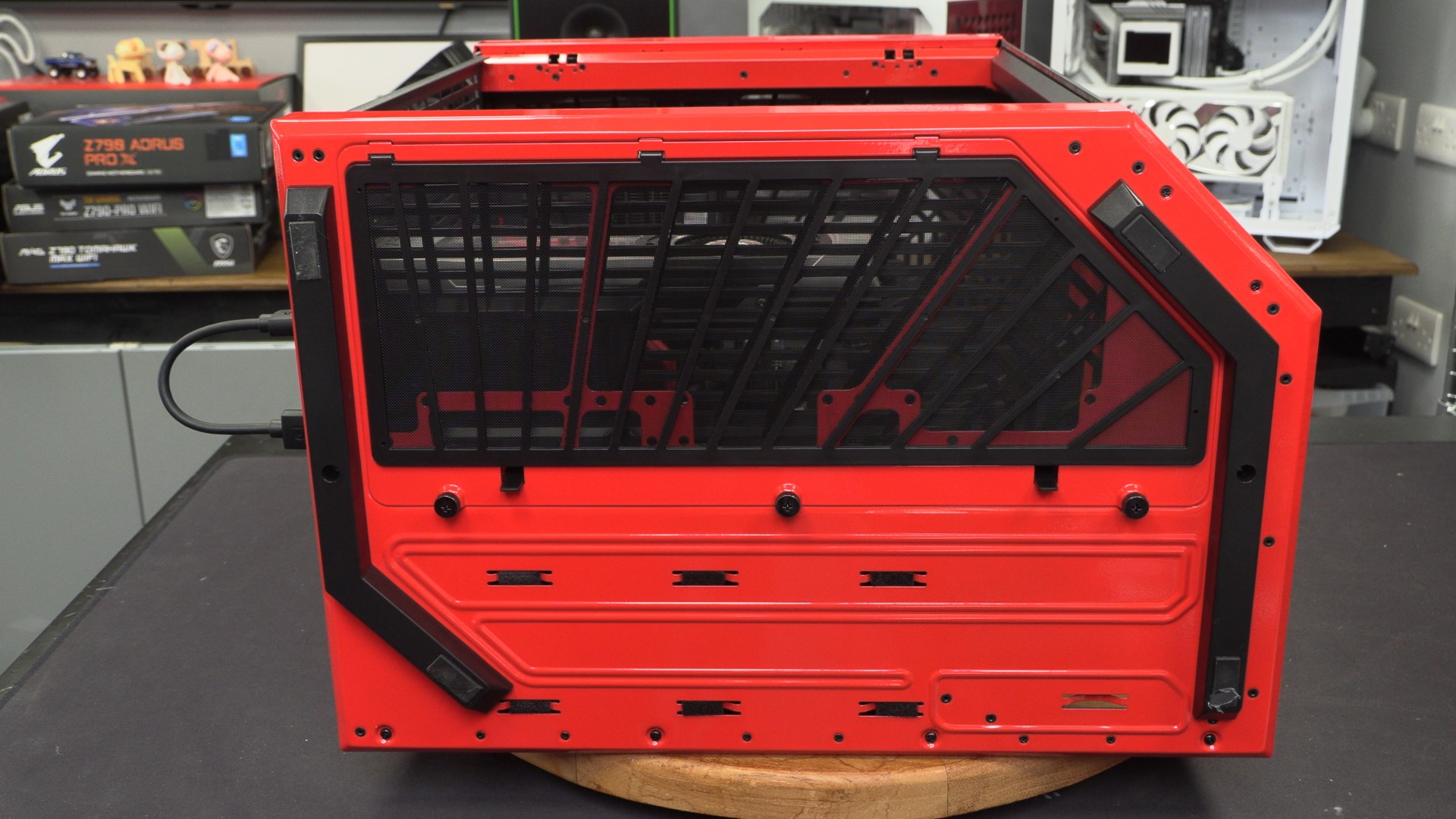 At the bottom of the Hyte Y70 Touch is enough space for up to three 120mm fans or two 140mm fans. That said, only two 120mm fans can be fitted easily. Look at this case's bottom fan mounts closely. You cannot mount this case's removable fan mounting plate when three 120mm fans are installed. If you want to install three fans, you will need to place most of them behind the mounting plate, install the mounting plate, and then, somehow, screw then in. This is not an easy process. Yes, you can fit three 120mm fans at the bottom of this case, it just isn't an easy install.