NZXT H6 Flow PC Case Review
Meet the NZXT H6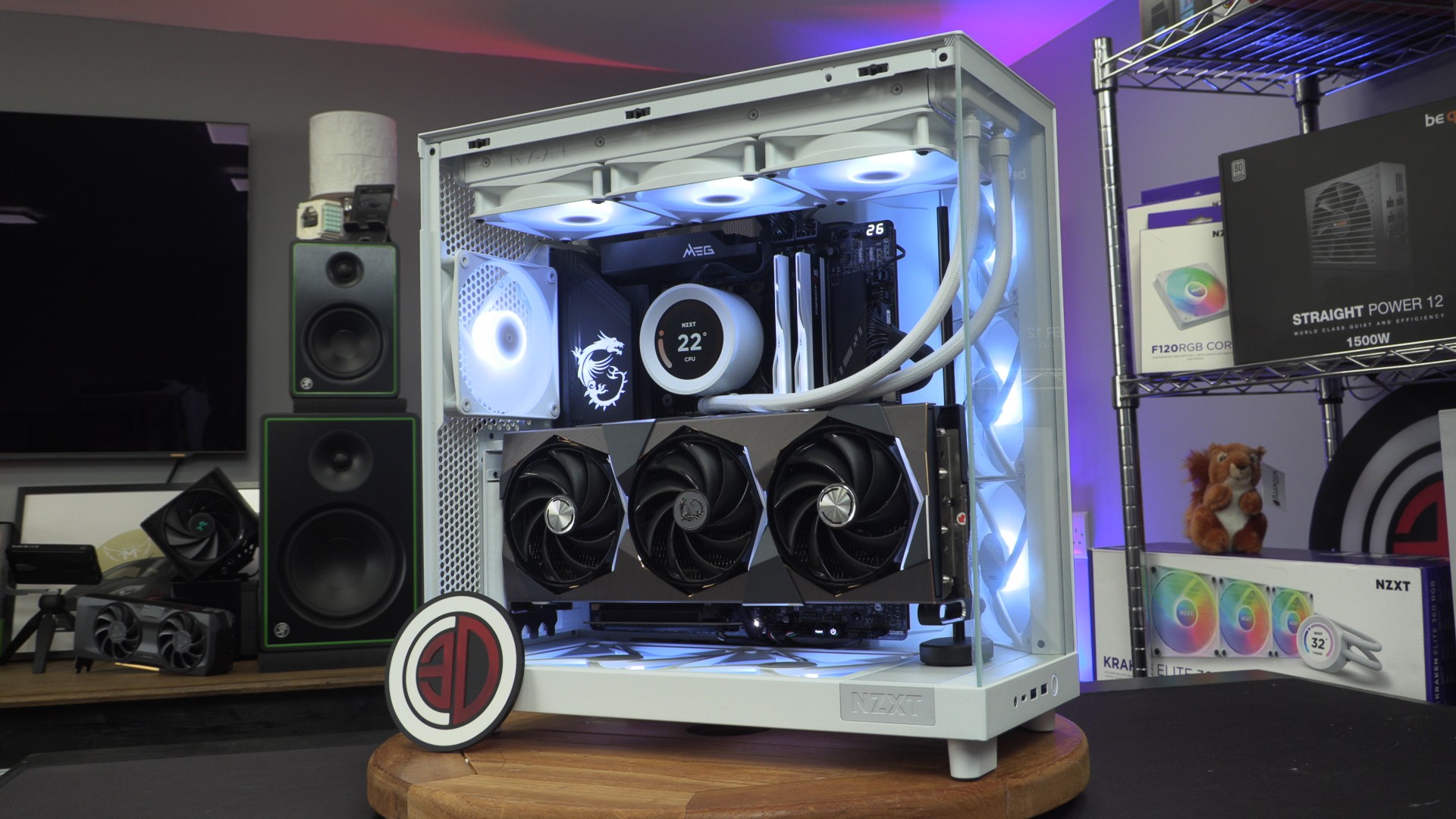 Meet NZXT's H6 Flow, an all-new H-series design with a interesting angled front
Over the past two years, NZXT has been revamping their H-series of PC cases. We have reviewed both their H5 Flow and H7 series cases, and today, we are looking at the NZXT H6 Flow. Unlike the H5 and H7, the H6 Flow does not have a last-generation counterpart. This is a new case design from NZXT, delivering customers a new dual-chambered design and a new airflow pattern.
In a sense, NZXT's new H6 Flow chassis is a design that brings together the best elements of their H5 Flow and H9 Flow enclosures. We have the compact overall design of the H5, but the glass panelling and case airflow pattern of the H9 Flow. This case is the best of both worlds.
With GPUs becoming increasingly power-hungry, airflow has become an evermore critical aspect of PC case design. Thanks to the H6's dual-chambered design, the case can have intakes from the front and bottom of the case, and exhausts at the rear and top. This allows plenty of air to enter the H6 Flow, and most of this air is directed towards your PC's graphics cards. That's great news for gamers, especially if you plan on overclocking your GPU.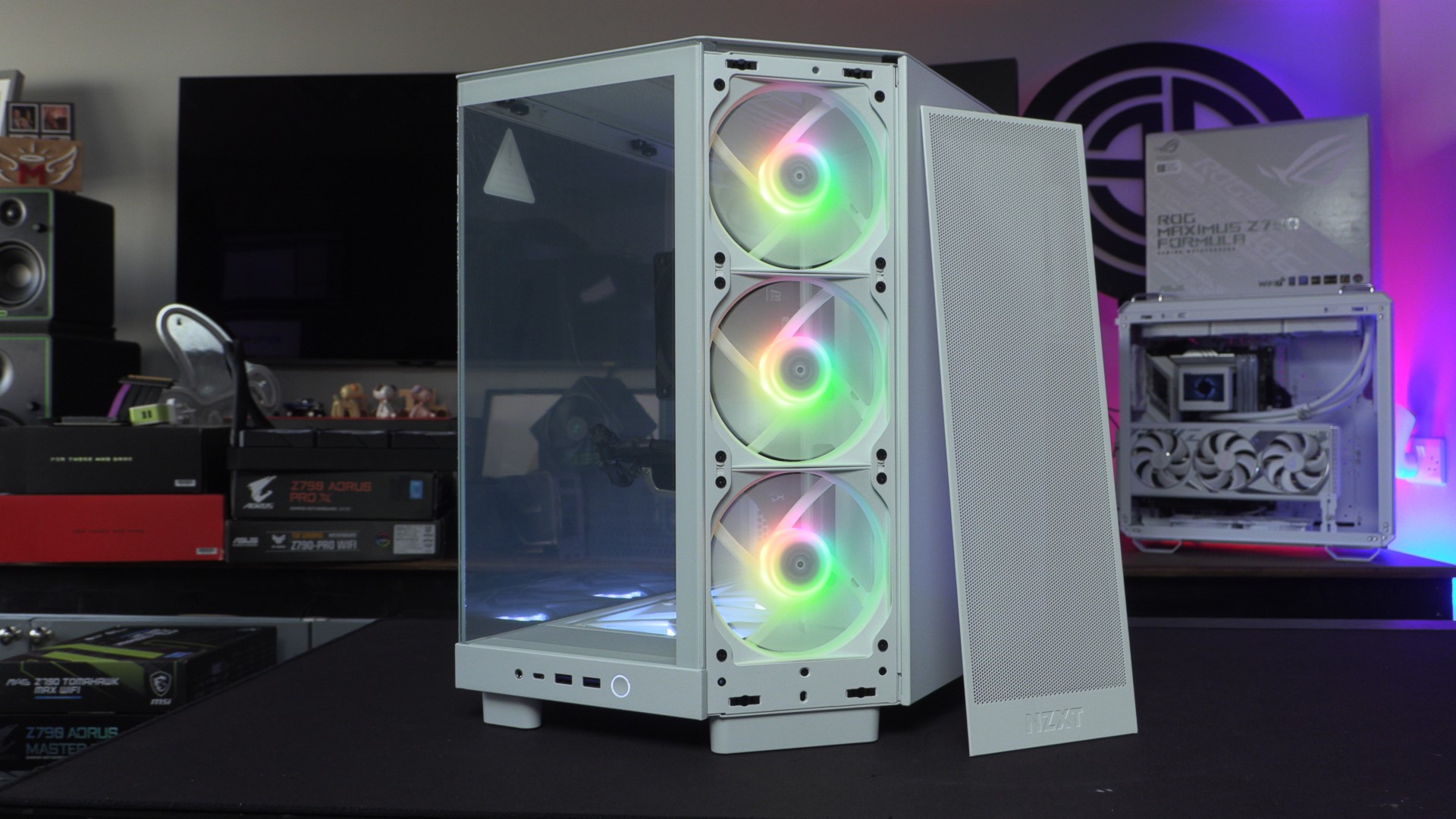 Pricing and Options
At launch, NZXT's new H6 Flow chassis will only be available in black and white. All versions of this case will ship with three front-mounted fans out of the box. Two versions of NZXT's H6 will be available. The only difference between these two models is their inclusion or exclusion of RGB fans.
MSRPÂ
NZXT H6 Flow – $109.99 (US) £99.99 (UK)
NZXT H6 Flow RGB $134.99 (US) £119.99 (UK)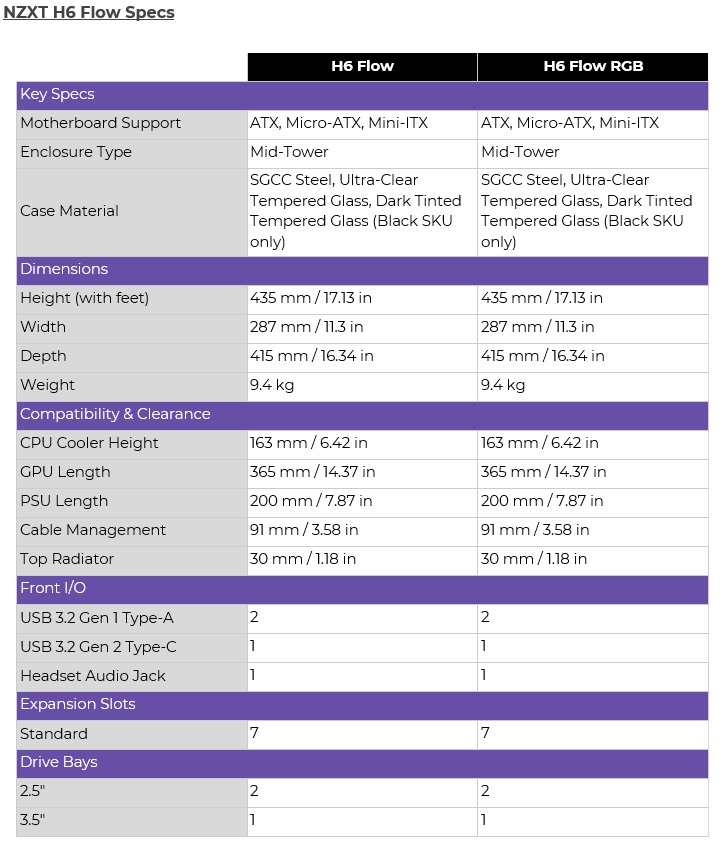 NZXT H6 Flow Specifications
NZXT's H6 Flow ships with three fans that intake air though the case's unique angled front. At the bottom of the case, two 140mm fans can be added for additional airflow. These fans will direct air towards your graphics card or other PCIe add-on cards, making them a must-have add-on for gamers. Three 120mm or two 140mm fans can be added to the top of the H6 Flow. This allows up to a 280mm or 360mm liquid cooling radiator to be added to the H6 Flow. An additional 120mm fan can also be added to the rear of the H6 Flow.
NZXT's H6 Flow officially supports Mini ITX, Micro ATX, and Standard ATX motherboards. Some EATX motherboards can fit inside this enclosure but these motherboards will over hang the system's motherboard tray. As such, we do not recommend installing motherboards that are much wider than standard ATX.