NZXT improves their KRAKEN CPU Coolers with CAM and Firmware Updates
Introduction
NZXT boosts the functionality of their latest Kraken CPU Coolers with updates to CAM
NZXT has boosted the functionality of their latest Kraken series coolers. If you update your NZXT CAM software and the firmware on your Kraken CPU coolers, you will be able to make better use of the LCD screens on both products.
We liked NZXT's new Kraken and Kraken Elite CPU coolers when we reviewed them earlier this year. Now, NZXT has addressed the main criticisms that we had of their heatsinks, making their products even better than they were before. NZXT has worked hard to make better use of the LCD screens on both of their latest Kraken products, making GIFs run at higher framerates while reducing the overall CPU usage of CAM.
NZXT CAM has been greatly improved with recent updates
I use an NZXT-based PC as my daily driver. Because of this, I have seen NZXT improve the functionality of their CAM software dramatically. For starters, CAM users can now resize the app, allowing users to see more system information at once and make adjustments more easily. This addresses something that has annoyed us about CAM for years, and it is great to see NZXT act on our feedback.

CAM is no longer a simple lighting/fan speed control software. It has expanded to handle our capture card, system audio, and even monitor profiles (when using an NZXT monitor). Honestly, it is great to be able to control all of these components from one application. Those are the perks of using PC parts that fit within the same software ecosystem. In the past, we had considered CAM as the Achilles heel of many NZXT products. Now, CAM is a strong point of NZXT's product line, and we hope that NZXT continues to improve their software.
Making better use of the Kraken's screens
NZXT's recent Kraken update had added support for animated assets to their standard Kraken model. This allows users of this cooler to play animated GIFs, either from GIPHY or though direct uploads. These animated assets run smoothly on NZXT's Kraken though its 30 FPS screen. System information can also be displayed over these animated images.
Thanks to the same update, NZXT has also enabled support for smoother higher framerate animations in their Kraken Elite. The company has also worked to reduce the CPU load of using these animated images. No only can Kraken Elite users enjoy smoother playing GIFs, they can also use fewer system resources to do so.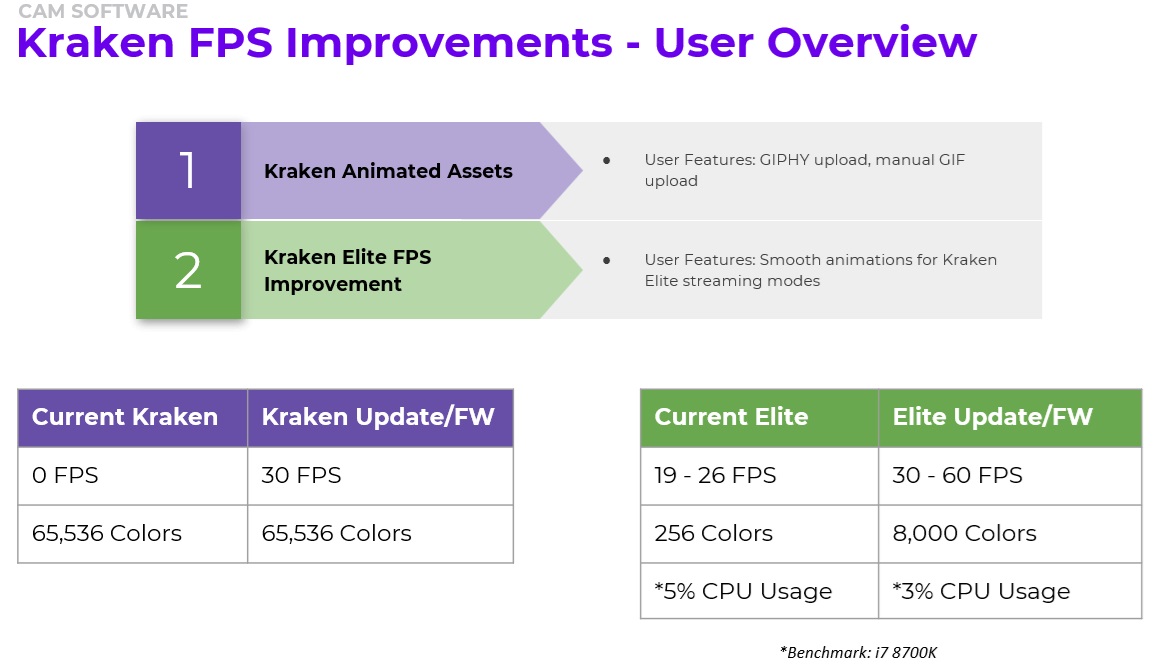 NZXT Kraken Update almost brings the standard model in-line with the elite
With their new CAM and firmware updates, NZXT's standard Kraken has had its feature set updated to almost be in line with their Kraken Elite cooler. NZXT's Kraken Elite still benefits from a larger, higher framerate screen, and has its Audio Visualizer as unique features. Even so, NZXT's updates makes their standard Kraken a much more attractive option than before.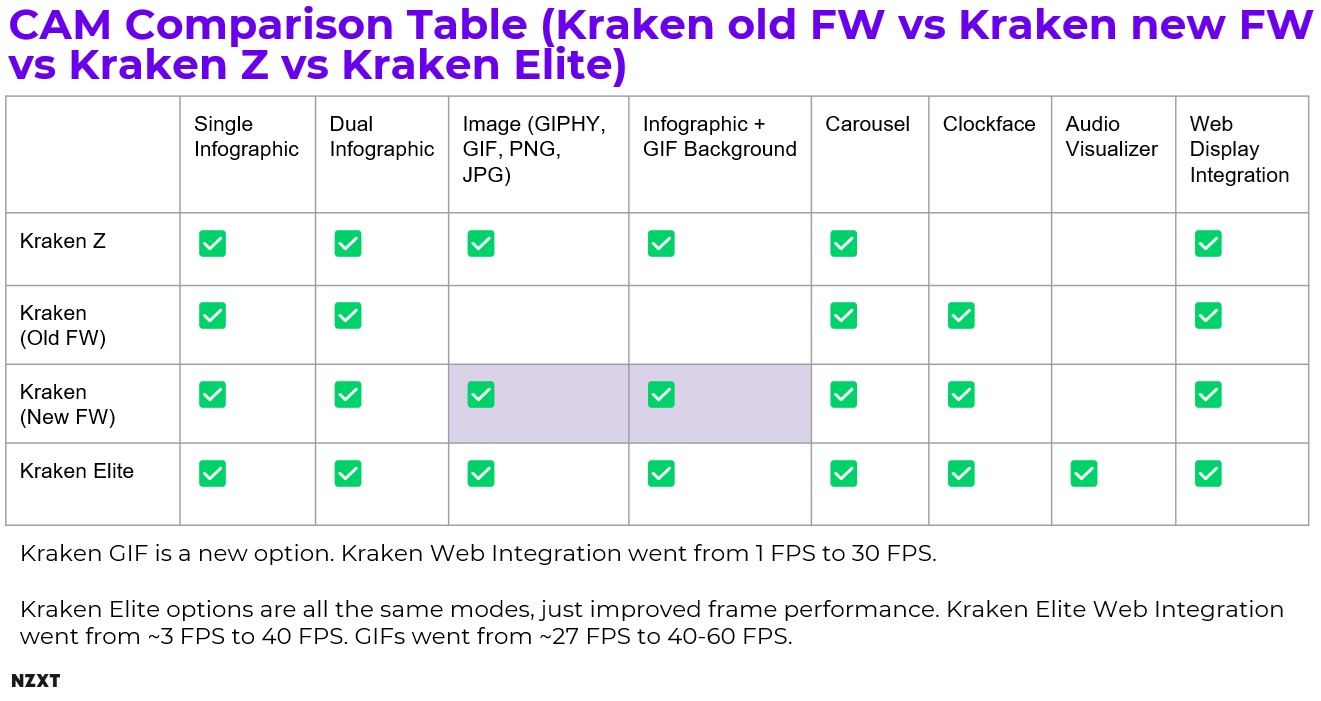 New options for all Kraken LCD users
Thanks to NZXT's updates, users of the company's Kraken LCD AIOs can now do more with the screens on their CPU coolers. You can have it show system information, display images, or both at the same time. With GIPHY integration, customising your Kraken is now an incredibly simple process. Just type what you want, and GIPHY will probably find a suitable image for you. On the next page of this article, we will be looking at how to customise what's on your Kraken's LCD display.