ASUS Maximus IV Extreme B3 Revision Review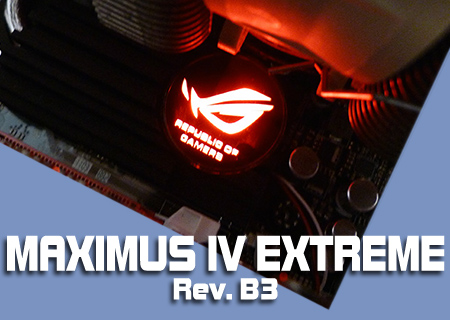 As this is more of a re-visit than a first time around review we'll fly quickly through the pictures.
Up Close
The box retains all the ROG trademarks we're used to. You'd never confuse it for another. The big "B3" stamp in the corner ensures that you know this is the updated one.

We still have the handy Velcro flap enabling those of us with more modest means to cover the floor of our local parts emporium with drool.Â
As you can see the large sticky makes it obvious if the board matches up to the externals.
Otherwise it's business as usual with four red PCI-e slots that utilise an excellent removal method. Anyone who's caught their fingers between graphics card and tower cooler attempting to flick a tiny latch knows how vital a easy method to remove a GPU is.
Outputs remain unchanged, boasting a multitude of USB3.0 and e-SATA ports, along with twin Giga-LAN and the accompaniments.