ASUS Maximus IV Extreme B3 Revision Review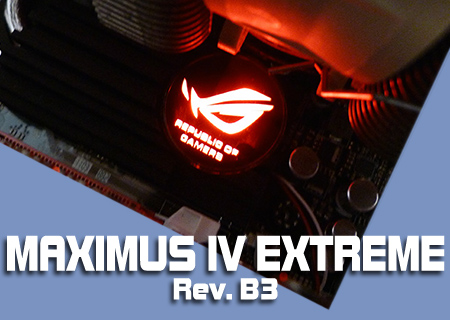 Up Close Part 2
The CPU socket is very clear indeed, allowing plenty of room for even the largest coolers. The vertical power heat-sink is a work of art.
The Republic of Gamer logo beautifully woven into the heat-sink. It's those little touches that really set higher-end items apart.Â

Just in case the box logo and board sticker didn't prove it, you can see that this is a revision B by the circuit board etching.
When fired up we have a very clear seven segment status/error display in a very convenient place. Other manufacturers who tuck theirs anywhere they can take note.
The ROG logo itself looks amazing lit up. So great I couldn't resist using it for our title image, and here is the larger version for those who desire such things.
Finally the accessories are plentiful with Crossfire and SLI bridges along with a plentiful supply of SATAII and SATA3 cables.
We're not sure who would pimp they case with the sticker, but it's there if the mood takes you. The cable identifiers are incredibly useful for those of us with more than a couple of SATA drives.