ASUS Sabertooth P67A B3 Review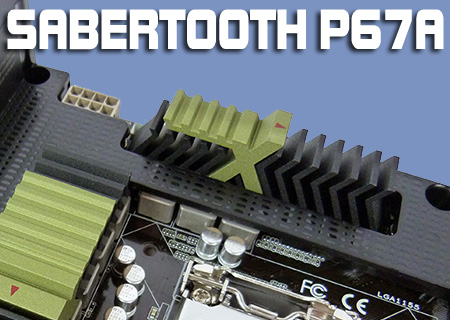 Up Close
The Sabertooth packaging will be familiar to anyone who read our X58 review. It really looks very classy with the gun-metal cover and gold lettering. As much as we are used to the red ROG style from ASUS it is lovely to see something different.
The front lifts up to give further information about the Sabertooth. Normally this would reveal a clear panel with the motherboard on view, but for the Sabertooth it's just more features.

Accessories are the fiarly standard set of SATA cables, front panel header etc. One thing that does stand out is the Certificate of Reliability that comes with the manuals. Just like the X58 version this P67 Sabertooth is all about longevity of components to make it 'TUF'.
And here it is. Covered with what ASUS call Thermal Armor. This is supposed to be designed to help move air to the important parts of the motherboard to ensure everything stays cool. One thing it absolutely does is look awesome. Normal motherboards, despite colour differences, are fairly identical to look at but the Sabertooth really is striking. Covering the board obviously gives us some thermal issues to overcome, but conversely it's moving the motherboard from something with various bits of plastic and silicon soldered on, into something that really cleans up the look of your rig.
We've all spent a long time in making our computers look as amazing as possible with lights, braided cabling and everything else that is part of modifying your PC, yet the motherboard sits there as a naked and jarring un-hidable thing as possible.Â
No longer. Now it's either well hidden with the black or you could take it off and change the colour to suit. ASUS, should they desire, could even go a little further and anodize the three green parts in a range of popular colours to match the various mods people make. Even an average performing board can be purchased if the colour scheme matches, so imagine a great looking one in the colour you desire. It would stand astride the marketplace like a Colossus. Send 10% royalties to…Â