MSI Big Bang Marshal P67 Review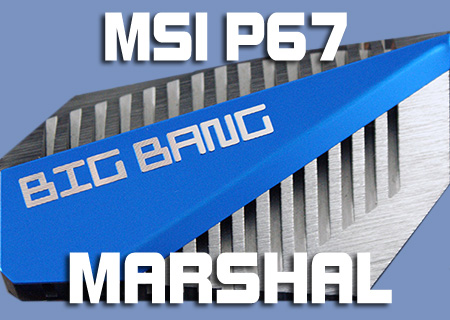 Up Close
The box is certainly eye-catching. It's quite a departure from the normal MSI design with a chromatic covering on a very dark box, highlighted by the central graphic and Marshal ID.
The reverse shows the MSI standards of DrMOS power circuitry, OC Genie and the 'Superpipe' heatpipe cooling.

Accessories are definitely more than the standard "couple of SATA cables and an IO Shield". A particular high point are the two USB3.0 brackets. There are many different solutions to USB3.0 extendability and this is the nicest one yet.
On the left is the OC Dashboard which, as you'd expect, allows you to monitor and control voltages and the like from outside of the BIOS. As well as that we have a very high quality shield, some probes and various headers to make cable attachment much easier than fumbling around with the board installed.
And here she is in all her glory. The picture, if anything, doesn't highlight how massive this is. It's one big old board thanks to those 8 PCIe slots.