MSI Big Bang Marshal P67 Review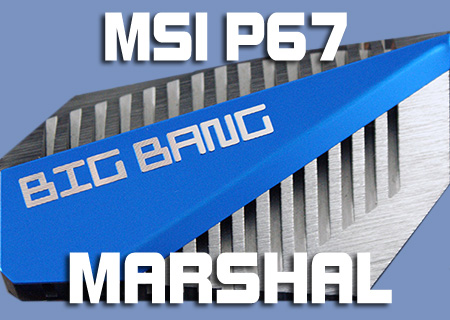 Conclusion
No matter how neutral we try and remain when reviewing a new piece of hardware we are only human and enthusiasts just like you. So when we first opened the box to the MSI and saw it's "Nimitz Carrier" size we couldn't help but be excited, especially given the excellent performance of recent MSI motherboards.
There is no doubt that this is a big board. All XL-ATX boards are big but if you've gone a while without testing one it's easy to forget quite how much extra room there is with that extra slot. Being so big allows enormous freedom in placement of your PCIe devices and the cooling thereof, assuming that you aren't trying to squeeze it in a HTPC or similar.
It's not just the size that grabs you though. MSI really have nailed the looks with their blue and gun-metal grey boards of late. Most high-end motherboards are either red or blue, and the main rival for the blue P67 Big Bang Marshal at the moment just happens to be in the red corner in the shape of the ASUS Maximus IV Extreme.

It's very apt that we have models in the red corner and the blue corner because they are both heavyweights trading blows. If we're allowed to run with the boxing metaphor for a little longer these two would end up with a points draw after 15 rounds.
There is very little not to like about the Marshal. Although we didn't test it this go around to maintain the fidelity of our benchmarks and comparisons, it is equipped with the awesome Lucid Hydra system that allows you to mix and match cards from both nVidia and ATI. This is something that we've tested before and it works amazingly well with complete transparency of operation and no performance drawbacks.
Overclocking is a joy. We had couple of issues with the version of BIOS that the Marshal was shipped with, which is often an issue when dealing with 'fresh off the press' hardware but true to the excellent customer service MSI quickly let us have a copy of the retail BIOS and it's stunning. 5GHz out of our Core i5-2500K was a breeze to obtain and the results backed up the fantastic clock-speed. Who would have thought when the Core i7s were released that we'd soon be able to have 5GHz processors without breaking either a sweat or the bank.
Naturally all this comes at a bit of a premium. It's not readily available at the moment but the MSRP is expected to be around the £320 mark. We'd be lying if we said this was cheap, but alternatively it's only a bit more than the Maximus but with an extra PCIe slot and the brilliant Lucid capabilities it's actually better value. Yes that seems quixotic, but so much more kit for only a little extra money is what value is all about.
Struggling to choose between the GTX590 and the HD6990? Have both with the MSI Big Bang Marshal. And then let us bench it.
In short, if you want the flexibility that an XL-ATX motherboard provides for Quad-GPU shenanigans then the Marshal really is a bulletproof choice. It's fast, looks gorgeous, comes equipped with everything you could wish for and a boat-load of accessories. We're happy to award it our OC3D Gold Award for the ludicrous overclocking capabilities matched with rock-solid components.
  Â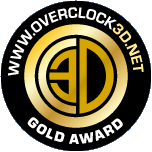 Thanks to MSI for providing the P67 Big Bang Marshal for review. Discuss in our forums.