AMD Radeon RX 6700 XT Roundup Review – Referance – Merc 319 – Gaming OC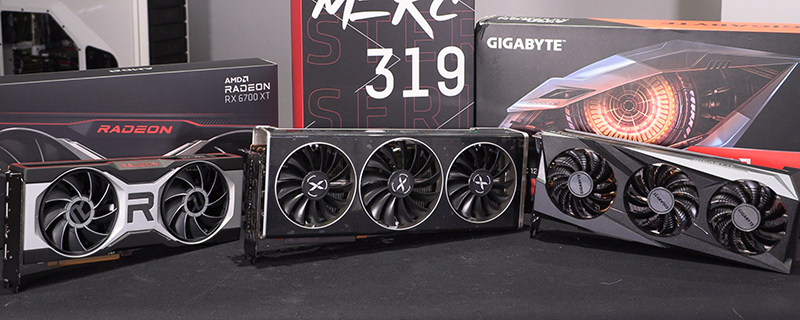 Introduction
Such is the incredible power available from the top range of graphics cards these days that it can't have escaped your attention that they are somewhat difficult to get hold of. Hopefully, with the new launch of the latest additions to the Radeon RDNA2 range of cards – the RX 6700 XT – that situation will alleviate somewhat, and everyone will be able to get a shiny new graphics card to update their system.
What about this card for then? The RX 6900 XT was very much the card for the people who want the ultimate and run at 4K in the majority of their games, whilst the RX 6800 XT was all about getting outstanding performance in 1440P and good with tweaks performance in 4K.
Today sees the Radeon RX 6700 XT launch, and it is very much designed for the 1080/1440 crowd. Indeed AMD themselves compare it to the Nvidia RTX 3060 Ti and that, along with the recently launched RTX 3060 is what our primary comparison will be. We've also dug out the RX 5700 XT so that those of you who want to upgrade a whole generation can see what this latest addition to the Radeon stable can bring.

We have three different cards for you today. From AMD we have their vanilla take upon the RX 6700 XT. Gigabyte has provided us with its very popular and capable Gaming OC model. Having been wowed by the XFX MERC range we had to get one of their cards in to see what the more premium end of the new cards would perform like. Without further ado, let's get down to business.
Technical Specifications
| | |
| --- | --- |
| Architecture | RNDA 2 7nm |
| Power Phases | 7+2 DrMOS |
| Transistor Count | 17.2 Billion |
| Die Size | 336mm2 |
| Compute Units | 40 |
| Ray Accelerators | 40 |
| Stream Processors | 2560 |
| GPU Clock | Up To 2424 MHz |
| Boost Clock | Up To 2581 MHz |
| Peak Single Precision | Up To 13.21 TFLOPS |
| Peak Half Precision | Up To 26.43 TFLOPS |
| Peak Texture Fill-Rate | Up To 413 GT/s |
| ROPS | 64 |
| Peak Pixel Fill-Rate | Up To 165.2 GP/s |
| Infinity Cache | 96MB |
| Memory | 12GB GDDR6 |
| Bandwidth | 384 GB/s |
| Memory Interface | 192 Bit |
| TDP | 230W |