ASUS ROG RTX 4090 Matrix Platinum Review
Introduction and Technical Specifications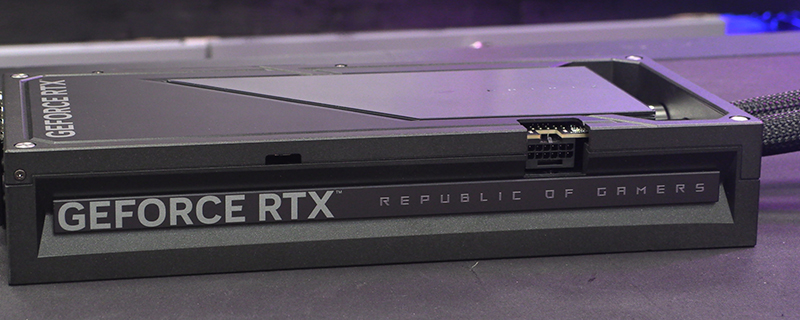 Introduction
Any time a new specialist graphics card appears our job becomes somewhat clouded. Cards at this end of the market are so expensive that only people with dollops of disposable income are even going to be able to be interested, and they have so much money that they'll buy the 'best' regardless of how it performs. Everyone else might desire a piece of hardware in such a lofty space of the market, but we haven't a hope of gathering the funds together. Only those who want to watercool their RTX 4090 might be interested in this review as help towards a purchasing decision, as a basic RTX 4090 plus full custom EK waterloop and block comes in around the £1900 mark.
What does the new ROG RTX 4090 Matrix Platinum remind us of? Well for the longest time whenever there was a new graphics card launched, there was usually an accompanying ASUS model which took the base architecture and absolutely threw everything they could at it. We're thinking of the Matrix GTX 780 Ti. The Matrix R9 280 X and even the Matrix 5870 Platinum. That's without looking to other crazy ASUS ROG cards such as the GTX 580 MARS II. For a while there we were awash with incredibly capable graphics cards with price tags to match.

Why exactly that concept disappeared from the ASUS range is something of a mystery. Whether it was the main manufacturers, AMD and Nvidia, getting their act together to the point that a specialist version wasn't bringing enough new to the table, or whether it simply was a matter of the global financial crisis rendering the cost involved too expensive, we don't know.
What we do know is that the Matrix name is back, and in keeping with their tradition ASUS have applied it to the fastest GPU currently available on the planet, the Nvidia RTX 4090. With monstrous performance and a price tag to match, it's very much for those of you who won't put up with anything but the very best. A RTX 4090 is an expensive purchase. A RTX 4090 with all the ROG trimmings and a triple fan AIO doubly so. All of which begs the question, is the newest ultra-premium card from ASUS worthy of your investment, or are you better off going vanilla and building your own loop?
Technical Specifications
Naturally there is more going on with this than simply a RTX 4090, but we'll go through the finer details on the next pages to accompany the photographs. Suffice to say this is everything the flagship model Nvidia card could be.
Model Name
ROG Matrix RTX4090 P24G Gaming
Graphics Engine
Nvidia GeForce RTX 4090
CUDA Cores
16384
OpenGL
OpenGL 4.6
Engine Clock
TBC
Memory Interface
384 bit
Video Memory
24 GB GDDR6X
Memory Speed
21 Gbps
Power Connector
1x 16 pin
IO
2 HDMI 2.1a.
3 DisplayPort 1.4a
HDCP
HDCP 2.3
Max Resolution
7680×4320
Maximum Displays
4
NVLink Support?
No
Recommended PSU
1000 Watts
PCI Bus
PCIe 4.0
Contents
1 Collectors Card
1 Adaptor Cable
1 Speedsetup
1 ROG Velcro tie
1 ROG NFT Registration
1 Thank you card
Software
ASUS GPU Tweak III
Slot
2.5
Dimensions
Card : 286.5 x 148.3 x 24.5mm
Radiator : 400 x 120 x 65mm
Time to take a closer look.