iiyama Prolite E2403WS 24″ TFT
Introduction & Specifications


Liquid Crystal Display (or LCD for short) was first introduced into the laptop market back in the early 1990's. Plagued with problems such as poor colour reproduction, poor contrast and slow response times (resulting in ghosting of fast moving images), many people saw no need to replace the well established Cathode Ray Tube (CRT) technology with such an inferior product. However, with a footprint a fraction of the size of an average CRT and much lower power requirements, it wasn't long before people started realising how good the LCD could be if it was brought to the desktop user market.
Now 18 years down the line, LCD is the defacto standard with both home and office users alike. Able to produce a picture as good as – if not better than a quality CRT, LCD has sent the bulky old beige box packing. In addition to this, significant improvements have been made to screen response times, with almost all modern displays being able to handle fast moving images with ease and relatively no ghosting.
One company that has undoubtedly seen many of these changes take place – and for the most part been someway involved in them, is iiyama. Founded in 1973, iiyama initially started out as a manufacturer of black & white televisions before moving into the PC monitor market around 5 years later. While it's quite possible that not many have come across iiyama in the past, my first encounter was back in the late 90's when I went to visit a friend, only to find that his wealthy parents had purchased him a 24″ iiyama CRT (lucky bas**rd!!). Here is a short snippet about iiyama taken from
their website
:
iiyama is one of the world's leading manufacturers of colour monitors. Efficiency, performance, reliability and user comfort are all key to the development of iiyama products.
Our success has been achieved by the consistent evolution of high quality product and by bringing them to market at an accessible price.
From day one, the emphasis was not along standard lines of mass production, but rather to apply the human element at all stages of the manufacturing process. This philosophy is still central to everything that iiyama creates and our research and development is based on the concept of creating people friendly product. Utilising the most up to date technology has also become an essential element of our manufacturing process and consolidated purchasing and global resourcing has ensured that we retain our competitiveness without compromising quality or features. New products will not be introduced to market unless we are certain that they offer a real benefit to the user and match our infamous price / performance ratio.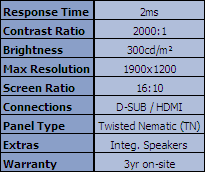 Today we're going to be looking at a relatively new model in iiyama's line-up, the Prolite E2403WS. Marketed as an LCD suitable for home, gaming and business use, the 24″ display boasts a manufacturer rated 2000:1 contrast ratio and 2ms response time. iiyama are also quick to point out that E2403WS uses a TN (Twisted Nematic) panel type, which although offers excellent GTG (Grey to Grey) response times such as those seen in the specs chart, often suffers from poor viewing angles.
As we'll undoubtedly discuss over the next few pages, the screen also comes with a 3yr on-site warranty along with HD support via HDMI and additional features such as integrated speakers.
Anyway, as the saying goes, the proof of the screen is in the viewing, so let's quickly move on to some more interesting sections of the review.