iiyama Prolite E2403WS 24″ TFT
Conclusion
Â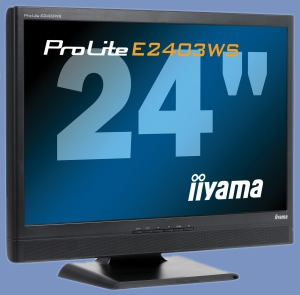 With a price tag of around £250, it's fair to say that the iiyama Prolite E2403WS is positioned at the entry-level market. However, entry-level price certainly doesn't always equate to entry-level performance, and as we've seen from the results over on the previous page, the iiyama performed admirably. Our initial concerns regarding viewing angles with the TN panel used by iiyama were unfounded, and even when viewing the panel from an almost 180° angle the screen was still highly visible and did not suffer from any inversion of colours.
Â
In both desktop applications and games, the screen was both vivid and sharp, with no visible ghosting in action movies or fast-paced games. For these reasons alone, the E2403WS should definitely make it onto the shortlist of any gamer. Testing the screen with DisplayMate did however reveal a slight issue with backlight bleed at the bottom-right corner of the screen, and while this was slightly visible with the desktop background set to black, it was completely unnoticeable during most other activities.
Â
While it seems almost unfair to pick on the iiyama's looks considering its price, it's hard to finish this review without saying how down right dull it looks. Most manufacturers tend to make an effort to improve the appearance of their budget brands, even if it be with small details such as a different colour stand or fancy logo badge, but the iiyama's black plastic construction and printed-on model number make it instantly recognisable as a budget screen.
Â
Â
The Good
– No visible ghosting in games or movies
– No problems with viewing angles
– Crisp images and great colour depth.
– 3yr on-site warranty.
Â
The Mediocre
– Bland looks do nothing to disguise its budget price.
– No DVI port.
Â
The Bad
– Small amount of backlight bleed
Â
Â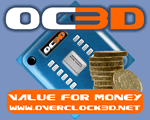 Â
Thanks to
Afterhours
for providing the iiyama Prolite E2403WS for review. Discuss this review in our
forums
.