Corsair Scimitar RGB MOBA/MMO Gaming Mouse Review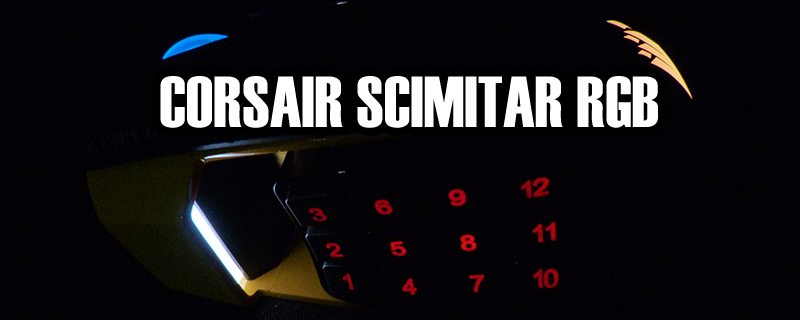 Up Close
As part of the Corsair Gaming range the Scimitar RGB comes in the now familiar black and yellow packaging with all the key features highlighted, as well as a small endorsement by a World of Warcraft player who is as famous for his physique as he is for his skill behind the screen.
With so many buttons to press on the left hand side it is important to have good grip available to your little finger to keep the mouse under control, particularly when the sensor is frothing at the mouth, and the Scimitar is particularly well designed in this regard. The two buttons behind the scroll wheel are just far enough away to ensure you don't accidentally press them when scrolling frantically and the wheel itself is beautifully tactile.

One of the most difficult problems faced by MOBA/MMO mice is helping you to hit the right key every time. Our thumbs, whilst one of evolutions finest moments, aren't as sensitive as our fingertips and we need all the help we can get to use them with such precision. Corsair have brilliantly textured the rows of buttons differently. Not enough to be a distraction but still a handy guide to exactly which button is under your thumb at any given moment.
Using the supplied Allen key you can loosen off the entire side section of the Scimitar and adjust it back and forth to suit your thumb placement. With so many keys available accuracy is vital, and this really helps to ensure you hit what you want, when you want, in the heat of battle.Â