Sabrent Rocket Q 8TB NVMe M.2 Review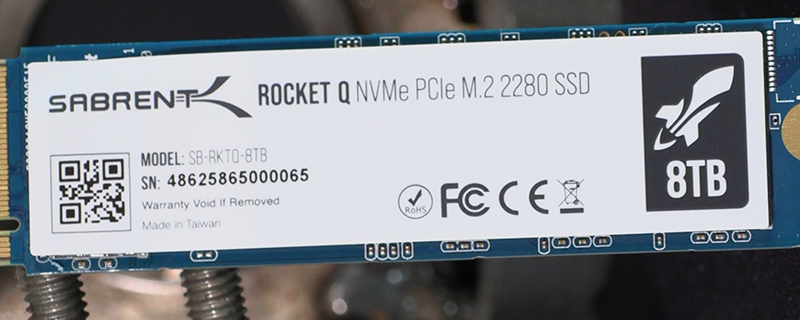 Introduction
Remember when SSDs first appeared and double digit GB capacities were big news? We definitely do, and indeed we remember the back and forth on the forums about whether these new fangled SSDs will ever be affordable enough to replace good old mechanical drives. Barring those of you with a pre-built system that was at the value end of the range we think very few people have anything whirring away inside their systems apart from the fans. NAND storage is so affordable, even at medium capacities, that it makes perfect sense to go all flash for the speed and quietness. Heck I've got a seriously bad gaming habit and have 5TB of capacity spread across 7 SSD drives. Wouldn't it be great if you could consolidate even the beefiest collection of games, or indeed specialist media, in to one drive that does it all?Â
Enter the Sabrent Rocket Q, here in 8TB capacity. 8TB! When we setup the back end of OC3D we put in a demo header that laughingly talks about the release of a 10TB HDD, so distant and expensive seemed that possibility at the time. Here we are, with not just an SSD – pah, old hat – but an NVMe M.2 with a massive 8TB. Only 2TB short of what we once considered science fiction with a platter. That Gordon Moore fellow knew what he was on about.
NAND flash comes in many types, okay four, from simple SLC (Single-Level Cell) which is as fast and simple as it is expensive, through to the QLC that forms the basis for the Micron NAND in the Sabrent Rocket Q, which is as complex as it is relatively cost effective, although like all things at the expense on absolute speed. We're not suggesting this is slow, merely that it's not in the world of ultimate performance. It's like a NASCAR or LMP versus Indycar or F1. Hardly a slouch. Indeed Sabrent portion off a bit of the QLC to act as SLC cache to handle all the read and write requests as fast as possible, before dumping them off to the long term QLC. On this 8TB version we have 2TB of SLC cache, so good luck filling that buffer up. Naturally the fuller the drive gets the less percentage is available for cache and the slower the drive goes, with approximately 25% of the free capacity dedicated to cache.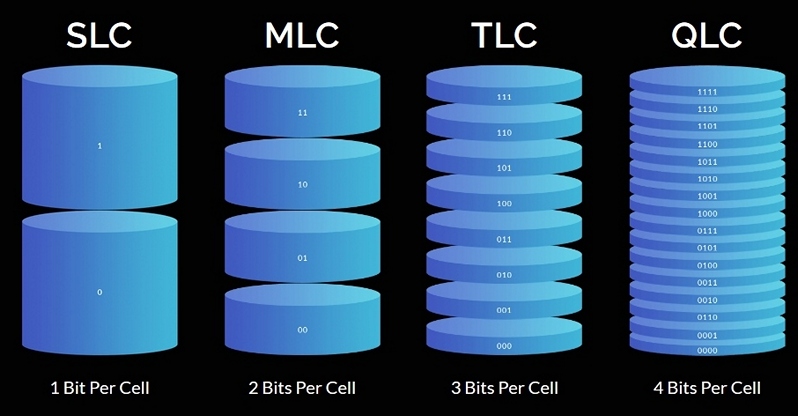 Â
Technical Specification
Naturally with a capacity such as the 8TB model it is no surprise that Sabrent have taken on board the Phison E12S we saw launched in all its glory as part of the "we're gonna be supplying the XBOX X" press release, although here Sabrent have renamed it the Sabrent RKT 303 Controller. This is a key distinction as you definitely shouldn't install Phison's own firmware on this particular drive. Stick to the Sabrent one. Many drives slow down as you get smaller, and the Rocket Q is no exception. Thankfully Sabrent admit this in their drive page, so don't buy the 500GB model and expect the kind of performance we're going to extract from the beefy 8TB model. You know you want to see it in the flesh, so let's do that.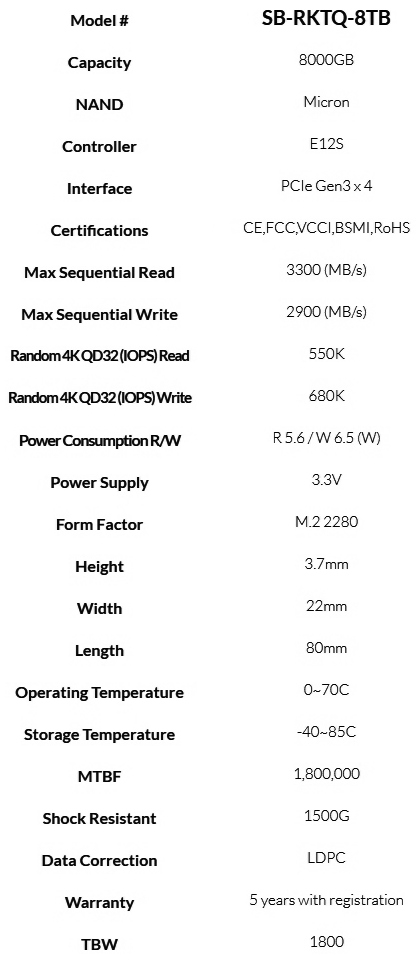 Â