MSI GT80 6QF Titan SLI Ultimate Gaming Laptop Review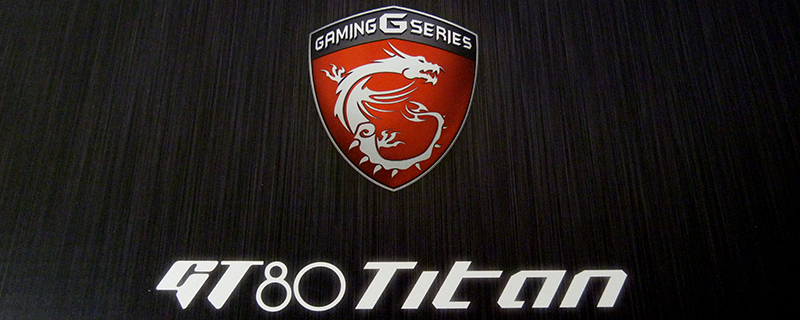 Introduction
We've lost count of the amount of gaming laptops we've seen. Or at the very least the amount of laptops which claim to be a gaming option.
If you've ever found yourself desperate for a true gaming laptop, something which replicates the home desktop experience but whilst you're out and about, then MSI have heard your pleas and produced a laptop which has so much performance it's metaphorically foaming at the mouth. We're surprised it wasn't delivered in a straight-jacket. No preamble we can give you will remotely scratch the surface of what you're about to experience. Forget all you thought about laptops and prepare to prostrate yourself before the gaming laptop that so redefines what that means that everything else is a Kindle in comparison.
Specifications

Whenever you're looking through the specifications of a system you're always aware that a compromise has been made to ensure that it comes it under budget. When it comes to laptops this is even more pertinent as it's important to produce something which is capable of fitting within the dimensions whilst also being capable of staying cool.
MSI have clearly dispensed with any notions of producing anything other than the best possible laptop. 64GB of Memory should give you a hint as to the direction of the Titan SLI, but it's impossible to look anywhere but the SLI GTX 980s. No mobile variants here, full on, full fat, monster GTX 980s. That's backed up by the Quad Core Core i7-6920HQ and, as if that wasn't enough, the whole thing is fed by twin 256GB NVMe storage drives paired up into RAID.
It's not just the raw hardware that's impressive though. MSI have managed to squeeze a full mechanical Cherry MX keyboard in there, as well as one of the finest touchpads we've ever experienced. So enough waffling about it, let's get down to business.
– OS: Windows 10 Home
– CPU: Intel Core i7-6920HQ Quad Core (2.9GHz, 8MB Cache, Intel Turbo Boost Up To 3.8GHz)
– Display: 18.4″ (1920×1080 Full HD Resolution, Anti-Glare, Wide Viewing Angle)
– Memory Supplied: 4 x 16GB (64GB)
– Memory Type: DDR4
– Memory Speed: 2133MHz
– Max Memory Support: 64GB
– Graphics Chipset: Dual Nvidia GeForce GTX 980 SLI (DESKTOP)
– Graphics Memory: 8GB GDDR5
– Storage: 2 x 256GB NVMe PCI-e M.2 SSD + 1TB HDD 7200RPM
– Keyboard Type: SteelSeries Red backlit mechanical keyboard with Cherry MX Brown Switches
– USB3.0 Ports: 5
– USB3.1 Ports: 1x USB 3.1 Type-C
– HDMI Port(s): 1
– Mini Display port(s): 1
– LAN Port(s): 1
– Microphone Jack(s): 1
– Headphone Jack(s) (SPDIF): 1
– ESS SABRE HiFi Port: 1
– Card Reader: SD (XC/HC)
– Audio: – 4.1 Sound by Dynaudio
– LAN: Killer E2400 Gigabit Ethernet with Killer Shield
– Wireless LAN – Killer Wireless-AC 1535
– Bluetooth: V4.1
– Webcam: Full HD type ([email protected])
– Dimension: 45.6 x 33 x 4.9 cm
– Weight: 4.5Kg (w/ Battery)
– Warranty : 2 YR's Collect & Return (1st YR Global, 2nd year UK)