MSI GT80 6QF Titan SLI Ultimate Gaming Laptop Review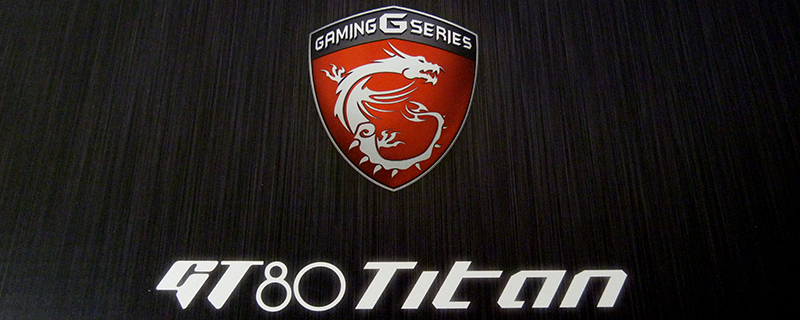 Up Close
MSI laptop packaging is always exceptional and the Titan SLI is no different. Easy to open, yet everything is so well protected and of such a high quality that even though this laptop has done the rounds as the MSI review sample, it looks as good as new. Given the cost and weight of the GT80 6QF we'd probably want to take it out of the box as little as is humanely possible.Â
As a '29th Anniversary Edition' the Titan SLI comes complete with a MSI dragon. As well as the nice little extras there is plenty of cable on the power brick, a handy guide to the various functions and a more in-depth guide for reading whilst it charges.

As befits a premium laptop there is nothing but USB 3.0 and USB 3.1 ports to be found. No USB 2.0 here. There are cooling vents on each side, audio jacks aplenty and there is even a full HD webcam mounted above the screen.Â
Round the back we have, in addition to yet more cooling vents, a HDMI, Mini-DisplayPort, LAN port (KillerNIC) and the four-pin charging socket.
The combination of needs of cooling this much hardware and installing a mechanical keyboard has meant a slight reshuffling of what you might expect to find when you lift the screen. The keyboard is now right at the front, with the touchpad off to the side just below the power, display off and 100% fan buttons. That brushed aluminium top and dragon are as nice to touch as they are to look at.
The touchpad is a work of art. It works perfectly as a touchpad with crisp mouse buttons and responsive touch inputs, yet equally with a tap in the top left corner it becomes a numpad, that works equally as well. It's brilliant.
The internals are, as you would expect, an exercise in space management. We cannot believe how much MSI managed to squeeze into such limited space. Everywhere you look there are high-density chips of the most premium quality. Do pay attention to those fans sitting in the corner though, they'll have a role to play later.