PC Specialist Myrmidon I Review
Introduction
It's a constant delight to us how quickly core and thread counts have increased in recent years. We'd barely got used to the idea of a quad-core CPU with 8 threads before six core and even eight cores became the norm. With the release of the Intel Z490 chipset, LGA1200 socket and 10 core/20 thread Core i9-10900K we know that, like us, many of you are itching to get your hands on the performance this can bring.
PCSpecialist have long been providers of excellent pre-built systems with a very carefully selected set of components, for little more than it would cost to buy them separately and build it yourself. The benefit is that you don't have to put up with making sure that each part works properly both out of the box and together, nor do you have to temper your enthusiasm to get up and playing whilst you carefully route each cable. It's the best of both worlds, particularly when PCSpecialist always include all the bags of screws and manuals and stickers and things you'd get in the box if you brought it yourself.
Today we're looking at the latest addition to their high-end Intel Gaming range, the Myrmidon I. This combines the Core i9-10900K with a Strix RTX 2080 Ti, all wrapped up in a full glass Corsair Obsidian 500D SE case, with plenty of Corsair RGB lighting too. We're sure you're as keen to see it as we were, so let's move on to some pictures.

System Specifications
The specifications for the Myrmidon are a very impressive collection of components. You have the quality, all tempered glass Corsair Obsidian 500D SE which utilises the Corsair Commander Pro for the RGB control. Equal RGB goodness comes from the Corsair Vengeance RGB Pro RAM and LL120 fans, whilst the power is another Corsair offering in the form of the 750W RMx. Graphics come courtesy of the wildly popular ASUS Strix RTX 2080 Ti. The main beef of the system is the outstanding Intel Core i9-10900K 10 core 5 GHz capable CPU, and that's kept cool with PCS own FrostFlow 240mm AIO. Indeed the only couple of areas we're a little confused about on a system costing this much is the choice to go with the ASUS Strix Z490-F, rather than the WiFi equipped Z490 Strix-E, and then adding a PCIe based WiFi card. There is very little price difference between an F and extra card, and the E. Maybe worth taking advantage of the comprehensive PCSpecialist customisation service when ordering to upgrade to the Strix-E and also get the benefit of the Intel WiFi 6 it has, over the 802.11n card supplied here.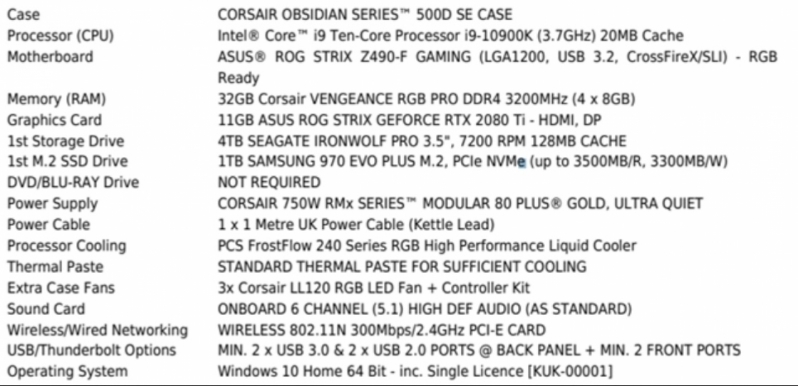 Â
For comparison purposes in our graphs we're going against our Z490 test system, the specifications of which are below :
ASUS Z490 Prime-A – 0509 BIOS
Intel Core i9-10900K
Corsair LPX 4000 MHz
Corsair MP500 M.2 – OS Drive
Samsung 970 Pro
Corsair AX1600i
Nvidia RTX 2080Ti
Corsair HX1000i
Corsair H150i
Corsair ML Fans
Fractal Define 7