Scan 3XS Vengeance TUF Powered By Asus Review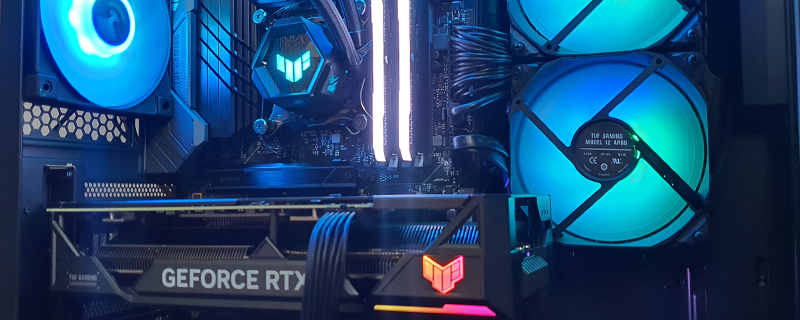 Introduction
Keeping a harmonious look across our system is one of those luxuries in life. When we're building our own system there is always a tendency to fit it within a budget, and perhaps use some of the components we already own. This tends to lead to a slightly higgledy-piggledy look. We're not saying that's good or bad, it's just a way that things are. If we're building from scratch and with a little bit more of a flexible budget then, naturally, we want our system to use as many components as possible from the same brand. Partly because it just looks nice, but also partly for the simpler reason that only having one set of control software on your system reduces the background tasks and eliminates the possibilities of any conflicts.
Enter the Scan 3XS Vengeance TUF Powered By ASUS system. Built from the ground up to use the excellent value-for-money products in the ASUS TUF Gaming range, whilst also having a careful eye upon the best bang for buck. 3XS have been around for a long time and have an enormous selection of systems from which to choose, including an RTX 4080 version of today's system for those of you who want a little more futureproofing.
Our test setup today is the more affordable of the two 3XS Vengeance TUF Powered By ASUS rigs, but it comes with some very carefully curated hardware. We've tested everything from AMD and Intel, Radeon and Nvidia and it's clear that the middle models are the best crossover between price and performance. An Intel i9-13900KS is very desirable, but unless you're rendering all day long then the Intel Core i7-13700F that beats at the heart of this system is all you could ever need. Similarly we might all dream of the flagship RTX 4090, but even at 4K the RTX 4070 Ti we have here in ASUS TUF guise is more than enough graphics card for any game currently on the market.

A gaming rig that will punish 4K games and also give you plenty of horsepower for those creativity tasks at a sliver under £2300 is, on paper, an absolute bargain. Especially as you can currently, until April 27th, receive a cashback reward on select ASUS purchases here. £135 if you buy the RTX 4070 Ti version and £165 if you get the RTX 4080.
Technical Specifications
| | |
| --- | --- |
| Case | ASUS TUF GT502 Black |
| Processor | Intel Core i7-13700F |
| Motherboard | ASUS TUF B660-Plus WiFi D4 |
| Memory | 16GB Corsair Vengeance Pro SL 3600MHz |
| GPU | ASUS TUF RTX 4070 Ti Gaming OC |
| Storage | 1TB Samsung 980 NVMe |
| PSU | ASUS TUF Gaming 750W Gold |
| CPU Cooler | ASUS TUF Gaming LC 240 ARGB |
| Wireless Networking | INTEL® Wi-Fi 6 802.11ax |
| OS | Windows 11 Home 64 Bit |
Up Close – Externals