Scan 3XS Vengeance TUF Powered By Asus Review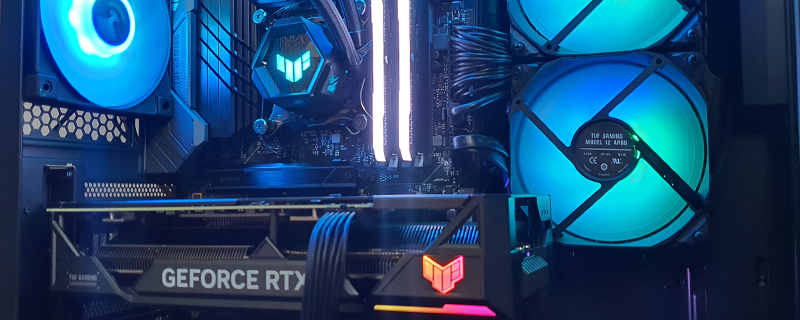 Up Close – Internals
A good demonstration of the care and attention with which the 3XS Vengeance TUF Powered By ASUS has been built is the choice of both the B660 motherboard – more than enough for 90% of users – and the Intel Core i7-13700F. The 13700 is the sweet spot of the all-rounder processors in the Intel range, having enough cores to handle even stern productivity tasks whilst also still within the price point of their midrange. It's not as gaming focused as the i5-13400 nor as expensive as the i9-13900KS.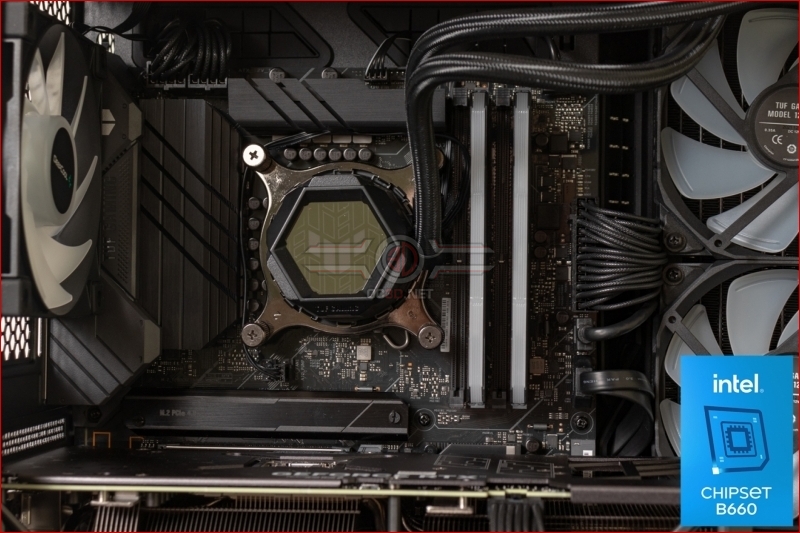 Â
Whilst the Intel Core i7-13700F is an absolute stunner of a processor we know that the majority of people will focus upon the ASUS TUF RTX 4070 Ti and the potential it brings to fire glorious visuals at your eyeballs in a smooth and jaw-dropping style.

The TUF LC 240 ARGB AIO certainly looks the part with its hexagonal pump and ARGB fans. It's also nice and quiet the majority of the time, only becoming noticeable when you're really thrashing your rig. The placement in this build had us puzzled though. There is ample room in the roof and the system actually has 3 roof fans fitted as the exhaust but they chose to have the AIO used for an intake. This means the AIO puts all of the warm air from cooling the cpu straight into the system. It would have made much more sense to have the AIO in the roof and the 3 spare fans used down the side as an intake.
The chamber behind the motherboard in the TUF GT502 case lets you hide away a multitude of sins the top 3 fan mounts can also house the hard drive mounts meaning the airflow could be cleaned up down the side should the roof fans have been repositioned. With a case like the GT502 this layout would have made much more sense than what was provided.
With 2 ARGB fans on the TUF AIO, one in the rear exhause slot and three in the roof, the possibilities for showing off your personal taste in colour schemes is almost limitless.
Clock and Storage Speeds