Scan 3XS Vengeance TUF Powered By Asus Review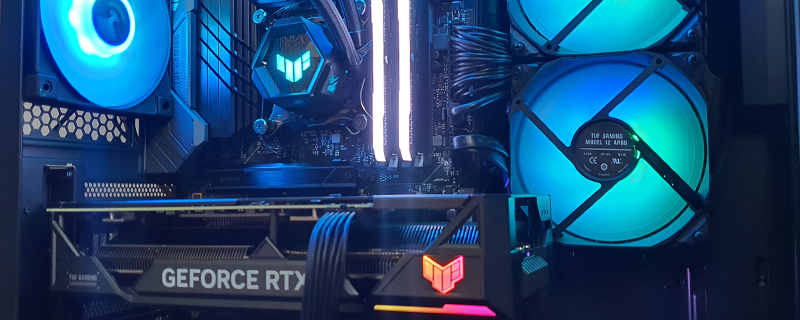 Conclusion
First impressions are one of those things that we all know we shouldn't pay too much heed to, and yet we always do. After all, if you've brought more than a few things in your life you know that initial impressions can be so good that everything gets a five star review and after two months it's broken. Similarly you can get something we seemed disappointing in the beginning and ended up being exactly what you want.
The 3XS Vengeance TUF Powered By ASUS definitely gives an excellent first impression. The packaging is tremendous, with a sturdy cardboard full of packing material, and within that the case box itself with further impact absorbing packing, and then you get the case out – with thanks to the extremely handy, erm, handles – and see that every inch of the internals is stuffed with bubble wrap. The TUF GT502 case is very solidly built and, in a change to some of the more affordable cases we've seen, the glass is actually glass rather than lexan. Removing the side panels is a single button on the back of the chassis, no screws needed, and they just clip back into place. It's a fantastic case both in build quality and space to arrange things.
That space is something the 3XS team at Scan have made full use of, filling the insides with as many ASUS TUF components as possible, and the few non-TUF elements are also great quality such as the super-fast Samsung 980 M.2 drive. 3XS also deserve credit for not including a whole bunch of useless software that exists merely to slow down your chance to enjoy your new purchase whilst you uninstall it all. It's about as close to a system you've built yourself as you can get without the stress and hassle of actually doing it. Okay there is still a ton of Windows 11 guff to uninstall but that's Microsofts fault.

Once you are up and running the carefully curated components come to the fore and leave you absolutely slack-jawed with how smooth and fast everything else. The Intel Core i7-13700F is a fantastic processor, with enough horsepower from its 20 threads to not leave you twiddling your thumbs during creativity tasks, but also it's not so power hungry that the ultimate boost clock is reduced to keep it cool, which makes it a fantastic gaming processor. Speaking of fantastic gaming the Nvidia RTX 4070 Ti – here in ASUS TUF Gaming OC guise – is nearly all the graphical horsepower you could require. Anything that is capable of running Cyberpunk at 4K with all the bells and whistles turned on and get over 60 FPS will also be able to handle any game you throw at it either today or anything we're aware of on the horizon.
The Vengeance TUF Powered By ASUS has ARGB fans everywhere, with an exhaust, three in the roof and two on the TUF LC 240 ARGB AIO itself. Combining this with the lighting on the TUF RTX 4070 Ti and the pump logo, wrapped in a case that has plenty of glass to show off your colours, and it looks as good as it goes. It's also very cool in nearly every scenario, only the harshest of tests pushing the Intel CPU to its limits, and even then it is relatively quiet and quickly returns to its idle noise level. Apart from the three roof fans accidentally set to DC rather than PWM when it arrived, and therefore a little loud, the build quality is beyond reproach and the performance is equally excellent. The ASUS TUF range has come a long way from its early days and the Scan 3XS Vengeance TUF Powered By ASUS is a perfect showcase for the kind of performance and looks you can get when all your components are from the same source.
You can currently, until April 27th, receive a cashback reward on select ASUS purchases here. £135 if you buy the RTX 4070 Ti version and £165 if you get the RTX 4080.
Scan 3XS Vengeance TUF Powered By ASUS RTX 4070 Ti £2299.99
Scan 3XS Vengeance TUF Powered By ASUS RTX 4080 £2999.99
Discuss the Scan 3XS Vengeance TUF Powered By ASUS in our OC3D Forums.

ASUS has also announced the Global TUF Gaming PC Hardware Giveaway Contest
Enter the #GetTUFGameTough contest to win Z790 and B760 motherboards, GeForce RTX 4070 Ti graphics cards, AIO cooler, power supply, case, monitor and peripherals. There are some mad prizes that you can win plus to make things even sweter the competition is open to entries world wide. The entry form is below but you can also head to the full asus website for more info and all the terms and condidiotns HERE
The contest runs from March 16 to April 27, 2023. Terms and conditions apply. Please see the contest website for details.
Â
You can also head to the full competition page for more information, rules and all the legal stuff here.