Lian Li TYR PC-X2000 Chassis
Introduction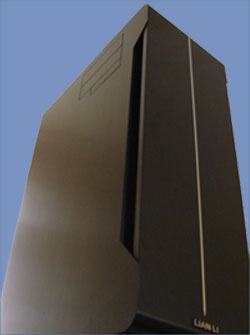 The brand 'Lian Li' has become synonymous with excellent build quality and sleek, clean styles. Their chassis have become favourites with PC modders because of this. Some chassis manufacturers' go for the bling factor when they design their cases, forgetting that sometimes 'less is more' when it comes to style. Lian Li chassis' usually have the right mix of features, without being in your face with it. We shall see if the same holds true with their latest offering, the TYR PC-X2000, which our friends over at A One Distribution have kindly provided us with for this review. The X2000 is being touted by Lian Li as a gaming/HTPC chassis, and the specifications from their website are as follows:
Model: TYR PC-X2000
Case Type: Super Full Tower Chassis
Dimensions: 230 x 430 x 680mm ( W, D, H)
Front bezel Material: Aluminum
Colour: Black
Side Panel: Aluminum
Body Material: Aluminum
5.25″ drive bay: (External) 2
3.5″ drive bay: (External) 1
3.5″ drive bay: (Internal) 6 ( SATA Hot Swappable)
Expansion Slots: 8
Motherboard: EATX, CEB, ATX, M-ATX
System Fan: (Front) 3 x 140mm Ball Bearing Fan ( 800-980-1200RPM, factory set to mid speed)
System Fan: (Rear)1 x 140mm Ball Bearing Fan( 800-980-1200RPM, factory set to mid speed), 2 x 80mm Ball Bearing Fan ( 1500 RPM)
I/O Ports: USB 2.0 x 2, IEEE 1394 x 1, E-SATA x 1, HD+AC97 Audio
Here's a video showcasing the new case from the Lian Li website:
The PC-X2000 incorporates some innovative design features, but we will discuss them further later on. First, let's move onto the packaging and contents.