SilverStone Primera PM01 Review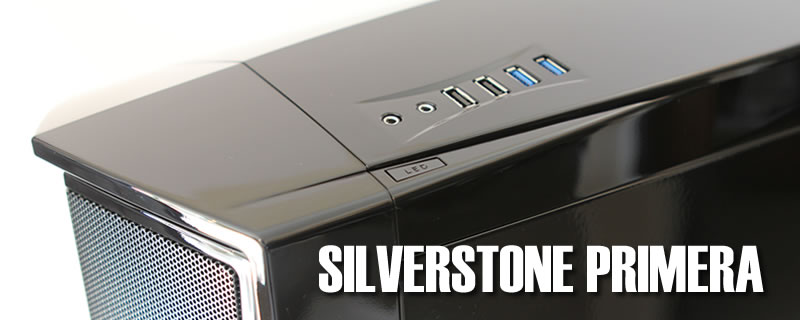 Up Close: Â Exterior
The new SilverStone Primera is quite a stunning looking case and a pain in the arse to review. Â Why? Â Finger prints, that's why. Â In fact, so stunning is the high gloss piano black exterior that I was prompted to don my white cotton gloves to handle it. Â If black's not your thing then it can also be had in high gloss white, or if you're particularly bothered about finger prints then why not opt for the matt black version. Â As you might imagine, the case has a steel chassis, with the external styling by virtue of plastic mouldings. Â The left side of the case has a large, but not full size window, slightly reminiscent of the NZXT style of a few years back, and it's fair to say we would like to have seen it extend the full width of the case.
Â

Power  and front I/O controls are discretely positioned on the roof of the case and blend perfectly into the case lines.  Look carefully and you'll also see a lighting control button.
Â
The front of the case is one large mesh panel formed forward into a chevron shape, with SilverStone claiming the styling is inspired by the intake grill on a sports car.
Â
The roof of the Primera is formed from a single piece of plastic and as we'll see later is removable. Â Although not part of the Raven line we still think we see a design influence here.
Â
The rear of the case roof is slightly higher and vented to better help and hot air from roof mounted cooling to vent. Â there are also some LEDs buried in the roof cut outs which we'll see more of when we strip the case.
Â
Other than the venting the rear is a pretty standard ATX affair, with a 140mm fan and 7 vented expansion bays.
Â
The underside of the case is so sleek and curved that it almost resembles the hull of an F1 powerboat. Â At the back there is though a huge removable mesh panel covering the PSU area.