Gigabyte Z97X G1 Gaming 5 Motherboard Review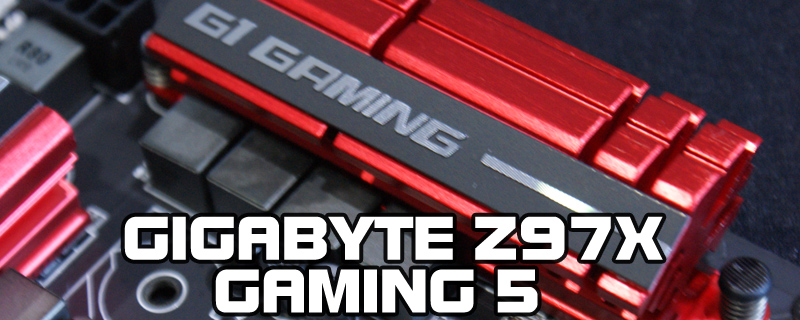 Introduction
We're all waiting patiently for the new 18nm Intel CPUs and, like you, we're growing impatient as the days tick by. We know that many of you are holding off getting one of the new Z97 motherboards until those CPUs are upon us. However, it is perfectly possible that many of you are taking the opportunity of the new hardware to upgrade to a Haswell CPU. There is never a better time to buy and it brings great value too. So perhaps you're interested in a motherboard that will support your current CPU and, in time, still be capable of slipping a new one into it.
Enter the Gigabyte Z97X Gaming 5.
"But OC3D, all the Z97 motherboards support the current generation of Intel CPUs" we can hear you cry, and certainly they do. However the Gigabyte Gaming 5 is, through the combination of the specifications and pricing, the perfect bridge between the old and the new. It isn't so bristling with the latest technologies that you'll have to start your whole build from scratch, yet neither is it such a dinosaur that you'll be crippled once the 5th Generation CPUs are upon us.

Did we mention that amazing price tag?
Technical Specifications
The Gaming 5 is somewhat of an inbetween motherboard. It has all of the new features available with the Z97 chipset, including the enormous XMP Memory speeds, but at the same time it has plenty of hardware which is probably part of your system already. So there are 6 SATA 6Gb/s ports, an M.2 socket and SATA Express support, but on the other hand we have a VGA port and more USB 2.0 ports than USB 3.0. There is a fan header dedicated to water cooling, but two PS2 ports for keyboard and mouse. It's a little schizophrenic.
CPU

Support for Intel® Core™ i7 processors/Intel® Core™ i5 processors/ Intel® Core™ i3 processors/Intel® Pentium® processors/Intel® Celeron® processors in the LGA1150 package
L3 cache varies with CPU

Chipset

Intel® Z97 Express Chipset

Memory

4 x DDR3 DIMM sockets supporting up to 32 GB of system memory
Dual channel memory architecture
Support for DDR3 3200(O.C.) / 3100(O.C.) / 3000(O.C.) / 2933(O.C.) / 2800(O.C.) / 2666(O.C.) / 2600(O.C.) / 2500(O.C.) / 2400(O.C.) / 2200(O.C.) / 2133(O.C.) / 2000(O.C.) / 1866(O.C.) / 1800(O.C.) / 1600 / 1333 MHz memory modules
Support for non-ECC memory modules
Support for Extreme Memory Profile (XMP) memory modules

Onboard Graphics
Integrated Graphics Processor:

1 x D-Sub port, supporting a maximum resolution of [email protected]
1 x DVI-D port, supporting a maximum resolution of [email protected]
* The DVI-D port does not support D-Sub connection by adapter.
1 x HDMI port, supporting a maximum resolution of [email protected] or [email protected]
* Support for HDMI 1.4a version.
Support for up to 3 displays at the same time
Maximum shared memory of 1 GB

Audio

Realtek® ALC1150 codec
Support for Sound Blaster X-Fi MB3
High Definition Audio
2/4/5.1/7.1-channel
Support for S/PDIF Out

LAN

Qualcomm® Atheros Killer E2201 LAN chip (10/100/1000 Mbit)

Expansion Slots

1 x PCI Express x16 slot, running at x16 (PCIEX16)
* For optimum performance, if only one PCI Express graphics card is to be installed, be sure to install it in the PCIEX16 slot.

??

1 x PCI Express x16 slot, running at x8 (PCIEX8)
* The PCIEX8 slot shares bandwidth with the PCIEX16 slot. When the PCIEX8 slot is populated, the PCIEX16 slot will operate at up to x8 mode.

1 x PCI Express x16 slot, running at x4 (PCIEX4)
* The PCIEX4 slot shares bandwidth with all PCI Express x1 slots. All PCI Express x1 slots will become unavailable when a PCIe x4 expansion card is installed.

3 x PCI Express x1 slots
(The PCIEX4 and PCI Express x1 slots conform to PCI Express 2.0 standard.)

1 x PCI slot

Multi-Graphics Technology

Support for 3-Way/2-Way AMD CrossFire™/2-Way NVIDIA® SLI™ Technology

Storage Interface
Chipset:

1 x M.2 PCIe connector
(Socket 3, M key, type 2242/2260/2280 SATA & PCIe SSD support)
1 x SATA Express connector
6 x SATA 6Gb/s connectors
(M.2, SATA Express, and SATA3 4/5 connectors can only be used one at a time. The SATA3 4/5 connectors will become unavailable when an M.2 SSD is installed.)
Support for RAID 0, RAID 1, RAID 5, and RAID 10

USB
Chipset:

6 USB 3.0/2.0 ports (4 ports on the back panel, 2 ports available through the internal USB header)
8 USB 2.0/1.1 ports (4 ports on the back panel, 4 ports available through the internal USB headers)

Internal I/O Connectors

1 x 24-pin ATX main power connector
1 x 8-pin ATX 12V power connector
1 x M.2 PCIe connector
1 x SATA Express connector
6 x SATA 6Gb/s connectors
1 x CPU fan header
1 x water cooling fan header (CPU_OPT)
3 x system fan headers
1 x front panel header
1 x front panel audio header
1 x S/PDIF Out header
1 x USB 3.0/2.0 header
2 x USB 2.0/1.1 headers
1 x serial port header
1 x Clear CMOS jumper
1 x Trusted Platform Module (TPM) header

Back Panel Connectors

1 x PS/2 keyboard port
1 x PS/2 mouse port
1 x optical S/PDIF Out connector
1 x D-Sub port
1 x DVI-D port
1 x HDMI port
4 x USB 3.0/2.0 ports
4 x USB 2.0/1.1 ports
1 x RJ-45 port
5 x audio jacks (Center/Subwoofer Speaker Out, Rear Speaker Out, Line In, Line Out, Mic In)

I/O Controller

iTE® I/O Controller Chip

H/W Monitoring

System voltage detection
CPU/System/Chipset temperature detection
CPU/CPU OPT/System fan speed detection
CPU/System overheating warning
CPU/CPU OPT/System fan fail warning
CPU/CPU OPT/System fan speed control
* Whether the fan speed control function is supported will depend on the cooler you install.

BIOS

2 x 64 Mbit flash
Use of licensed AMI UEFI BIOS
Support for DualBIOS™
PnP 1.0a, DMI 2.7, WfM 2.0, SM BIOS 2.7, ACPI 5.0

Unique Features

Support for APP Center
@BIOS
EasyTune
EZ Setup
Fast Boot
Game Controller
ON/OFF Charge
Smart TimeLock
Smart Recovery 2
System Information Viewer
USB Blocker
Support for Q-Flash
Support for Smart Switch
Support for Xpress Install

Bundle Software

Norton® Internet Security (OEM version)
Intel® Rapid Start Technology
Intel® Smart Connect Technology
Intel® Smart Response Technology

Operating System

Support for Windows 8.1/8/7

Form Factor

ATX Form Factor; 30.5cm x 22.5cm