Gigabyte Z97X G1 Gaming 5 Motherboard Review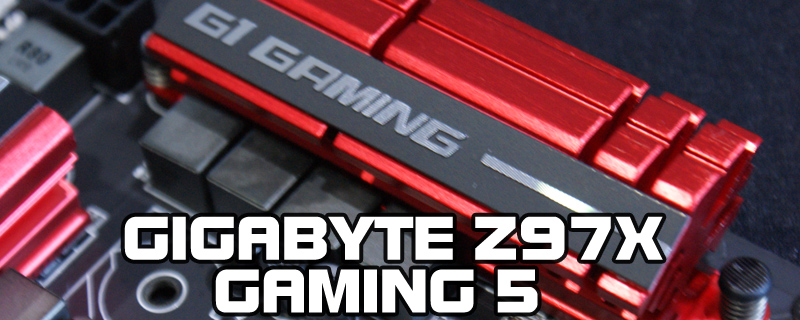 Up Close
There is no doubt that the box for the Gaming 5 stands out. Or rather it stares out. That's one giant eye. We're not sure if Big Brother is meant to be watching, but it sure feels like it. Perhaps Gigabyte have taken the opportunity to make a statement about internet monitoring by government agencies. Or maybe they just fancied a giant eye. Unfortunately if you focus upon the right hand side of the logo then it becomes a duck in profile. Cannot unsee. Â
The top half of the Gaming 5 is clean and tidy. The heatsinks are a nice red, the CPU area is fairly clear, and the RAM slots, although two colours, are at least understated. It isn't the most dramatic arrangement we've ever seen, but we really like it.

The bottom half is more divisive. We start well with the M2 socket for SATA Express mini SSDs above the first PCI slot. The PCI Express slots themselves are well laid out with plenty of space to ensure your graphics card keeps cool. CMOS battery location is good, able to be removed with the GPU in-situ. Headers are clear as always on a Gigabyte motherboard. The eye heatsink is more problematic. If it's meant to be an eye then why is it vertical? It just looks odd. We know many people wont mind it, or wont care, but we find it distracting.
The Gigabyte AMP UP audio is, as seems to be the norm these days, on a separate PCB to the rest of the motherboard to help reduce interference. There doesn't seem to be a way to swap the chips as there was on the 8 Series, but the ALC1150 audio is good enough.
It's nice to see the inclusion of SATA Express on such a good value motherboard. We still don't know how well this technology will perform in the real-world, but at least the theory entices us more than some other new ideas have. We always faster storage.
Finally round the back we have, from left to right, Mouse and Keyboard PS2, VGA and DVI, USB 3.0 and HDMI, 4 USB 2.0 ports, Killer NIC LAN port and two more USB 3.0's, and finally the audio outputs. It's very disappointing to see half of the USB ports on the rear are USB 2.0, especially with USB 3.1 being finalised. Separate mouse and keyboard PS2 ports, which are almost obsolete, only adds to the feeling that the IO section of the Gaming 5 was designed 3 years ago.
It's so jarring when compared to the SATA Express and 3300MHz DDR3 available on the other side of the Gigabyte board to have so much old tech here.