HIS Radeon 6850 & 6870 Review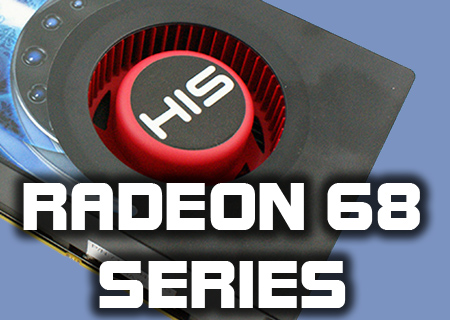 HIS HD6850 Pictures
HIS have always been good at giving us sensible sized packaging instead of the behemoths we get from some companies. Given the amount of units shipped if they can save half the packaging per unit it's making a big environmental difference and they should be lauded for that.
The card itself is fairly indistinct from previous ATI models. Thanks to the focus on lower-energy requirements of the first wave of ATI cards there is no need for a George Foreman grill on the HD6850.

As this is the replacement for the HD5770 we only have four display outputs available to us on this HIS HD6850.
As befits this focus upon efficiency the HIS only has a single 6pin PCIe power input. It's nice to see that ATI haven't succumbed to the temptation that new must equal bigger. At least with these medium range models anyway.
The board itself is similar to the previous generation just with the vertical bank of GDDR5 on the right instead of the left of the GPU itself.
It's always strange that, with shrouds being so enormous, when you remove them they are akin to a small CPU cooler. It's nice to make certain that heat gets exhausted out the rear of the case but curious they don't fill up the space a little more. Of course if the cooler is sufficient then why waste metal needlessly.