Resident Evil 7: Biohazard PC Performance Review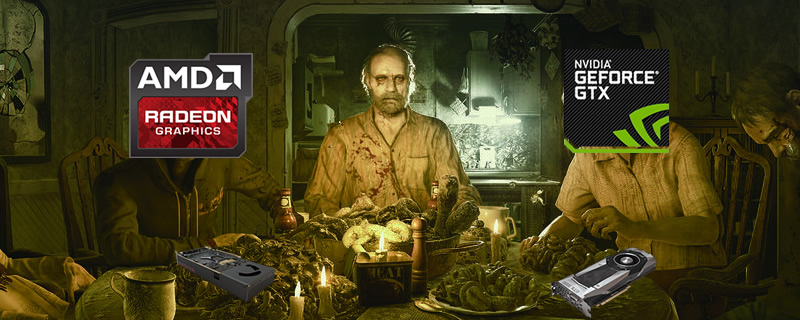 Introduction
Resident Evil 7: Biohazard has taken the series in a whole new direction, away from the action adventure (plus zombies) genre that recent releases have occupied and back into the realms of survival horror. With this change comes a new game engine, a new visual style and a move to a first-person perspective.Â
This release a very bold move for this AAA game series, moving the game back into the genre that longtime fans have craved for many years. This is exactly why the game has received a lot of positive reviews so far, finally delivering what a true Resident Evil experience should be.Â
Today we will be looking at the game's PC version and let you know exactly how it performs on modern hardware, whether you are using low-end components or modern flagships like the GTX 1080.

We will also be looking into some of this game's unique new features, like the game's unique interlaced rendering mode and the title's two colour space modes (sRGB and BT.709). In this review, we will also be detailing which graphical settings should be turned down first for improved GPU performance as well as giving our own set of recommended settings. Â
Now without further ado, let's get started. Â
Â
Â
DriversÂ
For this game, we will be using the newest drivers that were available when the game released, which is Nvidia's Game Ready Geforce 378.49 driver and AMD's 17.1.1 driver, both of which are the most recent GPU drivers for either company.Â
Â
Test Setup Â
We will be testing this game on our dedicated GPU test rig using both high-end and mid-range GPUs from both AMD and Nvidia.Â
Â
Game Test Rig
Intel i7 6850K
ASUS X99 Strix
Corsair Vengeance 4x8GB DDR4 3200MHz
Corsair HX1200i
Corsair H110i GT
Windows 10 x64Â
Nvidia GTX 980Ti (Left), AMD R9 Fury X (Middle) GTX 1070 Founders Edition (Right)
Â
For the high-end, we will be testing AMD's R9 Fury X, the GTX 980Ti and Nvidia's new GTX 1080 and GTX 1070 GPUs. Â
For the Mid-range offerings, we will be testing the new RX 480 and GTX 1060, both of which will be the ASUS Strix Gaming models.
Â
ASUS GTX 1060 Strix (Left), ASUS RX 480 Strix (Right)
Â
To represent AMD and Nvidia's lower-end GPU offerings we have decided to use the AMD R9 380 and the Nvidia GTX 960. Both of these GPUs will be the ASUS Strix models.Â
Both of these GPUs offer very similar performance in most scenarios and come in at very similar price points, so it will be very interesting to see which GPU will come out on top.Â
Â
Nvidia GTX 960(Left), AMD R9 380(Right)