MSI GT72 VR 6RE 1070 Gsync Gaming Laptop Review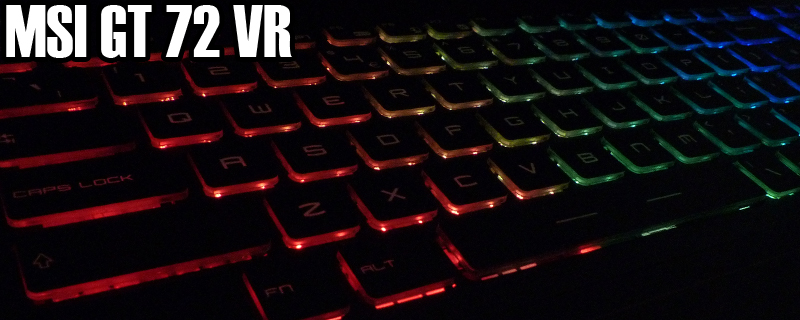 Conclusion
The gaming laptop marketplace has seen a rapid shift in recent years from products which were only categorised as gaming if you included Freecell to ones which can genuinely challenge desktop solutions in their ability to product outstanding visuals.
MSI have been at the forefront of this revolution, whether it's the GT72 2QE we saw last year, the SLI GT80 we reviewed earlier this year, or today's offering of the GT72 VR 6RE. What really sets the 6RE apart from the rest of the pack is the inclusion of the nVidia GTX 1070 GPU at the heart of it. Whilst the old nVidia graphics cards in their mobile variants were seriously underpowered compared to their desktop namesakes – for example the GTX 980 M was nearer to a desktop GTX 960 – the GTX 1070 here is a GTX 1070. Not cut down. Not underpowered. A full on Pascal GPU.
Obviously there are some compromises to be made when you convert an entire PC into a portable package, but the GT72 VR makes fewer compromises than you might expect. Yes the CPU isn't the fastest one in the world, but it doesn't need to be. It's capable of running all your daily tasks with ease, it never bogs the system down, and it is easily capable of keeping the GTX 1070 fed with polygons. Similarly the GTX 1070 itself has all the CUDA Cores of the original – indeed 128 more than a desktop model – and it's only the limits of cooler size that keep the clock speeds down and the performance a little below that of the desktop variant. If it was possible to fit a proper cooler to both the CPU and GPU, rather than being space limited, then they'd both be as fast as you desire. Even here MSI have gained ground by using the GT72 chassis which has a dual-fan cooling system so that the GPU and CPU can be separately controlled, rather than forcing each of them to be limited by the thermal output of the other.

That GT72 chassis is a mainstay of the MSI range and with good reason. It might be slightly bigger than many laptops which value thinness above all other considerations, but we very much place performance above any nebulous gains from a millimetre thinner or a few grams lighter here and there, and we imagine that if you're looking for a gaming laptop you'd much rather have one which was a tiny bit thicker but had way more performance than the opposite. Especially given that a laptop is hardly small enough to fit into your pocket as it is, so if it's a few millimetres thicker or a few grams heavier it really makes no odds.
So the GPU is great, the CPU plenty good enough, you have lots of memory bandwidth thanks to the DDR4 support of Skylake, a blistering storage option with the NVMe drive and it's all wrapped up in the GT72 chassis which has an excellent Steelseries keyboard and touchpad combo. The panel used in the GT72 VR is, even with the aforementioned in mind, a particular highlight of the package. Supporting 120Hz and G-Sync technology you are guaranteed to have a smooth gaming experience, especially when it's married up to the Pascal GPU. Because it's an IPS panel you get great colour reproduction and excellent viewing angles, so passers by can be impressed by your prowess, or you can use it to share content amongst a group of friends without anyone enduring a washed out image.
The GT72VR 6RE is a spectacular amount of performance for the money, combining excellent hardware in a well built package all wrapped up in the battle-tested GT72 chassis, and wins our OC3D Enthusiast Award.
If you're visiting Insomnia58 this month you can get hands on with it and see what we mean.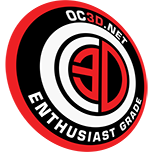 Â
You can discuss your thoughts about the MSI GT72 VR 6RE 1070 Gsync Gaming Laptop Review on the OC3D Forums