Asus E35M1-M PRO Micro ATX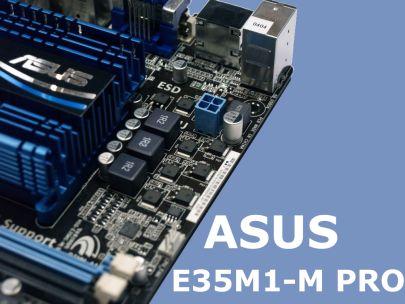 Introduction
For nearly 3 years, Intel have been the undisputed champion of the entry level laptop/desktop market. With the release of a sub 20W CPU, built from the ground up with simplicity in mind, the chip giant successfully opened the realm of low cost ultra mobile devices. Moreover, millions of low income households globally have been given the opportunity to enter the digital world. "Fantastic" is what you might be thinking. Absolutely, the theory of low cost computing has proven to be very beneficial, but what about the technology itself? Let me explain.
To emphasise my point, I have switched off my Core i3 desktop and began to write this review on my Samsung NC10 (Single Core Atom) netbook. During its 26 month life, it has taken a brutal amount of abuse and at £300, I couldn't complain. It sits in my bag as light as a feather and with the right usage it will operate for as long as 8 hours. Sadly the problems begin when I explain what that usage is…
The netbook is most ideal for word processing, checking email and other trivial tasks such as music playback and general organisation. Then things start to get a little pear shaped when you access your web browser. The fact of the matter is that the internet is not a non-intensive environment anymore. Perhaps the fault of poorly developed software *cough* Flash *cough*, the poor little Atom is quickly brought to its knees. Visiting a retailer site such as www.aria.co.uk suddenly makes scrolling a slideshow, while video websites such as Youtube.com should not even be discussed – it simply doesn't bode well with Mr Atom. Now some of you might say that a Dual Core Atom would perform significantly better. We agree, however our testing with the Zotac NM10-DTX tells us that it is still pretty rubbish anyway.

Many may also think that I'm too quick to forget the initial outlay of these computers, but frankly I think it is irrelevant. There is absolutely no way that it is excusable for any computer to struggle with 2011's iteration of the internet.
Thankfully nVidia came to the rescue with their ION & ION 2 graphics technology. By incorporating a GPU derived from the GeForce 9400M series, team green were able to breathe life into the struggling Atom platform. This has been excellent for net-tops but not so great for the netbook. As the current generation Atom D410/510 processor must be paired with the NM10 chipset, the ION2 module must be implemented as a separate chip and not a replacement. To make matters worse, the GPU would require a further 13W over the existing configuration. The endgame? A system that is easier to live with but also more costly on a netbook battery.
Many moons later, we are pleased to say that AMD have returned with an all new architecture to take on the almighty Atom platform. Formally known as the Fusion processor family, the underdog have developed Single and Dual Core embedded processors. Today we will be looking at one of the first Fusion motherboards to enter the fray; ladies and gentlemen the Asus E35M1-M PRO.
Here's a brief overview of its specifications.
Motherboard Model
Asus E35M1-M PRO Motherboard
Form Factor
mATX
Processor Support

AMD E350 1.60GHz Dual Core Processor
(Embedded)                               

Chipset
AMD Hudson M1
Overclocking
Support
Yes
Memory
2 x DIMM, Max. 32 GB 1333/1066 DDR3
Expansion Slots

1 x PCIe 2.0 x16 (x4 bandwidth) 
1 x PCIe 2.0 x1
2 x PCI

Multi-GPU Support
No
Onboard Video
CPU Embedded HD 6310
Storage
M1 
5 x SATA 6.0Gb/s
1 x eSATA 6.0Gb/s
LAN
Gigabit LAN
Audio
Realtek ALC892 7.1
USB
12 x USB 2.0 (4 x Back, 8 x Internal)
2 x USB 3.0 REAR
Firewire
2 x 1394 (1 x back, 1 x internal)
Video I/O
DVI, HDMI, VGA
Not too shabby! Aside the APU itself, you are provided with 2 DDR3 slots, PCI-Express 16x (@4x), 5 internal SATA 6Gb/sec, USB 3.0, Gigabit LAN and 7.1 channel sound. Pretty loaded for a basic solution.
Before we can start looking at the Asus E35M1, we will first need to examine the AMD Fusion architecture.