Asus E35M1-M PRO Micro ATX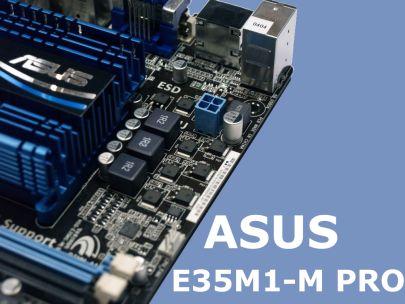 Â

Adobe Flash HD – Youtube.com
Watching Flash based High Definition video is often more tasking on a system than you'd be led to believe. Without Flash Player 10.1 which enables GPU acceleration, many systems would have otherwise ground to a halt. Let's see how our test setup performs here.
Unlike some of our previous Flash HD endeavours, we are pleased to report no issues. Using only the E35M1-M's hardware for this test, it was possible to playback 1080p video with less than 50% usage. The playback itself was fluid and without stutter.
Â


Microsoft HD Video Suite
Microsoft's HD Suite contains a variety of 720p and 1080p video clips. We selected one 1080p Video Clip and gauged performance on the basis of CPU utilisation and fluidity.
Again, the E350 APU accomplishes it's mission without kicking up a fuss. Our FRAPS frame rate counter showed a consistent 60fps reading throughout.
Â

SiSoftware Sandra (the System ANalyser, Diagnostic and Reporting Assistant) is an information & diagnostic utility capable of benchmarking the performance of individual components inside a PC.
GPGPU Test
The GPGPU test leverages CUDA and OpenCL to determine the ability of today's stream processor based GPUs for general purpose computing.Â
While synthetic benchmarks such as these aren't the best representative of actual performance, it is quite likely that the APU's HD 6310 GPU can take on nVidia GeForce GPU's with up to 32 CUDA cores.
PCMark Vantage
PCMark Vantage is Futuremark's flagship "System Wide" benchmark. With a large focus on day to day operations, it's an excellent means of judging the capability of a computer as a whole.
Â
We finish this set of benchmarks with another win for Team AMD in this system wide test.