Asus E35M1-M PRO Micro ATX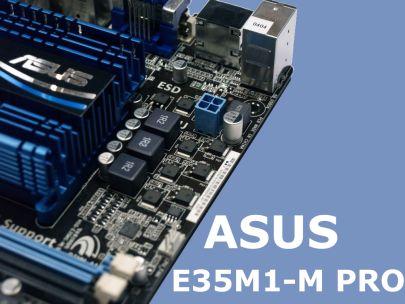 Under The Hood…
First of all I would like to point out that Asus does bundle an 80mm cooler with this motherboard. Concerning? We'll soon find out when we place the system under heavy load…
Oops, I accidently stripped the motherboard of its cooling solution. I suppose we have no choice but to have a look.

Beneath the aluminium finned cooler lies the Fusion E350 APU and the Hudson M1 Southbridge. We were particularly impressed by the level of integration inside the APU. Don't forget, inside that die lies a dual core processor, a memory controller and 80 Stream Processing units.
Finally let us walk you through our testbed specifications before we show you the BIOS and get testing.
Testbed
AMD Fusion E350 APU
Asus E35M1-M PRO Motherboard
G.Skill Flare RAM @ DDR3-1333 7-7-7-20
XFX Radeon HD 5670 1GB GDDR5
Samsung Spinpoint F1 320GB Hard Disk Drive
BeQuiet Dark Power Pro 750W PSU
Let's get cracking shall we?