Asus E35M1-M PRO Micro ATX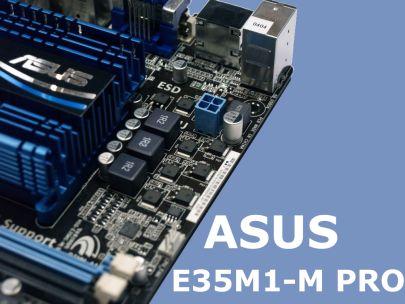 BIOS
Like most of Asus' latest releases, the E35M1-M comes with a graphic EFI BIOS. The intention is to accomodate for both novice and advanced users.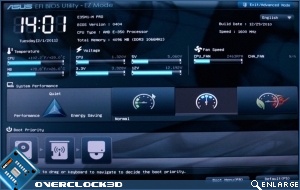 Asus have done this by offering two versions of the BIOS – EZ and Advanced. Above is the simple EZ version, which contains everything a basic end user may ever need to look at. Fancy verifying that a memory upgrade has been acknowledged? Sure, the stats are all on display. Need to change your boot device? Just look for the logo that looks like your boot device and the job is done.Â

However given that this is a website originally set up for PC Enthusiasts and Overclockers, you will probably find yourself feeling a little patronised by the EZ BIOS. Never fear however as you can switch to Advanced mode in two clicks.
You may (or may not be) surprised to discover that overclocking is supported by this motherboard. We will soon find out how far the E350 APU can go.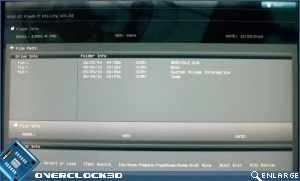 A final BIOS feature to showcase is Asus' latest iteration of the EZ Flash utility. While similar to the previous edition, the EFI BIOS combined with mouse functionality makes navigating folders for a new BIOS a total breeze.
Overclocking
So we finally set about overclocking the Fusion E350. We first started off with the Automated (TurboV) utility, which awarded us a 3MHz increase in base frequency and consequently a 48MHz overclock overall. Feeling a little underwhelmed we then took matters into our own hands.
Â
Despite our best attempts, our processor refused to budge any further than 1728MHz (a base clock of 109MHz). Our best guess is that the memory controller and the link between the APU and the Hudson M1 cannot tolerate higher base frequencies.
Ho hum, let's look into Temperatures and Power Consumption.