Asus E35M1-M PRO Micro ATX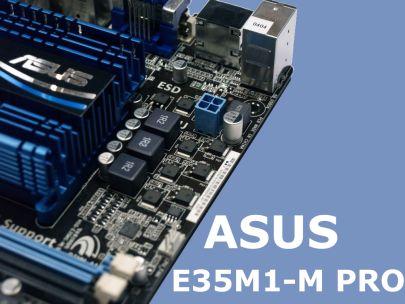 AMD Fusion APU
Â
Â
So what's the deal with the Fusion APU? Well, in very few words this diagram explains it all.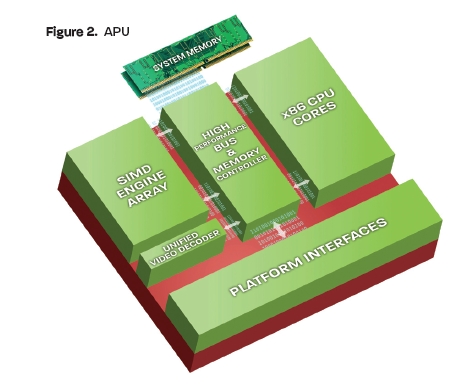 Â
As you would expect, the whole purpose of Fusion is about consolodating the number of separate system components into a single acceleration unit. It is pretty obvious that due to the overheads of each individual component, a module that amalgamates several aspects of functionality will be more efficient. But how exactly does it all come together?
Â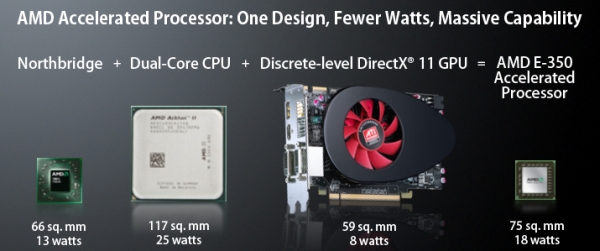 Â
Simply look above. A typical desktop computer will include a processor, graphics card and a defined core logic that could either be a single chip or fragmented into a Northbridge and Southbridge. In the case of the Fusion platform there are just two components; the AMD E350 APU and the Hudson M1 Southbridge.
Â
Before I continue, I think it would be a good idea to tabulate some information about the AMD Fusion E350 and Intel Atom D510 platforms.
Â
Configuration
AMD Fusion E350
+ M1 NB
Intel Atom D510
+ NM10 NB
Intel Atom D510
+ nVidia ION 2
CPU TDP /W
18W

13WÂ Â Â Â Â Â Â Â Â Â Â Â Â Â Â Â Â Â Â Â Â Â Â Â Â Â Â Â Â Â Â Â Â Â Â Â Â Â Â Â Â Â Â Â Â Â Â Â Â Â Â Â Â Â Â Â Â Â Â Â Â Â Â Â Â Â Â Â Â Â Â Â Â Â Â

13W
NB TDP / W

5WÂ Â Â Â Â Â Â Â Â Â Â Â Â Â Â Â Â Â Â Â Â Â Â Â Â Â Â Â Â Â Â Â Â Â Â Â Â Â Â Â Â Â

2W
2WÂ Â Â Â Â Â Â Â Â Â Â Â Â Â Â Â Â Â Â Â Â Â Â Â Â Â Â Â Â Â Â Â Â Â Â
GPU TDP / W
Included in CPUÂ
Included in CPU
13W
Â
So to summarise, there are three entry level options on the market today; Atom, Atom with ION and AMD Fusion. The Atom D510 + NM10 platform is the least power hungry but truly lacks from a performance perspective, ION2 brings reasonable power to the table but at a power consumption penalty, while the E350 Fusion option looks to provide the best of both worlds.