Asus E35M1-M PRO Micro ATX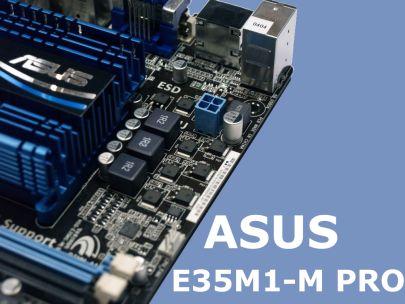 Conclusion
Â
After much testing it is now time to come to some sort of decision about Fusion and the E35M1-M PRO Motherboard
We began our testing with the expectation that the Brazos platform would offer performance that exceeded the Atom D510, provide graphical abilities to a similar level to nVidia's ION2 and with a lower power consumption to boot. With this in mind, the E350 and Hudson M1 pairing has succeeded.

Across a number of synthetic benchmarks, the little 1.60GHz processor was not far off scores made by desktop CPU's such as the 2.70GHz Sempron 140. As silly as it sounds, this is a very good achievement for an 18W processor.
The embedded Radeon HD 6310 performs admirably well for one with just 80 stream processing units. Clocked in with similar performance to graphics cards such as the GeForce 9500GT, we believe that this integrated GPU will compensate for just about any multimedia scenario where the Fusion E350 proves inadequate.
One could say that the full impact of the entry level APU is not known as the list of OpenCL compliant programs are still small, although growing at a handsome rate. However when day to day applications such as Flash 10.1 utilise GPU acceleration, the little Radeon HD 6310 is a true life saver.
In a nutshell, the Asus E35M1-M PRO is everything a typical Atom Dual Core + ION offering is, but noticeably better. Those who wish to use the board as a HTPC or NAS box will be pleased by the flexible storage options and the passive/low noise operation. Also we have shown that 1080p is doable with no trouble at all.
So given an identical price tag, would we choose an AMD Fusion Net-Top or Netbook over an Intel Atom? Absolutely.
Is Brazos up to scratch with a fully fledged desktop computer? No, not really. Even when bundled with a decent GPU and 4GB RAM, there is still a very subtle lack of urgency in system response even when navigating/scrolling on (albeit very poorly coded) websites. It is certainly not a nuisance or obtrusive however it is a constant reminder that you are working from an embedded platform.
Particularly for uses where low power consumption is essential, these minor niggles are very easy to forgive. However make no mistake in thinking that an E350 APU has any chance of giving a similarly priced AMD Athlon II + AMD 880G combination a run for its money.
This does bring us to another point and that is price. The E35M1-M PRO may have an exotic feature set but it has also artificially increased the value of an otherwise entry level platform. If we could ask for anything, it would be a stripped down dual core Brazos board on Mini ITX for well under £90. On the basis that the intended RRP of this platform was from $99, we also think that this is what AMD had in mind as well.
The final verdict? A fantastic platform for a Home Theater PC, NAS Box or secondary laptop/desktop. Thus far Asus have set the bar high for any other APU Motherboards that we receive in the future.
The Good
– Quiet Operation
– Atom beating performance
– Competitive Power Consumption
– Scope for HDD expansion
– SATA 6.0Gb/s and USB 3.0
The Mediocre
– Integrated WiFi – almost essential on a board such as this?
– mATX could have been mITX
The Bad
– None
Â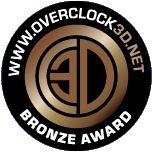 Â
Thanks to Asus for the sample on test today, you can discuss your thoughts in our forums.