Asus E35M1-M PRO Micro ATX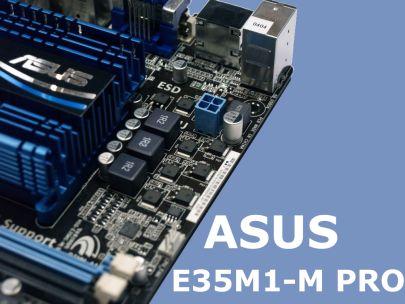 Gaming Performance
This is without doubt a bit of a curve ball for a product of this nature. We may well be gearing the entry level platform for failure on applications that it wasn't designed for, however we felt that it would be an interesting means of trying to determine the limitations of the HD 6310 GPU and the extent to which the E350 APU can bottleneck (*GAG*) a dedicated graphics card.
Â
3DMark Vantage

3DMark Vantage is Futuremarks flagship gaming oriented benchmark at present and is considered to be a demanding one at that. Our tests were carried out under the "Performance" prefix.
So it came to no surprise that the little Brazos Dual Core would not fair particularly well in this intensive benchmark. Moreover it was clear that the processor as well as the PCI-E 4x interface was holding our Radeon HD 5670 back by up to a third. However, to be closing in on P1000 marks with an embedded system is quite impressive.
Left 4 Dead
Left 4 Dead is a very popular hit and should be an interesting choice to take our testbed for a spin. Let's see how well it performs.
Â
Thankfully it isn't all doom and gloom, where we find the Asus E35M1-M PRO based system performing similarly to a Core i3 + H55 based configuration.
That said, the dreaded processor hold up continues where the inclusion of the Radeon HD 5670 only yields a 4fps increase in framerate.Â
DiRT 2
DiRT2 is a very recent race driving game, known for it's Direct X 11 support.
We are pretty horrible people for abusing this system with a full fat DirectX 11 game, but we do prove our point yet again that the little E350 cannot cope with anything as computationally heavy as this.