Gigabyte Z68X UD5 B3 Review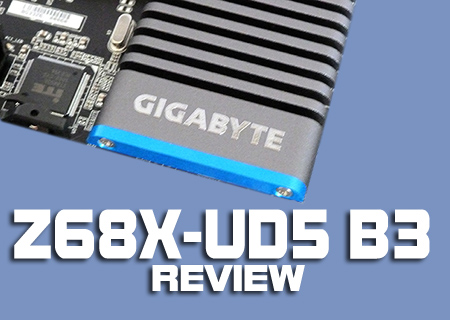 Introduction
The LGA1155 socket has had a difficult birth since its first appearance on the scene a few short months ago.
Firstly we had the problem with the early P67 chipsets and their SATA ports causing data loss on certain channels. Intel went away into their R&D department and came back with the B3 Revision of the P67 chipset and all seemed right in the world. We saw a rapid influx of motherboards all bearing the B3 branding and it seemed that finally the LGA1155 had settled into the slot vacated by the short-lived LGA1156.
Apparently solving the P67 problems weren't the only thing Intel were beavering away at, as following the B3 Revisions out the door, so close it must have been bumping into it, is the Z68 Chipset.

So what does this bring us that the P67 doesn't? Surprisingly little to be honest. The major difference is the inclusion of Intel Rapid Storage Technology (IRST for brevity), which we'll discuss in a few pages time, and the inclusion of a version of the Lucid chip on those motherboards that have integrated graphics. Otherwise the differences are largely manufacturer specific.
Today we're following up our preview from earlier in the week to bring you the full review of our first motherboard with this chipset, the Gigabyte Z68X-UD5 B3. Quite why it needs the B3 revision designation from the P67 series when it's a new chipset we're not certain, but it speaks volumes about how little difference there is.
Technical Specifications
So what has the UD5 got in store for us?
Firstly it isn't one of the models that has an integrated graphics card, so we have no Lucid nor any integration to test. Secondly it has got the IRST which can speed up a HDD by using a SSD as a cache drive. Finally it has a version of the excellent EFI BIOS, but I'd hold onto your bunting for just a moment.
CPU

Support for Intel® Core™ i7 processors/Intel® Core™ i5 processors/ Intel® Core™ i3 processors/Intel® Pentium® processors/Intel® Celeron® processors in the LGA1155 package

Chipset

Intel® Z68 Express Chipset

Memory

4 x 1.5V DDR3 DIMM sockets supporting up to 32 GB of system memory
* Due to Windows 32-bit operating system limitation, when more than 4 GB of physical memory is installed, the actual memory size displayed will be less than 4 GB.
Dual channel memory architecture
Support for DDR3 2133/1866/1600/1333/1066 MHz memory modules
Support for non-ECC memory modules
Support for Extreme Memory Profile (XMP) memory modules

(Go to GIGABYTE's website for the latest supported memory speeds and memory modules.)

Audio

Realtek ALC889 codec
High Definition Audio
2/4/5.1/7.1-channel
Support for Dolby® Home Theater
Support for S/PDIF Out

LAN

1 x Realtek RTL8111E chip (10/100/1000 Mbit)

Expansion Slots

1 x PCI Express x16 slot, running at x16 (PCIEX16)
1 x PCI Express x16 slot, running at x8 (PCIEX8)
* The PCIEX8 slot shares bandwidth with the PCIEX16 slot. When the PCIEX8 slot is populated with a PCI Express graphics card, the PCIEX16 slot will operate at up to x8 mode.
1 x PCI Express x16 slot, running at x4 (PCIEX4)
* The PCIEX4 slot shares bandwidth with the PCIEX1_1 and PCIEX1_2 slots. When the PCIEX1_1 slot or the PCIEX1_2 slot is populated with an expansion card, the PCIEX4 slot will operate at up to x1 mode.
2 x PCI Express x1 slots
(All PCI Express slots conform to PCI Express 2.0 standard.)
2 x PCI slots

Multi-Graphics Technology

Support for 2-Way ATI CrossFireX™/NVIDIA SLI technology

Storage Interface
Chipset:

2 x SATA 6Gb/s connectors (SATA3_0, SATA3_1) supporting up to 2 SATA 6Gb/s devices
4 x SATA 3Gb/s connectors (SATA2_2~SATA2_5) supporting up to 4 SATA 3Gb/s devices
Support for SATA RAID 0, RAID 1, RAID 5, and RAID 10
* When a RAID set is built across the SATA 6Gb/s and SATA 3Gb/s channels, the system performance of the RAID set may vary depending on the devices being connected.

Marvell 88SE9128 chip:

2 x eSATA 6Gb/s connectors (eSATA/USB Combo) on the back panel supporting up to 2 SATA 6Gb/s devices
Support for SATA RAID 0 and RAID 1

USB
Chipset:

Up to 10 USB 2.0/1.1 ports (6 on the back panel, including 2 eSATA/USB Combo, 4 via the USB brackets connected to the internal USB headers)

1 x Renesas D720200 chip and 2 x VLI VL810 hubs:

Up to 8 USB 3.0/2.0 ports (4 on the back panel, 4 via the USB brackets connected to the internal USB headers)

IEEE 1394
T.I. TSB43AB23 chip:

Up to 3 IEEE 1394a ports (2 on the back panel, 1 via the IEEE 1394a bracket connected to internal IEEE 1394a header)

Internal I/O Connectors

1 x 24-pin ATX main power connector
1 x 8-pin ATX 12V power connector
2 x SATA 6Gb/s connectors
4 x SATA 3Gb/s connectors
1 x CPU fan header
3 x system fan headers
1 x power fan header
1 x Chipset fan header
1 x front panel header
1 x front panel audio header
1 x S/PDIF Out header
2 x USB 2.0/1.1 headers
2 x USB 3.0/2.0 headers
1 x IEEE 1394a header
1 x clearing CMOS button
1 x power button
1 x reset button

Back Panel Connectors

1 x PS/2 keyboard/mouse port
1 x optical S/PDIF Out connector
1 x coaxial S/PDIF Out connector
2 x IEEE 1394a ports
4 x USB 2.0/1.1 ports
4 x USB 3.0/2.0 ports
2 x eSATA/USB Combo connectors
1 x RJ-45 port
6 x audio jacks (Center/Subwoofer Speaker Out/Rear Speaker Out/Side Speaker Out/Line In/Line Out/Microphone)

I/O Controller

iTE IT8728 chip

H/W Monitoring

System voltage detection
CPU/System temperature detection
CPU/System/Power fan speed detection
CPU overheating warning
CPU/System/Power fan fail warning
CPU/System fan speed control
* Whether the CPU/system fan speed control function is supported will depend on the CPU/system cooler you install.

BIOS

2 x 32 Mbit flash
Use of licensed AWARD BIOS
Support for DualBIOS™
PnP 1.0a, DMI 2.0, SM BIOS 2.4, ACPI 1.0b
Time to take a look at what we have.