Gigabyte Z68X UD5 B3 Review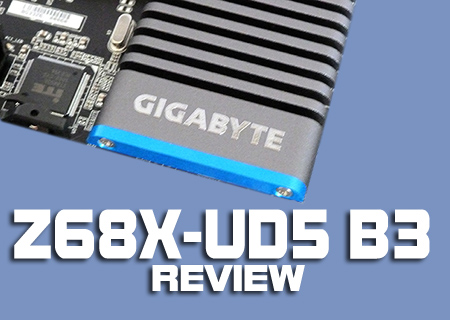 Intel Rapid Storage Technology
IRST is the major new addition that the Z68 Chipset has over its P67 brother. This requires the addition of a SSD to your hardware arsenal but the benefit is that it's used as a cache drive to speed up your standard HDD, so you aren't financially bankrupted by having to buy a large SSD.
It's phenomenally easy to set up. Set the SATA mode to RAID(XHD), install Windows as normal to your HDD, install the IRST driver and set, in the little utility that comes with it, the SSD to be a Cache drive which takes a couple of clicks. And that's it. It's entirely idiotproof.
But, does it work?

Crystal Disk Mark 3.0
Starting with Crystal Disk Mark we can call it an emphatic yes. We're only using a well-worn old Samsung Spinpoint F1 and yet you can see clearly that with the benefits of an SSD providing the cache courtesy of our Kingston V100 and the IRST it fairly flies along. 100 MB/s in the 512K test, which is where most of your use will be, is outstanding. The true eye-popping result comes from the 4K read though, as the IRST gives us a forty-fold increase.
Â
Moving on to the Write tests, the results remain the same.Â
Â
PC Mark 7
So up to date are we here at OC3D that no sooner is PC Mark 7 released, than we're bringing you scores. Here we've taken three of the detailed results from the PC Mark test suite to demonstrate how much of a benefit you see in daily tasks. The IRST literature promises "up to 4x faster results" and sure enough in Windows Defender we're seeing 4x faster speeds. Importing Pictures gives us just over twice as fast and Gaming is three times as quick.